Well, I haven't updated recently (except for the  book review) but I promise there is a good reason.  I've always wanted a dog since  I was very little, but for one reason or another it hasn't worked out.  That is…until now.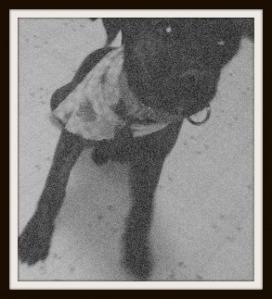 Ta Da!  This is my new puppy.  Her name is Frodo.  And yes, I realize Frodo is in fact a boy and not a girl.  I also realize the Frodo is also a hobbit and not a puppy.  But it was such a cute name and I couldn't resist.
She's a rescue puppy from the humane society and from what her supposed breeds are she should be getting fairly large (which is good, I'm not a purse dog kind of person).  Only having had her for a couple of days it's hard to tell what kind of dog she'll be, but so far she's been doing just great.  Housebreaking and Cratetraining have both been going very well and even with the massive thunderstorm we had yesterday she's hasn't had any more accidents since the day we brought her home and nothing has been destroyed.  Good signs all around.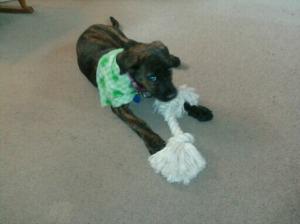 She's going to be my dog, although my parents have very generously agreed to keep her while I'm finishing up my final semester at school.  (Which I greatly appreciate considering she is a puppy and takes a lot of time).  But in about a month I'll be home for good and then she's my problem forever

The humane society vet-tech that helped us adopt her gave us some fantastic advice I thought I'd share because it's been working out well for us.  The first is with housetraining.  Be sure to take puppy out every hour to reduce the risk of in-home accidents, bring treats with you, and praise lots.  Positive reinforcement works much better than negative.  Also, if there is an accident in the house, don't use the same word or tone of voice you use when the puppy is doing something wrong you don't want them to do again.  If you just yell "NO" the puppy thinks going to the bathroom is wrong, and then they'll try to hide from you when they have to go.  Instead, make a loud noise, like clapping, and say "outside", this way puppy goes outside but doesn't get scared.  It's worked well for us so far!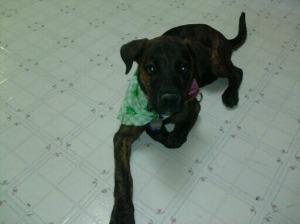 We've also been having a problem with Frodo nipping, she's doing it to be playful but going a bit overboard.  And being a large breed dog getting in the habit of biting is not a good thing.  If you press down on her tongue and hold it to the bottom of her mouth it hurts and she'll stop.  If you're not brave enough for that, try "yipping" like a hurt fellow pup.  Since she's just playing she won't want to feel you're injured and hurting, and she'll stop playing so rough.  Both these techniques have been working for us except when Frodo is extra tried, then she just needs to go in her crate and calm down, otherwise she's just crazy!
I'm a little sad to be leaving Frodo to finish up my semester at school, but I'll be back in just a couple weeks for Easter break, and then quickly for the summer.  Unfortunately this means I won't be able to give you updates every week consistently until this summer, but I am sure Frodo and I will have many adventures to come!  I'm looking forward to it!  And you can be sure I'll share them all with you.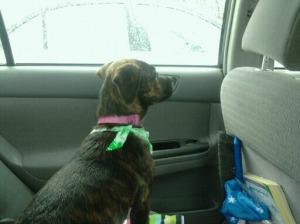 Have a good rest of your weekend.  Go on an adventure of your own!