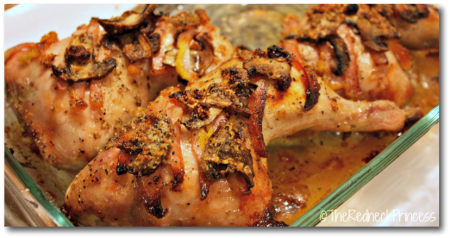 We have been bored, bored, bored with our normal dinners lately, so I have been experimenting. This was tonight's experiment. It's not low fat, but it was so delicious, we had it over noodles, with a great big also delicious salad.
What you need:
4 tablespoons butter, melted
4 bone-in chicken breast halves, with skin
1 teaspoon Montreal Steak spice (I use this alot on all types of meat!!)
1/2 teaspoon Cumin
2 cloves garlic, crushed
4 thick slices bacon
1 cup mushrooms, halved
1/2 cup heavy cream
What you do:
Preheat oven to 350°.Pour melted butter into a 9×13 inch baking dish. Add chicken, skin side down; sprinkle with seasoning salt and garlic. Turn chicken over, season, and lay bacon strips on top. Sprinkle with mushrooms.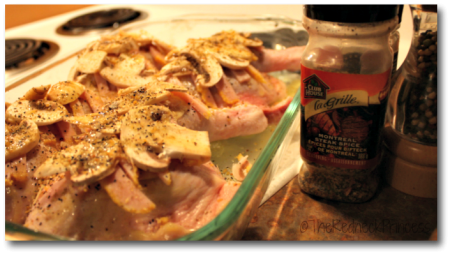 Bake in preheated oven for 45 minutes to 60 minutes, or until chicken is no longer pink and juices run clear.
Remove chicken, bacon and mushrooms to a platter and keep warm.
Pour juices from baking dish into a small saucepan and whisk together with cream over low heat until thickened. Pour sauce over chicken and serve warm.
( I just used the sauce and poured it over the pasta, mostly because it's family preference…)
|||||
0
Like!
|||||