Bamboo Shoots is a 21-year old restaurant in sector 18, Noida. The legacy of such a long period of more than two decades ensures 100% consistency in food in terms of taste and quality. Food that you order is authentic in all aspects so much so that you feel you are having it in respective native place. Or the Cooks and chefs are from native places as in case of Sanadige. I have seen serious foodies coming here on a regular basis those who value the authentic taste and quality in food in a serious manner. Besides food, other important factors are hospitality and service. You will find a high level of maturity in all these critical factors that promise to make a restaurant successful.
The serving staff at Bamboo Shoots has a substantial level of dedication that reflects in their behavior and body language. They carry a good amount of respect for each other. And this matters a lot for any good restaurant. So, if you are around sector 18, Noida and are not conversant with this restaurant, you definitely need to visit it soon in order to fall in love with it. We had Prawn Butter Chilly Garlic, Indonesian Fish In Banana Leaf, and Chicken Butter Pepper Garlic in non-veg starters. All the three are fantastic in taste and presentation especially the fish dish. In veg starters, we had Chilly Pepper Corn, Cottage Cheese Finger With Red Chilly & Basil, and Exotic Mushroom Butter Garlic.
Chilly Pepper Corn is a special dish at Bamboo Shots and hence not to miss. Cottage Cheese Finger is thicker than regular finger items at other places. And it is delicious too with a special filling in it with a special coating of red sauce. Last but not the least in starters, Exotic Mushroom Butter Garlic comes with a special coating of corn flour makes it crispy and buttery. It is something you don't get easily elsewhere. In soups, we had Crab Meat Soup, Chicken Brown Garlic Soup, and Chicken Talumein Soup. The thick garlic squarish pieces in Crab Meat Soup make it quite tasteful. The other two are also rich in taste.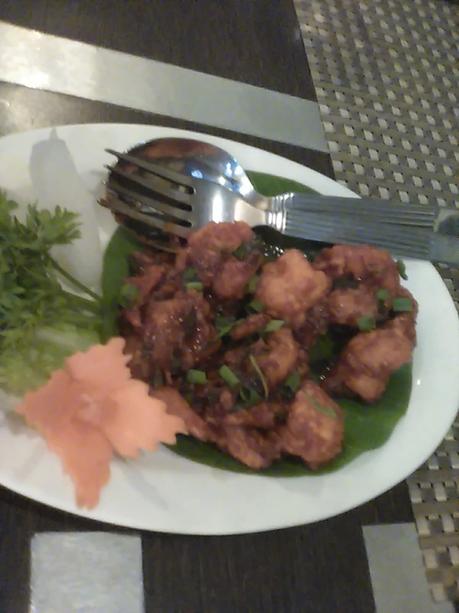 In the main course, we had Jiyang Ya Duck, Fragrant Chicken In Aniseed, Pla Phad Karcha (Fish Dish), Gansu Lamb, and Mix Veg Sweet Chilly Lemon Sauce. Duck and Mix Veg dishes at Bamboo Shoots have a sweeter touch in the taste. So order those only if you don't mind having vegetables having a touch of sweetness. The chicken dish is something you can order blindly without any chance of lack in fabulous taste. A parallel excellent dish in the main course for vegans is Stir Fried Chinese Greens. Veg Stir Fried Sticky Rice is really a class apart. You can't afford to miss this signature dish when you are here. Veg Hakka Noodle is nice but not as addictive as Veg Stir Fried Sticky Rice.
Finally, in desserts, there is a special preparation for you. It is Moccarage something you can't resist even you have reached a level of a full stomach. Overall, at Bamboo Shoots, they assure a fantastic food journey. Jasmine Tea is an added bonus here that you don't find easily in most of the restaurants.