Every day seems to fly by faster than the day before. This week has been full of lots of work in the real estate field, even more house hunting for SisterT and me, and BFF Lex broke her arm Wednesday night. Luckily, Mr. Darcy and his lovely staff came to the rescue, and BFF Lex is now in a splint/cast for two weeks.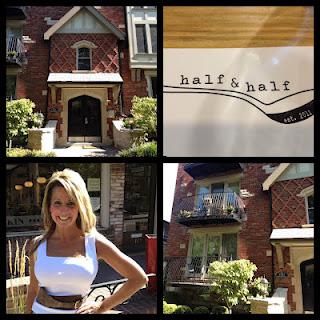 Here is Mrs. Darcy outside my favorite breakfast restaurant, half & half. We had a fun day shopping and looking at a condo in the building pictured. It was beautiful, but too small for SisterT and me to share. I loved the outside exterior of the building.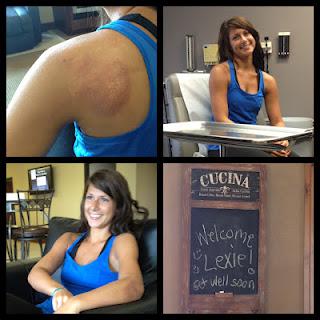 BFF Lex fell down a hill while rip-sticking (similar to a skate board). Mr. Darcy yelled at her for not having a helmet on... she learned her lesson! Always wear your helmet when on bikes, skateboards, roller blades, etc. She skinned her elbow, back, and hip, as well as fractured her arm. Mrs. Darcy had her sweet kitchen sign ready when we visited her after the doctor's appointment. 
OOTD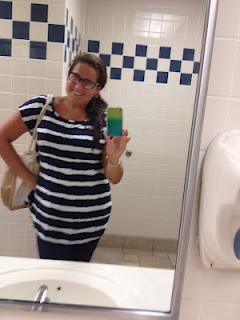 Bathroom PictureNantucket Rope ToteForever21 Top (-belt)Old Navy Knee Length Denim Shorts (Not Pictured: Yellow Jack Roger Jellies)(It was a comfortable outfit, but I wish I had a fun necklace to go with... on the hunt for it!)
Lastly, I tried another color of Sally Hansen's sticker nails.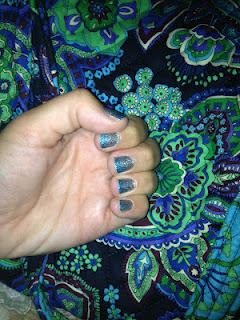 I love this color of a silver to blue ombre sparkle. Super easy to apply, but tips have already chipped after showering one time. I wish they were a little bit more durable. 
Hope you all have a wonderful weekend. Sending happiness your way!