I guess it's because I'm looking down the barrel of age 58, but sometimes I watch movies, even the ones released as recently as past ten-15 years and I wonder about the lives of extras, bit players and the animals used in the films.   Extras are impossible to track down.  Bit players aren't much easier, especially if the film's IMBD cast page offers nothing more than the generic "Baseball Fan #1,2 or 3".   So, my concern focuses on animals.    If a movie featuring an animal was filmed more than five years ago, I hold out little hope that the dog, cat, parrot, guinnea pig, dolphin is still alive. But I'm still interested in their back stories, especially dogs and cats, since I'm the mother of this motley crew.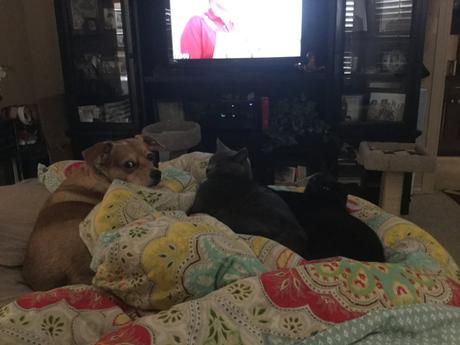 Bixby is the tan Whippet-Terrier mix,  Greer is in the middle and India is on the far right.   All three are so deeply engrossed in my soul.     I love them more than a rent controlled apartment with free HVAC and a live-in maid.
Anyway, I wonder about animals actors in films and TV shows.     Since I'm an insomniac and The Hallmark Channel is decent enough to offer some of my all-time favorite TV shows,p all night long, we'll start there….but not with Frasier.    Eddie was the famous Jack Russell terrier who drove the good doctor crazy, but much has been written about him, so let's lesrn the more obscure canines, shall we?
I Love Lucy is on the Hallmark line-up and hardcore devotees of the show will remember in the sixth and final season, Little Ricky was given a Cairn Terrier  puppy which he named Fred.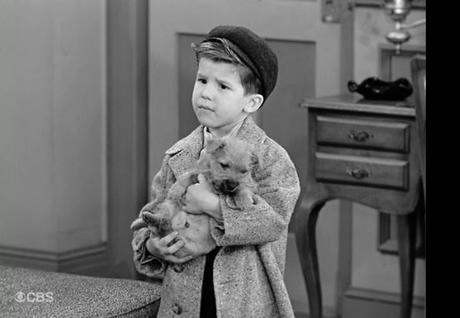 I couldn't find much on Fred….at least, not that a I could enlarge enough to read lloollllll  l
and/or copy and paste…but the pup's real name was Danny.
Apparently, there was a long running gag on the show with since the dog was named after Fred Mertz, the Ricardo's friend and landlord.    Whenever anyone called the dog's name,  both Freds came running.
I don't know if Danny/Fred appeared in other shows or his age when the  sixth season was shot and I couldn't find any info when he died, but I have a feeling when Lucy and  Desi's divorce was finalized, so was little Danny/Fred's existence.
How about another  Cairn Terrier even more famous?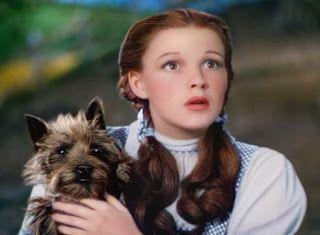 We all know Toto, but did we know this dog was actually named Terry and a female?   And not only that, this animal actor had an impressive resume.   Terry appeared in 16 different movies, but her most famous role was Toto in The Wizard of Oz was her only credited role.   And if you watch the closing credits, she was listed as Toto, her stage name.  The name Terry is nowhere to be found.   In fact, Oz was one of the first movies to include an animal credit.
But wait….there's more!
Terry was born in 1933 in the throes of the Great Depression.   She was a mere one year old when she got her first movie role, Ready For Love.  Later that same year she starred with Shirley Temple in Bright Eyes.   Then came her big break, The Wizard of Oz in 1939.
Now, this next sentence is going to sound so silly, but according Wikipedia,  Terry did her own stunts….BUT this is an important note, since Terry almost died  during the filming when one of the witch's guards accidentally stepped on her, severely breaking her foot. She spent two weeks recuperating at Judy Garland's home (bet THAT was hoot!!)   Garland fell in love with the dog  and wanted to adopt her, but Terry's owner said no way.   In 1939, this dog was like a Wonkian golden ticket!!    Terry's salary for Oz was a whopping $125 per week, more than salaries of many human actors in the film, and also more than many working Americans at the time.     I think it was 1995 before I made that much.
Terry actually attended the premiere of The Wizard of Oz at Grauman's Chinese Theater.     She walked the red carpet and no, I haven't the foggiest idea who she was wearing.    But due to the popularity of the film, her name was officially changed to Toto in 1942.    She was recocognized on and off screen and had a human fan base.    Once again, it was 1995 before I had any of those things.
Her career flourished as Toto for a few more years.   She was in The Women and Bad Little Angel in 1940.     After her appearance in Tortilla Flat in 1942, she took her final bow…wow.
Toto was eleven when she died in 1955.  I hope she retired and lived a nice cushy life.   She was buried at her owners's ranch which at the time was a rural part of  Los Angeles.    Sadly, her  grave was destroyed during the construction of the Ventura Freeway in 1958, but thanks to some thoughtful,pet denizens in Hollywood, a permanent memorial for Toto was dedicated at the Hollywood Forever Cemetery in Los Angeles.
Holly Golightly.    That's who Audrey Hepburn played in Breakfast At Tiffany's.   In the movie, Holly had a cat….named Cat.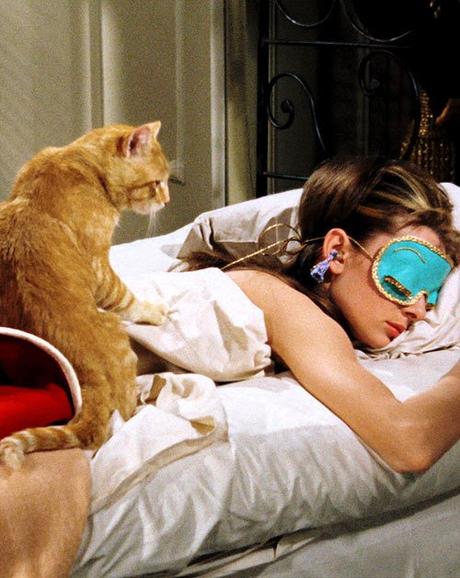 Orangey Cat played Cat.     For most of the film anyway.   Word on the street is that Cat was played by at least two cats: a yellow classic tabby and a yellow mackerel tabby.    I'm don't read Cat Fancy, but I think Orangey was the classic Tabby.   They were interchanged throughout the movie.     Cats can be trained, but apparently these two were moody and a little fuedy on set, making the need to use multiple cats a necessity.
I have no idea what happened to the other kitty, but Orangey Cat, who,from this point forward  will be known as OC, had a cool career.     She was also known as Minerva the Cat, and Rhubarb the Cat and within her prolific 15 year life and career, OC appeared in such celluloid epics as The Incredible Shrinking Man, Gigot (a real film, not a misspelling or pretentious pronunciation of Gidget), Village of the Giants and on the small screen, she was Minerva on Our Miss Brooks, a gig she had for six years.
And OC was frequently recognized for her achievements.    Dig this—OC  is the only cat in history for winning two PATSY awards, the animal equivalent of the Academy Awards.   PATSY is an acronym for Picture Animal Top Star of the Year.
The very first official recipient of a PATSY was Francis the Talking Mule.     Other winners  include two time winner,  Arnold Ziffel of TV's Green Acres; Higgins, the dog who played Benji and the tranny pooch from Petticoat Junction who grabbed his own little canine petticoat drying along the the side of city's water tower in which he and three girls were swimming.     Uh….still gross!!
Cleo the Basset Hound won, as did Lassie, and Tramp the dog from My Three Sons to name a few. Lassie pulled an Oprah and removed future PATSY competition after winning so many awards,   But he/she holds a prominent place in the PATSY Hall of Fame.
Look at the size of the PATSY!!    It's a big ol thing.   Here's Mr. Ed, whose a horse, of course, seen here with his.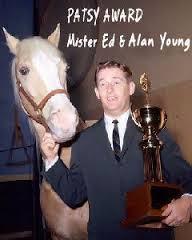 The awards were cancelled in 1986 due to lack of funding.   Designing a much smaller award  might have helped.     That year,  the Genesis Awards were established to honor individuals in the major news and entertainment media for producing outstanding works which raise public awareness of animal issues.  But that was nice and all, butbHollywood still felt the need to honor working animals,  so in 2011 the American Humane Society announced the creation of the Pawscars, described as yet another "animal-centric spin on the Oscars."       This new awards show has even more money and Hollywood power mongers  behind it.      It offers all different kinds of awards fitbdifferentbsnimslmstsrs….in 201, Rags, the St. Bernard used  in the movie, Kove The Coopers, was awarded best family dog.      This  holiday comedy focuses on four generations of the Cooper clan as they converge home for Christmas.   Rags watches each Cooper family member demonstrate his or her own particular brand of neurosis and dysfunction.     Critics say Rags shined  in his role as the empathetic family pet, even prompting  the film's  director Jessie Nelson to refer to him as "The Marlon Brando of Dogs."   But did he send a female  chihuahua dressed in native American  garb to accept the award?
I don't  mean to go off on a rant here,  Betty White and Bob Barker among others were involved and worked tirelessly for these  animals, insisting on humane on-set treatment and of course, getting their four legged fans spayed and nurtured.
Their work paid off,   The American Humane Association is the organization responsible for the disclaimer at the end of many films and television programs.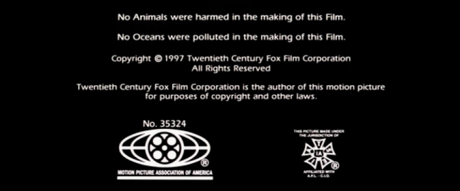 Love it, but we could use even  more disclaimers, please.   Such as no childrens' minds were corrupted during filming, no politicians were bribed, not one Kim Kardashian selfie was taking on set during filming, Trump refrained from Tweeting for an hour, an angry Democrat decided to act decent and actually chose to maintain his or her sanity for the duration of filming, ISIS hosted BarBQ's and invited Jews, the  only bomb Korea made was the movie kind and Iran once again became  an innocent past indicative phrase conncerning running, something we all learned in third grade grammar.