There is a different kind of philosophy behind the concept, design, and culture of Farzi Cafe. And in fact, you smell, sense, experience, and feel it the moment you enter its Connaught Place outlet. It is all about an experience. And actually, you get the air of it only once you are there. There are people coming straight from the office to have a couple of drinks and relax. There are families coming for a fine dine experience and enjoy the atmosphere. And then there are people coming specially to enjoy hookah and drinks. So if you look around there are professional talks, business discussions, and leisure gossips happening around. A rectangular lounge with long stools right in the center is large enough to accommodate 30-40 people easily around it. And then there are tables with a flexibility of accommodating small to large groups. Overall, it is a nice experience.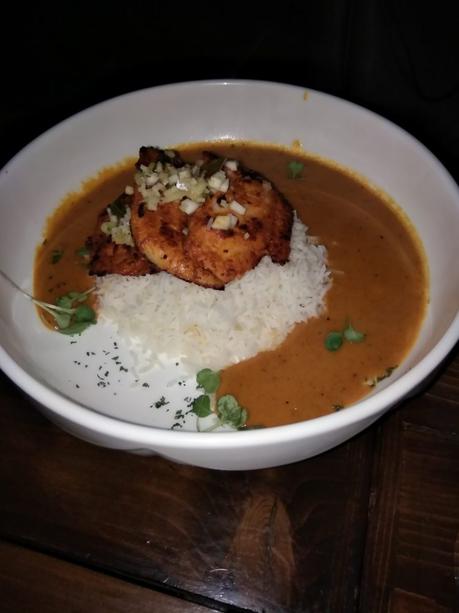 Farzi Cafe is a modern Indian food outlet exploring molecular gastronomy. It is currently having Mango Festival to beat the heat in the peak summer in Delhi. So when Mango is the theme, cocktails to food to desserts, everything will have a special touch of Mango in one way or the other. And definitely, you will like the unique gastronomical, molecular food and desserts with a special flavor of Mango. Mocktails are not too good. And probably that is not the focus area. Food is nice. Desserts are also good. I am wondering if they could think of some exclusive cocktails for their current Mango Festival. But the same concept didn't apply to mocktails. Definitely, there are certain dishes and desserts that are specific to the #mangofestival and are nice and unique. And the chef keeps coming around to get feedback.
Farzi Cafe
Let us talk about some mango specialties at Farzi Cafe. And let it be in the reverse order. So first we will talk about desserts. Vanilla Pod Cheese Cake Kesri Aam Ras is fabulous. Cheese Cake comes along with Mango Puree and you pour it on the cheese cake and then attack. Mango and White Chocolate Popsicle Fresh Mango Faluda is another fantastic delicacy. The icecream stick that looks like a stick is edible. That is not a stick in reality. It is a Farzi stick. Mango Faluda on the side and Mango+White Chocolate icecream will compel you to go for a repeat. And it is worth to go for another serving. Andhra Fish Curry, Raw Mango, and Coconut Steamed Rice is a single dish. And it is something really special. Overall, if you miss this Mango Festival at Farzi Cafe, you are going to miss a lot.