Finteract is a platform to engage startups with finest of minds. Technology is changing fast. Commerce is changing its dimensions and meaning when it comes to the digital world. IT services are transforming to IT entrepreneurship. A lot more was happening during Spring Conference 2017 at Novotel, Vizag. Fintech Valley is a revolution in Andhra Pradesh. Fintech Valley launches Finteract. It aims to promote multi-disciplinary thinking in order to create greater expressiveness and meaning to the fintech culture. They call it as 'Fintectonic'. There were two founders and a UI-UX strategist to inaugurate this series of conversation. The founders include Nitin Saluja, Founder, Chaayos and Dharmil Sheth, Founder PharmEasy. In addition, it was Priyanka Agrawal, famous design thinking UI-UX specialist from Fractal Ink.
The overall purpose of Finteract is to organize a specialist talk to share experience and learning. On the same lines, Fintech Valley aims to dynamically catalyze this thriving spirit to inculcate innovation. These things do not happen merely by raising funds or building infrastructure. It needs to build a culture and atmosphere that curates an environment for these ideas to grow.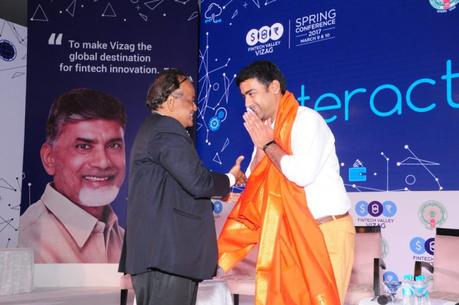 During his Finteract session, Dharmil Sheth says, "People struggle to accept change. Resistance and opposition are a part of disruption. I foresee technology leading this disruption and changing policy in the industry." Priyanka Agrawal recommends, "To
innovate, you must have a beginners mind. It is through only small insights and lateral thinking those innovative solutions can be born." On similar thoughts, Nitin Saluja believes in simplicity. If you need operations to do wonders, then the think tank has to do their job with perfection.
Finteract
Overall, Finteract was quite a meaningful interaction with entrepreneurs and experts. Probably, it is important for industry leaders to find right kind of experts that can become a catalyst for their business. After all, it is just a question of right kind of energy and synergy to create wonders.
This post is a recreation of my original post here.