Now, this I would call as a real innovation for the corporate world. And it comes from none other than Godrej, one of the premium brands in India. It is all about Godrej Interio Experience Centre. In fact, if any corporate is on a lookout for transforming any of their office premises to a new age office, then they must visit this place. Rather, if any corporate is planning to set up new office anywhere in India, visiting this place and getting a real feel of what a wonder an office space can do in terms of flexibility, interiors, employee engagement, energy creation, and optimum space utilization. Because when you visit this place, it will be a real kind of know-how that you can experience rather than trying to get a feel through a meeting, imagination, or a presentation.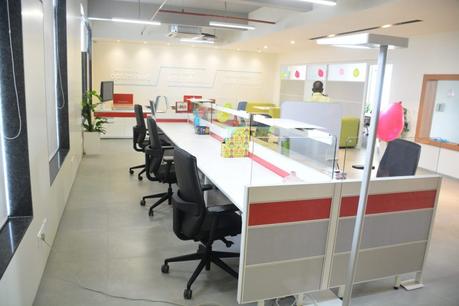 That way, it brings a real world experience so that you can set it as a benchmark and assess all your existing offices as to where they stand in relation to this benchmark. The address is: Godrej Interio Experience Centre, A 231, C Block Rd, Pocket A, Okhla Phase I, Okhla Industrial Area, New Delhi, Delhi 110020, India. It is the first of its kind in India. Though this is the first display center from Godrej Interio for the business world. Soon there will be more in key metro cities. As of now, businesses can fly from various cities to Delhi to the above address to experience it and thus invest for their office space in right direction. As a matter of fact, it is quite essential for any businesses to build an office that displays innovative creation, right kind of energy, flexibility, and vibrancy.
Godrej Interio Enters Corporate Solutions Spectrum
Thus they call it The Present-Future of Workplaces. And that, in fact, rightly fits in the spectrum. The new Godrej Interio Experience Centre is a platform where you can experience a real office with a huge amount of flexibility in a smaller space. This showcase can definitely give you a perfect solution in less space and lower investment but create an altogether different workspace for your employees. This is important because employees are becoming more sensitive towards the requirement of new age workspace. In fact, this kind of workspace acts as a catalyst in your employee's performance. This can give you a smart office in the real sense. Rather the place is also a must visit for architects, designers, CEOs, COOs, CHROs, and similar stakeholders. I am sure, a single visit here will bring a lot of innovative ideas in your mind.
Anil Mathur, COO, Godrej Interio says "New Delhi is one of the important markets for us. The city has always had a strong market for the office furniture, and in recent years has caught an eye of the leading interior brands of the world. It is our first experience center in the current financial year. We plan to have around 3 such centers across the key cities of India. While, the office furniture category in Delhi contributes to 12% of the brand's overall business revenue; the city contributes 150 Cr to the brand's business growth annually".
Godrej Interio Brings Revolution In Workspace Design
Naresh Tahiliani is Associate VP, Marketing, Godrej Interio. He says, "Millennial will represent 50% of the workforce by 2020, and 75% by 2025. They are digital natives and the organisations need to connect with this new workforce both physically and digitally. Thus the reality challenges the organizations to reinvent their business models to make people 'want' to come to work. Also, the market demand for flexible workplace furniture is gathering momentum. With growing industry needs and the change in work culture, customers want to experience an office environment that addresses the latest trends in offices. The experiential center aims to address these challenges and enable the customer to associate with Godrej Interio in offering complete turnkey solutions under one roof."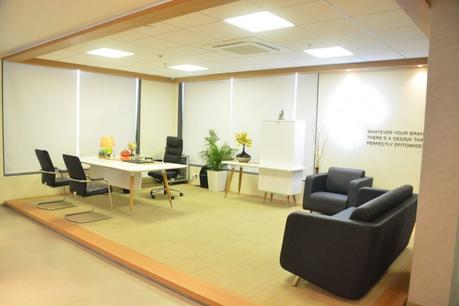 For this new enterprise solution, Godrej Interio and iDream are conducting a series of workshops. This is important in order to share the knowledge and innovative expertise in workspace. The title of these workshops is 'The Present-Future Of Workplace'. Usually, these workshops are meant for the senior management, HR Heads, and Head of Facilities. Because these are the people who have to make decisions.
Godrej Interio Launches The Present-Future of Workplaces
Parthajeet Sarma is the founder of innovation consultancy, iDream. He says "Organisations are working fundamentally different that requires the physical form of workplaces represent this reality. Space itself is increasingly being used as a starting point of innovation by forward thinking organizations. Companies that make the shift from need to want will be most successful in attracting and retaining talent. Godrej Interio is working with such organizations to create an eco-system. This will allow people to make this fundamental shift in their quest to remain innovative. Therefore, iDream is working together with Godrej Interio in organising these highly interactive workshops. The title of these workshops is 'The present-future of workplaces'. These workshops highlight tried and tested techniques to adapt to the fast-changing expectations of the new age workplace".