17 years back, I was nearly 3 years old. I don't remember things happened on this date 17 years back. I wish I would remember them. This date has always an exulting and a wonderful impression in my heart. My mom told me that I was outside with dad and grandmother taking care of me. I wish I should have been inside viewing the first sight. My only sibling's birthday today. 28.07.1995. Love you!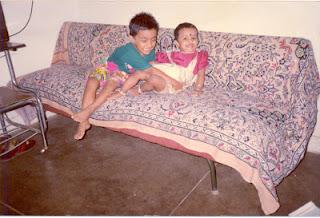 I am still excited by the thoughts of how you would have been in your childhood days. I have heard mom quoting you as a silent and an adamant girl. I still remember the way you threw my certificates down because you didn't get any in your L.K.G. It still makes me surprised the way you told that you would get all of 'em in the next year. You did get them. How much perseverance you had in an age at which others don't even know that word! Love you!

Amma has always found it difficult to put up with us. We grew up together playing, laughing, chatting, shouting, learning and most importantly fighting. I don't remember a day pass without we fighting with each other eventually leading our mom to scold us. I still remember the way you pushed me. I hit hard against the bureau. Blood started gushing out. You, my dear sister, started feeling for it, a bit crying came near frightened and touched my wound. Love you!

I am a lethargic guy and you are not. This ends up with an advice from amma and occasional scoldings. You will support every time when you think she might scold you too. Else you are always against me laughing and will silently see me. I will always wait for a strike back. But eventually I will forget and we will be together again. Love you!
It was my twelfth standard. I had fallen down from the bike and ended up with a multiple fracture. Oh I could not have gone through that without you. You helped me day-to-day. You helped me in putting my shirt on, feeding me occasionally, writing my stuffs, drawing my records, mental support. Love you!
I got a state rank in my twelfth and got a seat in Anna University. Its your support which helps me throughout my life. I always wanted to hug you and say thank you. I am telling this now. Thank you di! Love you!
I may have hurt you a lot, made you cry a lot. But I am sure it is I who have cried more every time more than you did. I remember the way you cried a lot when I cried every weekend in Pondicherry coming back from Chennai. You consoled me. You sacrificed a lot for me! You have accepted every change for me! You have been my moral support! You have been with me always next to amma and appa! Love you!
I just don't know if I can manage without you ever in my life. I was cherishing feeding you some days back. That is the first time I have ever fed you. I am assuring you that I will be with you always! I am not sure if I will be so strong emotionally during your marriage. I always want you by my side! Love you!
Happy birthday di! Have loads of success in your upcoming years! Be strong always! Be soft always! Never reduce your affection for us - me, appa and amma for we are the three who loves you a lot! Love you always!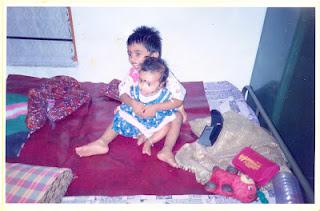 P.S: Today is my sister's birthday. She is seventeen now. She is all I have got. Yes I am gonna give her a present! Its a surprise!