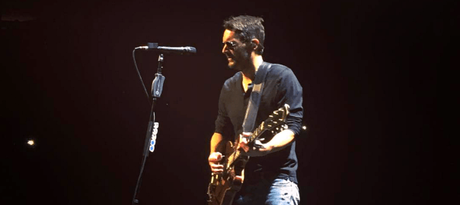 Eric Church 's Holdin' My Own Tour is well underway, and after his Thursday night stop in Toronto at the Air Canada Centre, we're glad the Chief put these wheels in motion.
I've seen Eric Church once before, at Boots & Hearts 2015 ... and if it weren't for some really crappy weather I would have seen him again in 2016 at CMT Music Fest. But the memories from that summer night set in front of 40,000 gave me all the buzz and anticipation I needed to get ready for this show.
With a packed house (from the GA on the floor to the last seats of the 300 level) Church stomped around the stage singing hit after hit for 3+ hours. There was no opener, there hasn't been and won't be on the tour, just two solid sets of the man and his band blasting their brand of country music.
After playing through his first few songs, Church addressed the crowd and promised to give them everything he had - but that he expected them to do the same... and if they did, they'd have a night they wouldn't forget. And those fans, the ones in plaid and boots and hats and denim and aviator sunglasses, held up their end of the bargain. They sang and cheered and screamed for Church as he moved from song to song, mic stand to mic stand, and from melody to memory. And for those in attendance, it will be a concert and a night they won't soon forget.
With a set list that included 37 songs... Church reminded us of the legendary shows Bruce Springsteen has been known to play. From the opening chords of Mistress Named Music, he was into it. If you've seen Church live or have watched any of performance videos, you know the signs.
☞ The fist pumps
☞ The snarled smiles
☞ The shouts and yells
☞ The extended arms
They were all there on Thursday night at the ACC.
Note: Eric Church also ingratiated himself to the Toronto crowd by bringing up his love for North Carolina Tar Heels and Raptors' alumni, Vince Carter. He told us that his little boy has a retro Carter jersey, and he was eager to exclaim his love for Vincanity. It's been a long 13 years since VC was traded... but to many fans, he'll always be our guy.
Here's the deal, Eric Church is a bad ass. He's a rebel. And he does things his way. It's why a tour without an opening act works for him when it wouldn't for a lot of artists. And it's why his fans love him.
And it's why Church was able to play seven songs from 2006's Sinners Like Me, and all 10 tracks from 2015's Mr. Misunderstood. AND, that still left 20 more tracks from all the years in between!
The show had it's share of goosebump inducing moments. From insane singalong sessions during tracks like Record Year, Kill A Word, and Give Me Back My Hometown, to the Toronto sized pop Church got when he draped a Maple Leafs scarf around his neck - there was no shortage of electricity or excitement in that crowd of country music fans.
It was a rock and roll show when the songs called for it. It was a singer/songwriter country show when the songs called for that. But more than anything, it was an Eric Church show from start to finish. No filler. No distractions. No questions. This was Mr. Misunderstood and The Outsiders and Chief and Carolina and Sinners Like Me. It was the kind of country show that makes you wish you went to more country shows.
And it was a night that we won't forget.
You were right again Eric.
See you all back at Church soon.
Eric Church Set List - Holdin' My Own Tour Toronto, March 2, 2017
⍟ Mistress Named Music
⍟ That's Damn Rock & Roll
⍟ The Outsiders
⍟ Knives of New Orleans
⍟ Drink In My Hand
⍟ Carolina
⍟ How 'Bout You
⍟ What I Almost Was
⍟ Cold One
⍟ Round Here Buzz
⍟ Mr. Misunderstood
⍟ Talladega
⍟ Like a Wrecking Ball
⍟ Pledge Allegiance to the Hag
⍟ Smoke a Little Smoke
INTERMISSION
⍟ Ain't Killed Me Yet
⍟ Guys Like Me
⍟ Lotta Boot Left to Fill
⍟ Record Year
⍟ Homeboy
⍟ Chattanooga Lucy
⍟ Two Pink Lines
⍟ Kill a Word
⍟ I'm Gettin' Stoned
⍟ Hung Over and Hard Up
⍟ Don't Do It (The Band)
⍟ Give Me Back My Hometown
⍟ Jack Daniels
⍟ Before She Does
⍟ Mixed Drinks About Feelings
⍟ Creepin'
⍟ Three Year Old
⍟ Keep On
⍟ These Boots
⍟ Springsteen
⍟ Holdin' My Own
⍟ Like Jesus Does