Photo Post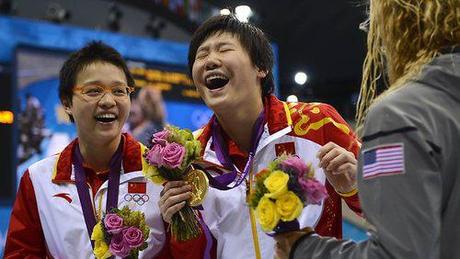 I've decided to relinquish control over my life, and give it over to the Olympics. I'm officially obsessed, to the point where I'm googling people like Ye Shiwen and Michael Phelps with the same fervor I once reserved for my ex-boyfriend's new girlfriends.
The focus of most of my rage—my hatred of Bob Costas excluded—is the treatment of Ye Shiwen in the Western media. Try to talk to me about anything else, and you will find that I have the singular focus of someone with severe autism. Mitt Romney. (That's my new code word for: "I'm sorry, that comment was offensive and I'm an idiot!")
The best piece written on the topic so far is by June Thomas in Slate. It articulates all of my thoughts on the matter succinctly. 
"…In 1987, a 15-year-old who weighed 95 pounds broke the 800-meter freestyle world record by more than two seconds. Janet Evans' triumph was rightly celebrated as the amazing achievement of a once-in-a-generation athlete.
We should open our minds to the possibility that a young woman from China could be a similar talent. We don't know if training, the amazing improvements that teenagers (like the young Michael Phelps) sometimes make seemingly overnight, or something else altogether is responsible for Ye's amazing success. But as Lord Moynihan, the chairman of the British Olympic Committee, pointed out in her defense, Ye has been drug tested repeatedly and has passed every single time."
Fuck yeah, we should open our minds. I'm happy someone is saying it besides me.