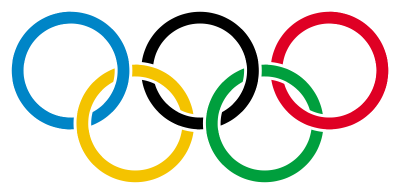 When I was a kid, I was in the kids choir at my church. Every year we did a musical that was usually fairly cheesy but taught some great truth about Scripture.
When I was in the first grade (or maybe second?), we did a musical called Hans Bronson's Gold Medal Mission.
It followed the story of Hans Bronson, an Olympic weight lifter. He comes to an Olympic rally one day to discuss his gold medal dreams and, in the end, learned what's the most important gold medal mission and gave his life over to Christ.
As I said, pretty cheesy, but with great Scriptural truth. There were lots of songs using the colors of the Olympics to tell the Gospel story. But there's one song that still sticks in my head to this day. It was called Olympic Fever. I can still remember all of the little soloists trying their hardest to spit out all of the sports in their specific solos.
The song went something like this:
Get the thermometorCheck the barometerThe temperature's rising in hereWhat is this reason for this rise in degreesAnd this mania ever two years?We barely recoup before it begins again!
Olympic fever! The incurable sortOlympic fever! We break out in sportsWith winter chills and summer sweatsEvery other year we get Olympic fever!We break out in sports
Skating races, hockey chases, basketball and trackTennis teams, balance beams, skiing back to back Polo matches, baseball catches, volleyball and lugeTriathlon, decathlon, horses and canoes Discuss throwing, rowboat rowingSwimming, sailing, skeetThe gymnastics are fantasticWho can miss a meet?
Duh nuh nuh nuh
Olympic fever! The incurable sortOlympic fever! We break out in sports...
You get the idea. (If you want to listen to the entire audio soundtrack of Hans Bronson's Gold Medal Mission, you may do so here.)
Anyway, as you might've guessed based on the fact that I've pretty much never talked about sports on this blog...I'm not a sports person. In the slightest. I've only watched two legitimate Super Bowl games in my life, only watched one baseball game ever, never watched a full soccer game...yea. Not a big sports person.
But when the Olympic comes around. Oh goodness, it's a whole different story.
Granted, there's still sports I genuinely don't care about and never will. Like soccer. And basketball. I just don't. I'm sorry. But when the Olympics come, I am a sports watching fiend.
Case in point: I like to go bed absolutely no later than 11pm the night before a work day. And that's legit the absolute latest. I prefer to go to bed at 9pm. Or 10pm. But never 11pm. And never 11:30pm. And that, that is what happened last night. I went to be at 11:30pm. And you know why? Because my eyes were glued to the screen watching the women's gymnastics qualifying round and the various swimming events that were interspersed throughout.
To put it lightly, I'm kind of obsessed with the Olympics. Most specifically swimming and gymnastics, but I'll also watch volleyball, equestrian events, fencing, whatever happens to be on and mildly interesting.
I cannot even tell you how incredibly glad I am that NBC is streaming all of the events live this year because it means that I can watch the Olympics while I'm at work and I don't have to turn into a zombie after a couple of days because I'm getting no sleep.
What are some of your favorite events? Are you a big Olympic person? Do you watch everything or just a couple of events?
--Sarah.