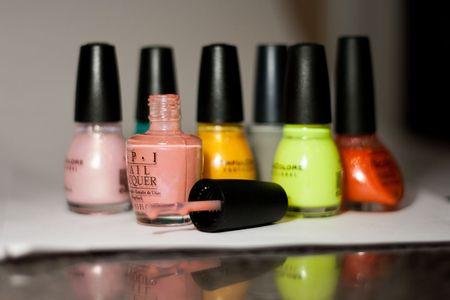 When I was younger - late junior high school or there abouts, I loved to paint my nails. In fact, I couldn't imagine a world in which I didn't paint my nails a new color almost every other day. I was obsessed with nail polish and had quite the collection.
Of course, as all things change, so did that obsession, although it didn't so much wan as it got pushed out for other things, such as jobs where nail polish was not allowed. My nail polish collection eventually got discarded when it was obvious it was all going bad and was no longer going to be used, and I didn't paint my nails again until well into my early twenties.
Then, that all changed. The Boy and I got engaged, and suddenly, everyone I knew was asking to see my hands and my engagement ring. My nails were short, my cuticles dry and my nailbeds were often chewed on. I'll be the first to admit that nobody really noticed, but I certainly did and it was something I wanted to change - a detail about myself I didn't want to overlook.
A post on Rachel Wilkerson's blog got me thinking about what type of nails I wanted to present to the world (and by the way, have you checked out Rachel's new blog yet? I love it!). I loved her bright neon nails and thought I might like to try this new, brightly-colored trend. So, I went to Target. Where I bought some neon polish, along with a turquoise that made me think of 50s cars, and a gray that was aptly named "sidewalkers." 
Of course, me being me, and not wanting to flash my non-skills with nail polish to the world, I went with the most subtle of those three colors first: the gray. Surprisingly, I liked it, though in the past (well, since high school) I've been a strictly pink polish sort of girl: neutrals, and lots of them! I loved that it made a statement and that it stood out.
The rest, as they say, is history. I can't avoid the nail polish aisle at Target now, and we're there almost every week (it's where we get our cat food and some household basics). My collection has grown to almost ten bottles of colorful polish, and my nails? Well, right now they're bare, but they're almost never without color. The cuticles look a lot better, I'm chewing my nail beds far less, and I'm no longer self-conscious about the appearance of my hands. Oh, and my favorite color? The turquoise!
Nail polish can do a lot for a girl. Who knew?