The other day, we were toned out to a MVA (motor vehicle accident) on the highway.  As we were rolling, it was reported as a rollover with an occupant trapped and the vehicle was on fire.
When we arrived on scene, we were greeted by civilians who informed us that they had put out the engine fire with 3 fire extinguishers (long haul truck drivers who has stopped upon seeing the accident). As we approached the vehicle from almost being dragged by these good Samaritans, we realized that this could be what we call a 'cutter', meaning that the person is trapped and we need to cut them out.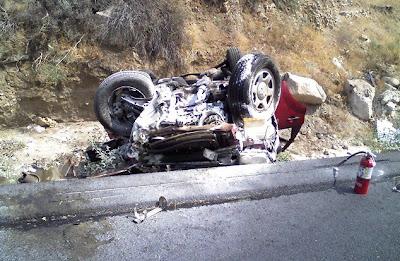 "... Notice the dry chemical from the fire extinguishers all over the vehicle..."
I went into the highway ditch to check our patient and to assess how bad the vehicle was, which had been traveling over 100 kph when the driver lost control and rolled his SUV into the ditch. He wasn't wearing a seat belt but his airbags (all of which deployed thank goodness) saved his life! We found him laying on the ceiling of his SUV (which was upside down) bleeding from a head wound.  I started to assess our patient. He was awake, looking straight at me, confused and in a lot of pain. I checked the driver's side rear door to see if it would open and it did. So did the rear door on the other side. So much for the 'cutters'.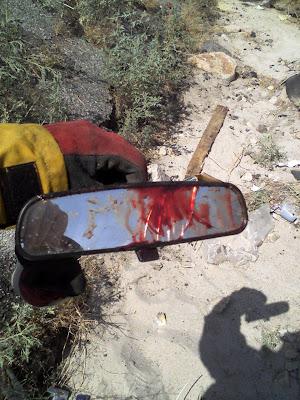 "...The driver decided to use his head to remove the rear view mirror..."
We placed the patient on a backboard and slid him out the passenger side. He was quickly loaded into the ambulance to be transported to the city hospital.
Know safety - No Pain!
No Safety - Know Pain!
Seat belts save lives. Buckle up every time folks.