Product:  Oriflame MORE by Demi Lipstick Pink Drama
Price: Rs 699 for 4g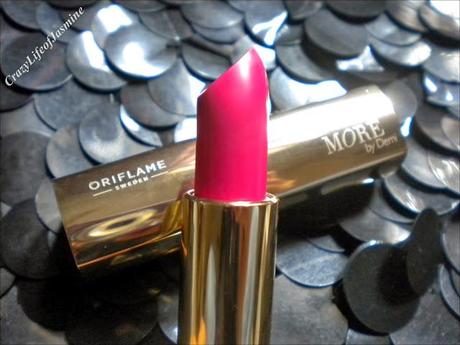 Packaging: This range of lipsticks comes in a beautiful packaging. The mirrored metallic golden outer case makes the lipstick look so luxurious and classy. It is Oriflame's first ever premium lipstick range with a click closure (just like a pen) feature for easy application.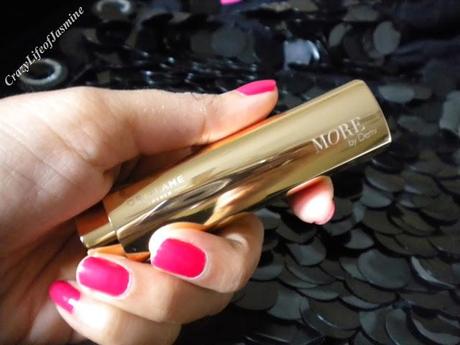 Shade: It's a bright pink shade with blue undertones…It's actually the same shade as of the nail paint (here).  A very daring shade once again from this range which can be easily worn during the day as well as night. Texture wise it is creamy and extremely moisturizing and glides smoothly on the lips; without any bleeding even after as long as 6–7 hours.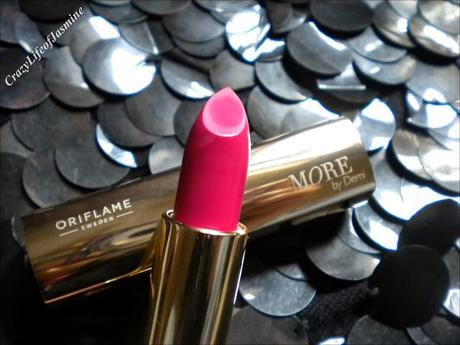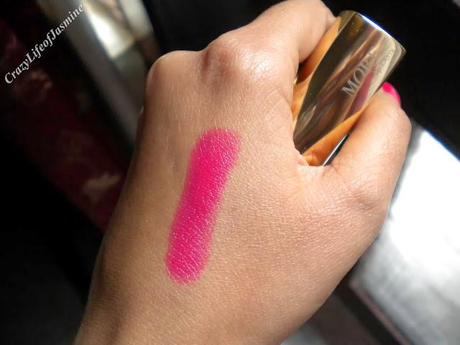 My Experience
I am in love with this dramatic shade and I love the fact how it transforms the whole look :). Though the shade looks a tad bit different on me…maybe it's because of my complexion…but that doesn't matter cos it still looks pretty good :). I remember this shade created a stir when Anushka Sharma wore a similar shade on a tv show for a film promotion and I fell in love with this shade instantly :) Anyhow; coming back to the review...It is my current favorite out of all the pink shades I have and looks great with almost everything :) Another thing that I love about it is the packaging… its absolutely beautiful…the click closure feature is great too and keeps the lipstick secure while traveling.
(had to 
c
rop out 
my eyes as they were screaming of dark 
circles and sleep deprivation and kindly ignore the pimples)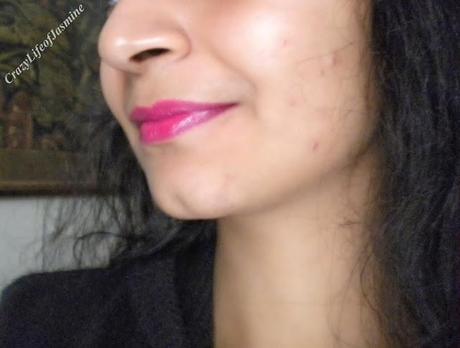 Likes
1. Highly Pigmented.
2. Extremely moisturizing.
3. Luxurious packaging.
4. Doesn't dry out the lips.  
5. Click closure mechanism.
6. Doesn't settle in the lines.
7. Mild fragrance of bubblegum.
8. Stays for 6 hours 
leaving
 a pretty pink tint :)  

Dislikes

1. Some may find it a little pricey.

2. Not available at cosmetic counters.

3. Transfers easily.




Overall, it's a gorgeous shade that makes my dull and gloomy winter days bright and cheerful :) The pigmentation is commendable and staying power is pretty good too. At Rs 699 it's a steal of a product quality and looks wise!! 

Ps. Brand Sample. Honest Review.