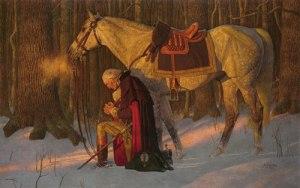 Washington praying at Valley Forge
George Washington was born on this day, in 1732. He was the first President of the United States of America, serving from 1789 to 1797, and dominant military and political leader of the United States. He led the American victory over Great Britain in the American Revolutionary War as Commander-in-Chief of the Continental Army from 1775 to 1783, and presided over the writing of the Constitution.
Washington became the first president by unanimous choice, and oversaw the creation of a strong, well-financed national government that maintained neutrality in the wars raging in Europe, suppressed rebellion and won acceptance among Americans of all types. His leadership style established many forms and rituals of government that have been used since, such as using a cabinet system and delivering an inaugural address. Washington is universally regarded as the "Father of his country".
 "A slender acquaintance with the world must convince every man that actions, not words, are the true criterion of the attachment of friends." ~ George Washington
About six months ago, I became curious enough to wonder what kind of state secrets Washington might have known that were never made public. Did he have a secret agreement with the British monarchy? Did the Revolutionary Army have a secret weapon that they never deployed during the war? It there really some treasury of gold, as depicted in the movie, National Treasure? I wondered if there were any Masonic secrets that Washington knew.
I set about to remote view Washington's most relevant secret. I RVed it in the blind (meaning I did not know what the target was before executing the remote viewing process). I was more than surprised when all the information about Washington's series of visions about the future of the United States of America. While I won't go into all the revelations that he had, let me state the information online about his vision is only about one-third of the revelations.
In the fall of 1777, the British Army, under the command of Major General William Howe, had captured Philadelphia. In those days, it was customary for fighting armies to take up winter quarters during the coldest months of the winter. In accordance, General Washington chose to take up quarters for his under supplied and under fed army 25 miles northwest of Philadelphia, near the small town of Valley Forge.
It was here that he was rumored to have had "a vision" about the future of the United States, after offering up a heartfelt prayer to Deity.
His revelations were recorded and sit in a secret archive somewhere in the District of Columbia. These revelations were taken so seriously by the fledgling U.S. government, that every President since has had access to them, if they so wanted.