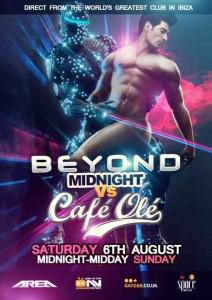 Maracas Marvel In The Morning
Now in times gone by, Saturday's were always filled with a host of clubbing offerings, smaller scale shindigs competing with bigger branded bashes with gay abandon, meaning there were always rich pickings for many in this, the most popular night of the clubbing week. However, how times change and recent months have seen a sharp decline in Saturday's leaving the committed clubber with little choice of where to lay his or her hat. However, enter stage left Beyond, the big brand that that was seen as a Saturday saviour, especially with the introduction of its "midnight format", extending six hours of clubbing to twelve , very much filling the gap left by others like Juicy, Matinee, SuperMartXe & Lovechild, that have virtually disappeared form the clubbing calendar. So, in extending its offering, Beyond has, with its midnight parties, changed the dynamic of the brand from a pure afterhours to one that is seen as both a Saturday & a Sunday club and one that has come to be the biggest weekly player of any remaining or current.
But not content with dominating the capitals clubbing scene, Beyond began to set its sights much further, an emerging world tour seeing the brand extend its arms to include destinations in Amsterdam, Antwerp, Ibiza Mykonos Paris, Rome & Sao Paulo. And in this process, it has collaborated up with other clubbing brands & events including, La Demence, Muccassassina, Red & Blue, Scream, & XLsior, the most recent captivating combination being with The Week in Brazil, a marriage of minds born out of the London link established last year. So, with Beyond's name & reputation playing out across the globe, further brand alliances were inevitable, Ibiza holding the next key to the success of these superb synergies, the island's Cafe Ole party setting sail & weighing anchor in London, bringing with it a slice of Spanish sparkle & style that would surely succeed. But how did this latest marriage of minds work? Was the Spanish influence impressive? And who did it for us the most?
Taking advantage of a disco nap that extended into a disco snooze, more to try & sleep off a nagging stomach ache, it was close on 6 a.m. before we made tracks for Vauxhall and a liaison with Beyond vs Cafe Ole, our original plan to make it much earlier laid to waste by a dose of lethargy, although with our secret squirrel undercover reporter on the scene from 2 a.m., we were safe in the knowledge that he would fill the gaps missed by our false start. And arriving when we did, we were faced with little or no wait, as it seemed we were one of just a few that had left it so late, Area brimming with Beyond followers who had taken advantage of the early start, packing out all three rooms of rapture, we finding Jamie Head in charge of the chunky tunes in the terrace space as we floated in, trying to mingle with the masses as though we had been there for a while, although with our SS bounding up, the game was given away in an instant. However, with the gaps very much filled, a sluggish start having rapidly gained speed from 3 a.m., the likes of Paul Christian, The Oli & Gonzalo Rivas having entertained exceptional with superb sets.
However, as we stepped through the chapel room & then entered the main space, it was clear that this Cafe Ole collaboration was now really stretching its legs and making its magnificent mark, not least in the hands of special guest D.J. D.J. Rafa Madrid, who had mesmerised the main room with a prolific performance from 5 a.m., although was about to hand the reigns over to the dynamic duo of Steve Pitron & Mikey D. And having assumed our spot, this was where our latest Beyond bash was going to start, the combo of these two towering talents simply too much to resist, Mikey arriving right on the stroke of 7 p.m., to a very relieved looking Mr Pitron who had been psyching himself up for a solo set which would have been satisfying enough for us. So the scene was set for another of those back to back performances that had become legendary, these brilliant Beyond boys working together like a dream, Steve's upfront & uplifting house mixing in perfectly with Mikey's slighter tougher edged sound, but each other's style similar in design & dream worthy in delivery. Add to that the usual bunch of Brazilians packing in around our spot, including the beautiful Bel and we felt right at home, Steve's glances over the D.J. booth adding to the amazing ambience of this awesome afterhours.
So we were now into our usual groove, not least as we could feel that emotional rollercoaster ride beginning to gather steam as Steve played first "Offshore" and then "Live Your Dreams", erupting a mini burst of tears, although there was enough cheering company in close quarter, clubbing companion Miss Cougar having made her (his) presence felt, the characteristic claw movements perking us up considerably, even helping us push thoughts of our grumbling tummy to the back of our minds. And when terrific track "Bitch Lady" was belted out, tears turned to giggles as memories of our magical & hilarious moments at Room Service just two days ago came flooding back, our uncontrolled laughter met with quizzical looks by the Brazilian bunch, by Miss Cougar & moreover by Mr Pitron who was miming "he's mad" movements to all the boys around us. But the timing of the Cafe Ole robot couldn't have been better, this incredible creature even eclipsing the amazing area lighting, a six foot tall monolith of a man decked from head to toe in neon lights & making a sparkling statement as he stepped around Beyond's main room.
Now this Cafe Ole collaboration was in full flow, the podiums topped with very scantily dressed dancers, some in little more than their birthday suits, while the fun & frivolity was continuing in our corner, not least as Bel & Steve were chasing us around in "porridge" style, our iron lung hardly being able to cope, while when behind the decks, Mr Pitron was testing our emotional resolve with yet more of our summer scorcher sounds, "Stupidisco" the "You've Got The Love" hitting their heavenly mark, Mikey D also shining bright like the superstar he is and when at Beyond a man inspired. And with a host of familiar faces coming up to say hi, including the magnificent Mauricio who lauded a massive hug & kiss on us, very much making our morning, even Orange Group manager Philippe charm personified as he greeted us with a warming hello, even treating us to a refreshment pass, an honor indeed. Plus with Jamie Head now in close quarter, as well as an indulgent Paul Heron who set us off on another giggling session following a cheeky tweet of ours (dare we repeat it?!).
With Steve having played his last track as well as entertaining us (yet again) in the Beyond main room D.J. booth, we stepped outside to catch our breath, having congratulated Mikey D on another prolific performance with a drink as well as skirting around the terrace bar which was rocking to the raptures of Fat Tony, we reassumed our spot in the main room for the last leg of this Cafe Ole collaboration, The Sharp Boys having now assumed the decks. However, with first Miss Cougar peeling off, having held sway for a good ten hours, then the beautiful Brazilian Bel retreating to refresh herself before a trip to Later, as good as both George & Steven were, our energy levels were beginning to sag, we too calling it a day about 11.30 a.m., our minds eye also pointing towards the Pimms pool party across at Fire. So, waving farewell to our favorite club, we made our slow but surefooted journey home to reflect on another brilliant Beyond made even better by the dynamic duo of Messrs Dower & Pitron.
Kicking off our clubbing at midnight on a Saturday had always been common place for as long as we can remember, but to spend twelve hours in the same club & same venue is pushing it a bit, even for us. Add to that the fact that we have always considered Beyond as a pure afterhours club, we find it difficult to break with the tradition of arriving from 5 or 6 a.m. onwards, the regularity of these midnight style parties beginning to take away the essence of what Beyond is all about. There seems to be a steadfast rule in clubbing (as in many walks of life) and that is "don't fix what isn't broken" and we think there is nothing wrong with keeping with the regular Beyond format, excepting on perhaps special holiday occasions. As for this midnight gathering?, well having landed at 6 a.m., it felt more like a regular Beyond for us, although the Cafe Ole influence did come to bear with the imported dancers & that dazzling robot which certainly dazzled. As for our highlights?, well they had to be the scintillating set from Steve & Mikey, they once again proving that they are the best in the business, while the look on Paul Heron's face when we showed him our cheeky tweet was a classic moment that will live with us for a long time to come. (DISCO MATT)
Postscript
Don't forget that you can tune into our live clubbing commentaries by going to http://twitter.com/discomatt and checking out our Nibble Sized review tweets, while you can also track our "check-in" activity via http://facebook.com/discomattlondon.