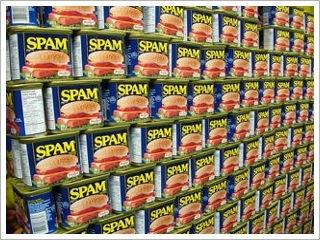 So this post will have absolutely nothing to do with books. If you're purely for the books and hate anything funny, stop reading now. Otherwise, continue

The blogging platform we use here is WordPress and I really love it. The apps are so easy to use and we're not limited by much. They also have a great spam comment catcher. We get dozens of spam comments a day and they never make it though. In fact, there have been a few times when real comment got lost in the spam ones! I was combing through the spam comments last week looking for any that were legit, and I was cracking up at some of the spam comments we got. I had to share them! Keep in mind that these originally had hyperlinks in the text that would take you to their sites, but I deleted those so that you only see the text:
Can you adapt yourself to the new job? Don't give me that!How about going to a movie? I can't help eating sweets whenever they are in my presence.Show your tickets£¬please.I don't like what you are saying.I don't like what you are saying.It really takes time.I have been putting on weight.Can you believe that I bought a TV for $25?
Do you like it to have an e(rot)ic date with a girl, woman, boy or men? Check out our website for real sex contact!
Inspirational writing. My soul is enlightened by your type words and warm heart.