One Thursday morning when I was bored and nothing to do in the office I decided to do nail art. I came up with this because this are the things I have in the my kit.
I applied NYX girls Nail polish in Bermuda Triangle as my base. after 30 minutes I applied the glitter LA colors Color craze in Aqua crystal and put a nail sticker for dramatic effect ;p may ganun :)
I came up with this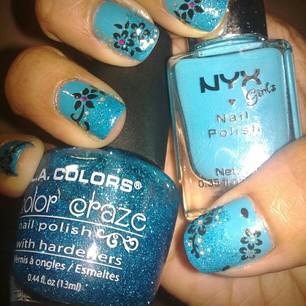 I also posted this in my
Instagram account
. you might wanna follow me my name there is
Eyerin30
More pictures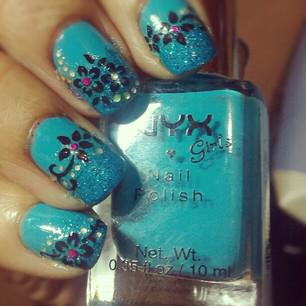 Oh how I love this teal nail polish. I heart you so much.
If you  don't have an
Instagram
account you can still check my instagram via this site
Webstagram
You will find artistic
nail art
artist in Instagram and some
Showbiz personality
too :)
It's more in Instagram.
Sharing pictures
and make it more artistic with just a touch :p
Lovelots,
Eye