hello kittens.
not sure why I use that reference, I hate cats. Sorry cat people. I am a dog girl! 
It's Friday though, so all is forgiven, right? I thought so. Sheesh this week went by so fast and so slow. I think it was the day off that was so stupidly given that has caused me to just want to sleep for three days straight. Now, I am grateful for that day off, but there should be a rule that July 4th can only be on a weekend. Even if it's July 7th, and we still call it July 4th, it should be on a weekend! This is America, anything is possible! 
Anyway, it's time to link up with Lauren for High Five for Friday (#H54F). I am feeling that! 
top 5 things of this week!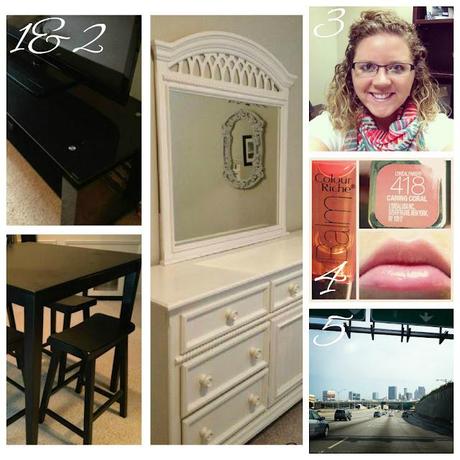 1 & 2: We sold some old furniture at a great price for those who needed it.  We also got some new as well!  3: Love this scarf from Target (Spring 2012).  It was my go-to accessory yesterday when I went back to work in a semi-coma. 4: My new lip gloss from Monday's post. It's my new fave!  5: A drive to the city. Love the hazy skyline.
If you're interested in sponsor swapping for July, just head over to my sponsor page!  Use the promo code: SWAP in my passionfruit ad shop.  Email me your blog URL, 400x400pix photo of you, and blurb about your blog.  melissabarrett@grinandbarrettblog.com