Hi sweet people :) It's Thursday which means that Friday is OH SO CLOSE!  And because you guys are just SO incredible, I have a treat for you today.
I want you to meet my good friend (blog & in real life) Sara! She blogs over at The Lovely Lemon. I've asked her a few questions so that you can get to know just how wonderful she is!
Take it away Sara! P.S. There may or may not be a giveaway at the end...just saying ;)

..................................................................................


1. Okay, I have to know, where did the name "the lovely lemon" come from? I think it's just so cute!
Why thank you! :) So, not to get all deep or anything, but I sort of love the idea that we can somehow gain something from the seemingly crappy moments in our lives. You know....the lemons. We can choose to be hopeful and still call those moments lovely. ...was that cheesy? Yes. I am cheesy.
2. Describe the perfect day.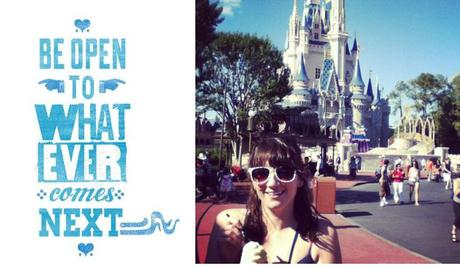 hmmmm... my perfect day. I would be mellow all day long. I'm a go-with-the-flow kinda girl. I would sleep in. Enjoy a LARGE cup of coffee and breakfast with my husband Matt. A little thrifting...I like to treasure hunt ;) . Watch my favorite movies....OR wake up and go to Disneyworld! ....it's a toss up!
3. What is in your purse right this second?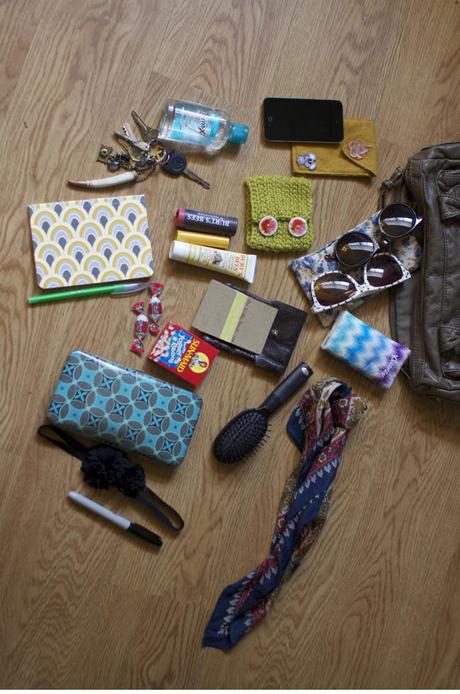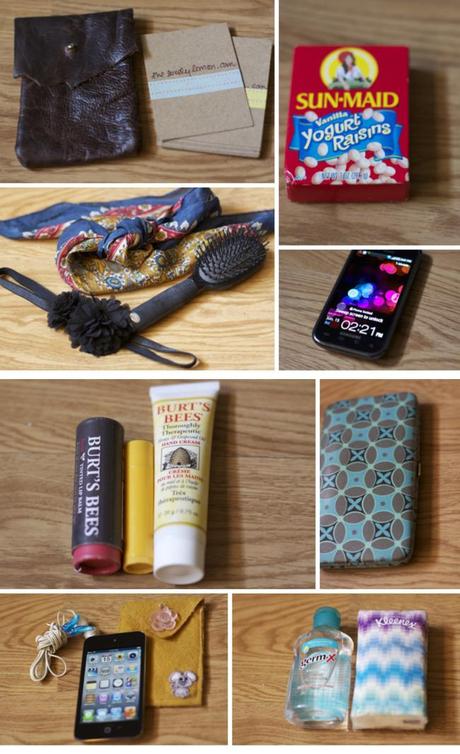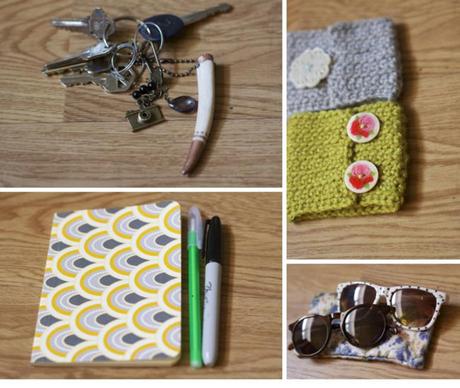 Here's the rundown: (from top to bottom) business cards and leather case from Pilgrim + Native on etsy. everyone needs snacks, I carry yogurt raisins. Droid phone. hairbrush, flowers headband, vintage scarf. wallet. Burt's Bees everything (berry tinted chap stick, classic chap stick, hand cream) . iPod touch, earbuds, and iPod case from Squid Dumpling on etsy. tissues and hand sanitizer. I ALWAYS carry a couple cute cup sleeves! The buttons on the green one are my very favorite! idea notebook, pen, and sharpie. keys with doo dads by Pilgrim+Native and Squid Dumpling. two pairs of sunglasses (always) in case.
4. You're a big time crafter. What's your favorite thing that you have ever crafted?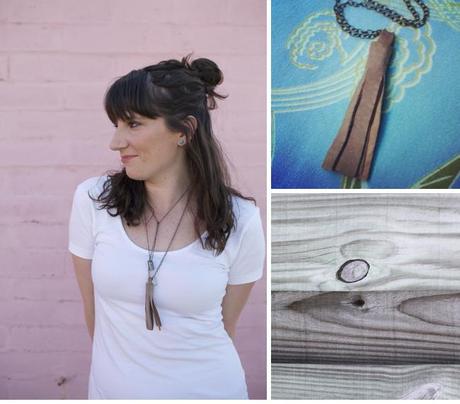 Wow. That's a big question. I would have to say that my leather tassel necklace. It's super simple, and kind of plain, but I think it's my favorite accessory. Whenever I am packing to go anywhere it is the first accessory I think to bring. I often wear it by itself, but the best thing is to layer it with 1 (or 2!) other necklaces! I made it forever ago, but it is the most frequently used.
5. What are your 5 favorite books?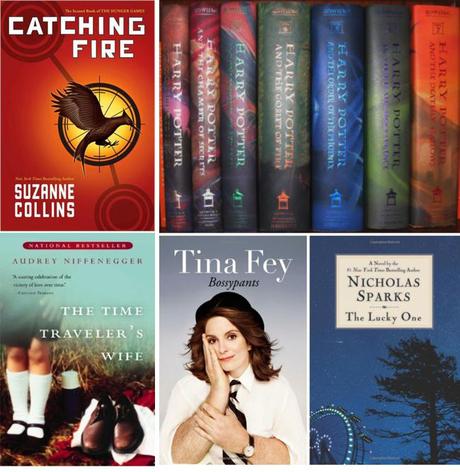 Up until a couple of years ago, I wouldn't really have called myself much of a reader. But now I just love it! I have read a couple series, some sappy books about love, marketing based reads, and comedic books....which I think are my favorite. :)
1. The Harry Potter series: yep. I think I'm just going to refer to that as "one book" on the list because, well, there are seven of them and I just can't choose okay?! okay. 2.Catching Fire . I believe this to be THE BEST book in the Hunger Games Series. Although I did greatly enjoy the entire series. This book was, and is, my favorite. 3. The Time Traveler's Wife. This book is both sappy, and raw. Love it. 4. The Lucky One. Yes, I am a Nicholas Sparks person. This is the best one yet in my opinion.....anyone see the movie? 5. Bossy Pants by Tina Fey....LOVE. I was laughing out loud on the first page....maybe event the first sentence. This is what I am reading now and it's already on the favorites list. It's dang good.
GIVEAWAY TIME!!
up for grabs: a turquoise beaded fringe necklace from the lovely lemonade shop on easy!
here she is :

HOW TO ENTER: It's pretty easy really.....just leave a comment on THIS POST at The Lovely Lemon BEFORE midnight on Sunday June 24th. that's it. that's all you have to do to enter...see? easy. ;) THE WINNER will be selected at random and announced on the lovely lemon on Monday, June 25th! Good luck! :)

..................................................................................


Isn't she great?! TOLD YOU that you were in for a treat :) Click on over to The Lovely Lemon and show Sara some love from Lovely Little Things! And you should probably enter the giveaway while you're there...because how cute is that turquoise fringe necklace?Thanks for hanging out on my blog today, Sara!lovelylittlethingsblog.com