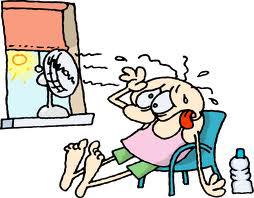 It's the end of June and the East Coast is getting slammed by intense heat and high humidity. The electric companies are pleading with people to conserve,
conserve, CONSERVE
. Yes, at times, due to an abundance of electrical devices being used, there is the occaisional ...........
power outtage
. And yes, they DO SUCK!
Anyway, we've had a few days of this
extreme
heat. I'm talking real temp high 90's to triple digits with the heat index (feels like) 10-15 degrees higher. It's pretty nasty out there. Friday night came and as the hubs, me and Titan are winding down from a long week, the "unexpected" happened. It's nearing 8 pm. The hubs comes to my she-cave and looks at the thermostat. I can't remember his exact words but I knew it wasn't good. I really didn't notice the heat....until I got up and moving. We go outside and the central air fan motor is not moving. Oh farkin hel! Hubs goes into
instant asshole
mode. Me? I'm trying to stay calm and composed, asking my God for strength to not totally freak the hel out!
The hubs is ranting, taking apart the a/c unit. Of course, anyone you call to come out will be an
Emergency
 call and charge. Eeek! Yeah, those suck! So hubs is still taking apart the central air unit. I call the HVAC guy that works on my system at my employer. He's been to my house to work on the heater before. 
Voicemail.  
Drats.
 I leave a message with the issue and ask him to call me.
Meanwhile, in the triple digit heat we were having, I start opening the windows. It's getting hot inside quickly. Time to settle down for the night and yes, it's gonna be a LONG HOT night. Titan is already having issues.
Not cool!
 Thankfully, we had one fan that we had blowing on the bed.
It really wasn't helping though.
 Next thing ya know, 
CRACK BOOM BANG!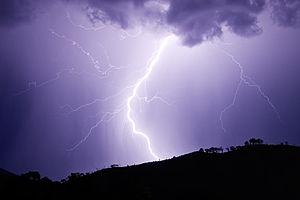 (Photo credit: Wikipedia)
You got it! Thunderstorms! Lightning, Thunder, and then rain started. Fark, really? Hubs is stomping around shutting windows. Yep, balls hot out, no air, and we have to shut the windows. It was soooo damn hot! No one was comfortable.
Titan had moved out to my she-cave, I followed and laid on the couch. Thought it would be cooler. It really wasn't. I tossed, turned, petted Titan and seriously considered grabbing him and taking him to my truck and laying down with the a/c on.
We didn't. 
Morning came and thankfully, an early 7 am phone call from my HVAC guy who talked to the hubs about what was going on. Instead of hunting for a motor, he suggested a capacitor. Hubs went out on the hunt. Titan and I are sitting out back on the deck where it was cooler than being in the house. Miserable I tell ya.
Hubs text, Strike One. Oh fuck. Saturday and Sunday were suppose to be hotter than Friday! So a few phone calls back and forth and my HVAC guy and my hubs SCORED the part, replaced the capacitor and
drum roll please...............
WE HAVE COOL AIR AGAIN!! WOOHOO!!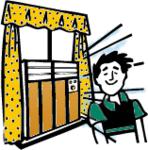 Once it started cooling and all was safe, hubs and I hit the road to do errands. One errand was to go hoard a couple of box, window fans in case something happened again. We ran about do a bunch of other things and when we came home, the indoor temp went from high 80's to high 70's. 
We were so tired that we called it an early night. The household was asleep by 9 pm.
The whole incident brought me to thinking about how totally dependent I was on having air conditioning. Not only for me, but for Titan. Those dogs with shorter snouts, have respiratory issues. He was my biggest concern. I had already said, if it didn't get fixed Saturday, we were heading to the motel down the road. The took pets.
I nearly had a meltdown over these two days, but managed to keep my composure and not stomp and tell the hubs to "Fark Off!" He ranted for a while and then eventually, got control.
How do you handle the "unexpected"? Have you had your a/c crap out during the midst of an extreme heat wave? How dependent are you on having a/c?