Becoming a parent is absolutely one of the biggest life changes a person can experience there's no doubt about it. There's all the physical and emotional demands as well as the added pressure of being responsible for a whole new person or person/s.
My life as a Mum pretty much consists of days where I feel like 'Yes, I think I've got this!' and also  days where I feel like, 'I can't don't this, I'm so overwhelmed!'. It's a roller coaster parenthood, it really is!
It's hard to strike a balance as a parent there's so much to juggle and many challenges such as keeping up with the house and the chores, getting enough sleep, finding time with your partner, having quality down time, keeping to routines and eating good meals at normal times, keeping your children happy, doing the shopping, the list goes on and on. 
Tanith Carey who you may know as the author of Parent Hacks has recently shared some her top Mum Hacks with Graco to celebrate the launch of their brand new ultra-light pushchair - The Featherweight. And so I've put some of her tips to the test.. here are are my top 10 favorite Mum hacks to make life with children that little bit more easier!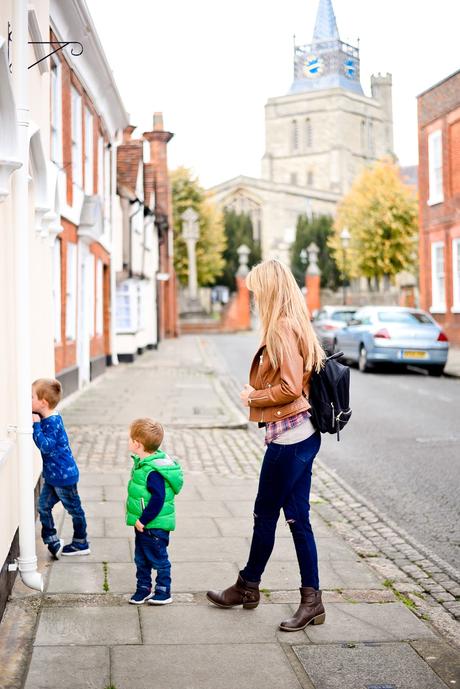 1. Wear a backpack
Forget bulky handbags which can turn into bottomless pits and get in the way when you're on the go with a little one. When you're racking up the miles behind your pushchair, free up your hands by wearing a backpack instead. I swear by backpacks, I absolutely love them for days out with my boys and I think that they look super stylish too!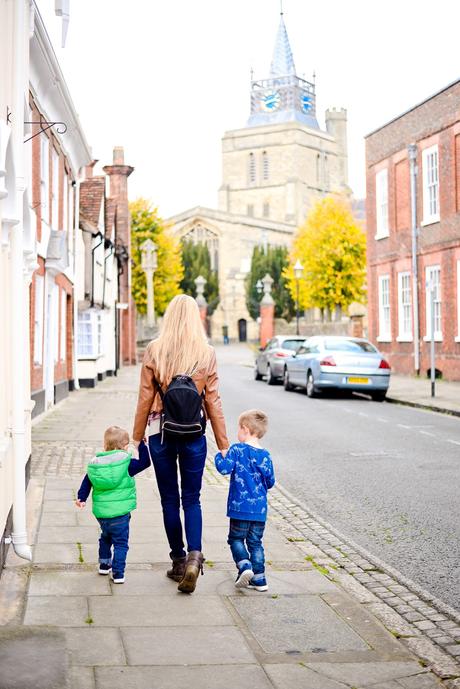 2. Choose a pocket where you ALWAYS keep your essentials 
Choose one accessible pocket in your bag where - without fail - you ALWAYS put your essentials such as travel pass, debit card, phone, and keys when you're on the move. That way you will avoid panicky moments rooting around to find them - or worrying you've left them somewhere. I am so guilty of doing 

this and panicking, so having just the one place for all the essentials is such a life-saver!
3. Snap a photo of the inside of your fridge before you go shopping
Before you head out shopping with your pushchair, make sure you don't overload yourself by snapping a picture of the inside of your fridge on your phone so you have an instant visual reminder of what you do – and don't need - to buy.
This will save you time and money on unnecessary shopping!
 This is something we do and it really does 

work, I also take photos of school letters that

come home in case I loose them! 
4. Group your errands together
To cut down on the time you spent on your feet and out and about, group
your errands together by choosing a supermarket, or shopping area, that has other services you need, like dry-cleaning, shoe-mending, a pharmacy and postal services. This is again something I always try and do when I go out, I try to pick retail parks that offer everything I need. It makes it so much easier in terms of not having to get the boys in and out of the car multiple times. 
5. Buy storage with wheels on to save your back
When it comes to toy storage, look for containers on wheels which can be rolled out for tidying – and wheeled right to the heart of the worst mess – and then pushed back against the wall or behind the

sofa. We have invested in storage boxes from IKEA with wheels on and they are 
amazing

 for the DUPLO blocks that we keep in our living room.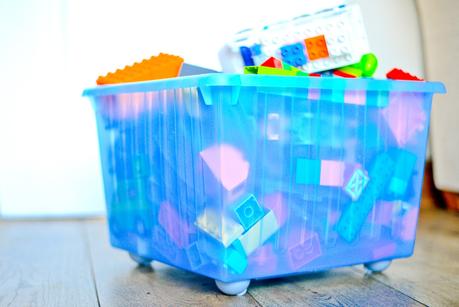 6. Make tidying up a 

fun game
A young child in full flow can create a new mess every minute, so harness that natural energy with some reverse psychology, and make tidying up a game. Buy toddlers a mini-shopping trolley and suggest they go 'shopping' for toys. I have to say that my boys will 

definitely

 try and get out of tidying if they can, but when we make it a race or a game it's amazing how fast our 

living

 room floor or 

their rooms can get cleared!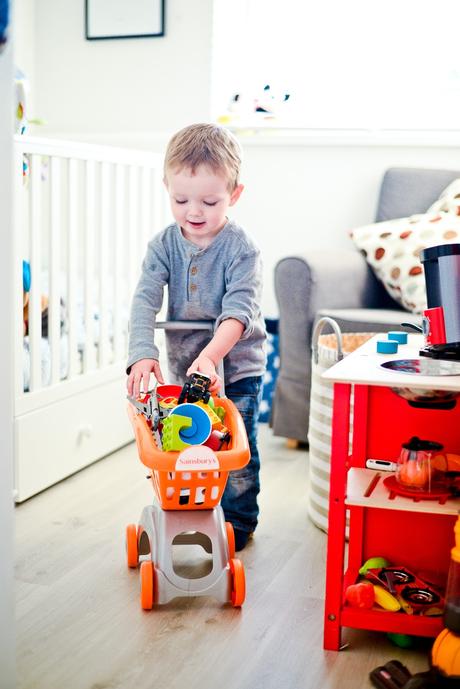 7. Use snacks to keep your children occupied as you shop
Tanith Carey says, "If you have to go to the supermarket with kids, make the deli counter your first port of call – and 

pick up any free samples of cheese or other snacks to keep children occupied as you shop." We take snacks 

wherever

 we go as our boys seem to always want food! We actually take a packed lunch with us when we go out as they're fussy with food, so this saves money and is a lot less stressful! 

8. Make friends with the postman

To save on trips collecting missed online deliveries, make friends with your postman and local delivery drivers for the companies you use most. There's nothing more irritating than narrowly

finding the 'Sorry We Missed You" card on the doormat and then having to re-arrange delivery, or trudge to a collection point and wait in a queue, with baby or toddler in tow. We get a lot of deliveries 

with

 what I do and with my 

Husband's business so we see our postman quite a lot and have got to know the delivery drivers for some companies too. They know we have children so will ring or knock a couple of times before giving up and then they also know of a safe place to leave parcels if we aren't in. 


9. Invest in a lightweight pushchair 
When it comes to purchasing a pushchair for your baby make sure you choose one that is lightweight to give you the ultimate freedom 

to get out of the house whether you're on a day-out, shopping, or climbing stairs. 

At 3.6kg, the Graco Featherweight is about the weight of an average new-born baby, and suitable from birth to 15kgs or approximately three years. You will be able to brave going anywhere because it can be folded with one hand and thrown over your shoulder with a carry-strap. It also folds vertically, and stays free-standing, so it's perfect for public transport and particularly buses where you're often required to fold up pushchairs. 
10. Carry a 

lightweight

, loose fitting poncho on the 

bottom

 of your pushchair
As it's never easy to hold an umbrella AND push a pushchair, keep a super-light, loose fitting, lightweight poncho at the bottom of your pushchair - with an all-important hood - to cover up. Choose one that's roomy so you can slip over your clothes quickly and which you can fold up pack away. I found mine in Primark for around £5 and I really 

recommendhaving a poncho with you if you know you're going to be pushing a pushchair around. Pushchairs and umbrellas =  such hard work!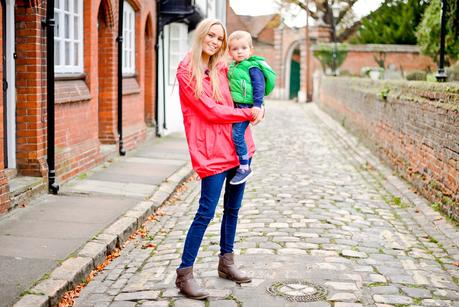 I hope you've enjoyed reading and have found some inspiration from Tanith Carey's top parent hacks. To find out more about Graco's brand new lightweight pushchair The Featherweight you can visit graco.co.uk.

Thank you for reading. 

Alex xo  

Please don't forget to leave me a comment below and share this if you've enjoyed it. 

♡

PIN THIS: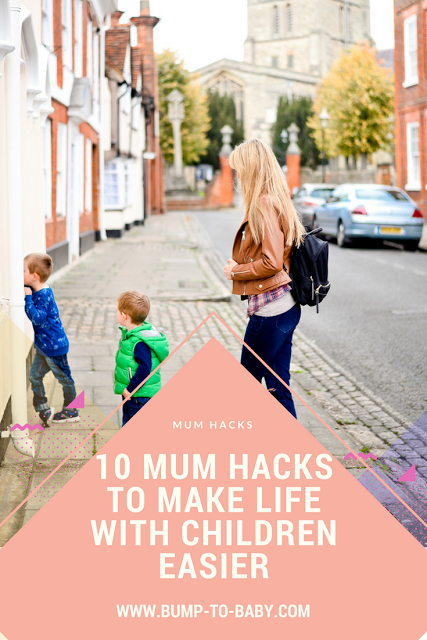 Save
Save