You may have seen my post 
or video
 a few months ago all about our 
new home office
, which we did as part of our conversion and upstairs decoration back in June of last year (how has it been that long ago already?). As Adam and I both work from home, it's been so nice to have a bigger, brighter office space to work from. I love having a double desk as well as proper storage space for all of Adam's stock to hide in (although admittedly it has overfilled out over the Christmas period and some is now stacked up high in the corners of the room). 
Choosing everything for our home office was relatively easy, we had a good idea about what we wanted and we mixed our vision with practically - after all, as visually wonderful as we wanted it to be, it was an office that we would need to be able to work fast and effectively from. 
Below I have shared ten tips that we used whilst designing our home office. If you're thinking of redecorating a previous home office or designing a space at home to work from for the first time yourself, I hope that they will be of some help.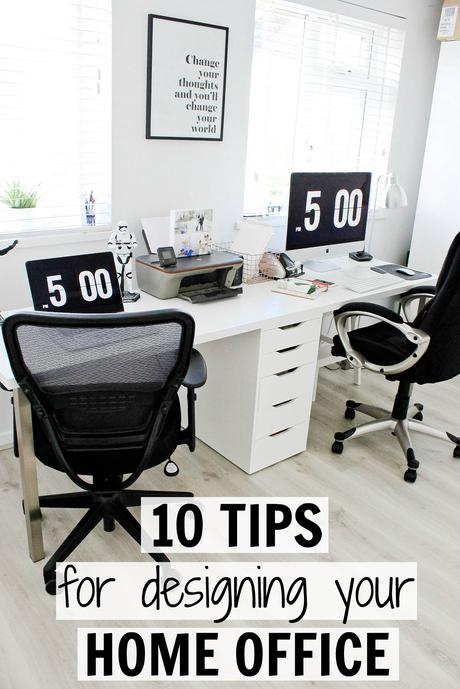 1. Use Pinterest 
Make a board and fill it with images of home offices that inspire you. Use this board as a a reference for creating your own visual image of how you'd like your own home office to look. 
2. Think about the practicalities 
If you like a minimal, modern, clean looking office but you run a business selling things and so have a lot of stock or packing material, think about how you can implement storage in to your room without it looking too messy. We use in-built wardrobes that were already in the room, as well as using large white, modern-looking, custom made wardrobes/storage cupboards on one entire wall to the side of the room, which hides messy stock easily.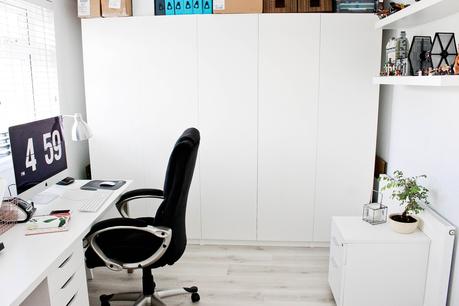 3. Think about light
Personally I work so much better with natural light, our desk is in front of our windows and I love it. I spend a lot of time at the computer when I'm not with my boys and when I'm there for hours, I like being able to glance up and look out at the outside world. I don't feel so hidden away then. 

4. Get a plant 
If you tend to be at your desk for hours, bring the outside world in and invest in a plant or two. It will look visually nice, but it also give you the feel-good factor when you're stuck inside for the day, just like natural light does.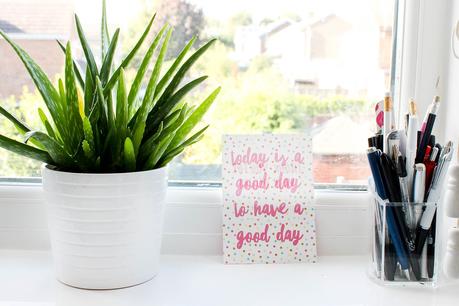 5. Surround yourself with things that inspire you 
A family photo, inspirational quotes, pretty stationery, whatever it is - place things on your work desk that make you feel inspired to help you feel more motivated with work. 

6. But don't over accessorise
I personally prefer a mostly clear work desk, too many accessories or clutter can make for a cluttered mind. I like the concept of a clear work space equals a clear mind. 
7. Go light and bright
This is obviously very much down to individual taste, but I personally prefer to be in a light and bright room when I'm working. If you are working from a room without much natural light, then maybe think about decorating it to feel and appear lighter. We have very light grey, brown flooring in our home office, white walls and a white desk. We used to work from a much dingier room and in comparison, I feel so much more productive with brighter decor.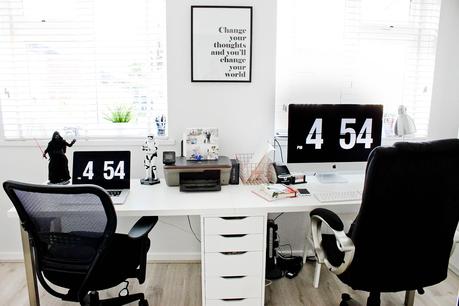 8. Add touches of you
Think about a few things that you could add in to your home office that represent who you are as a person. What things do you love? What are you in to? Are there any quotes that really mean something to you and that you live your life by? My Husband and I have both added in subtle touches to our home office of things that represent us - it just gives it that something extra.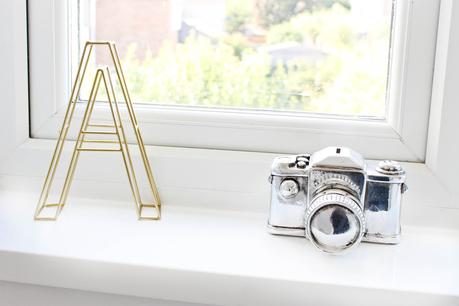 9. Think about space for filing important documents 
Don't overlook the fact that you'll need somewhere to file important business and home documents away. Work out if you just need a small folder for this or a filling cabinet and try and find something that will match closely with your decor choices.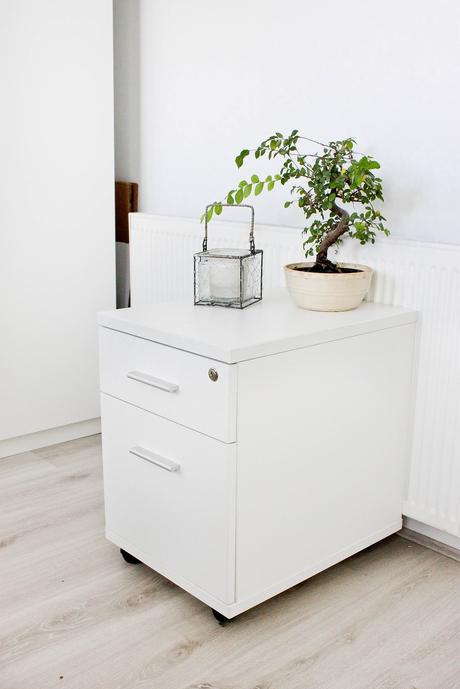 10. Invest in the right chair for you
For any of you who spend a long time at a desk and don't have a high-quality chair, you will know how frustrating it gets when you're constantly moving trying to get yourself comfy in a chair which probably isn't correctly suited to your posture. It's important to find a chair that's right for you and will help to increase your productivity. The best advice is to go out to a shop where you can try sitting on different office chairs. We ourselves actually went over to Staples to try out lots of the chairs there before finally deciding and I've been SO pleased with my choice ever since. When you're sitting somewhere for hours each day, it's so much more important to have a chair that is comfortable on your back, then it is to have one that looks amazing but isn't doing your back any favours. Furniture at Work recently carried out a survey to see what people who work in offices really thought about their office chair. The stats below show what 750 UK office workers thought when they were asked questions regarding their office chair.
I hope these tips have helped. Good luck if you are planning on creating or redecorating your own home office this year!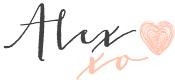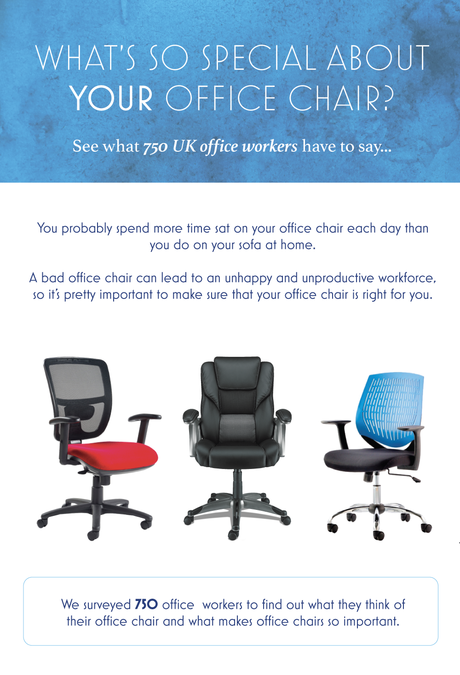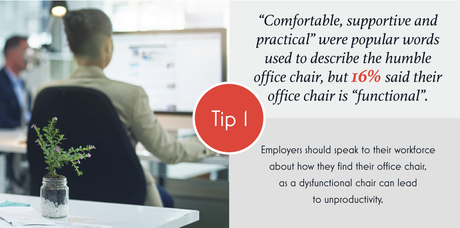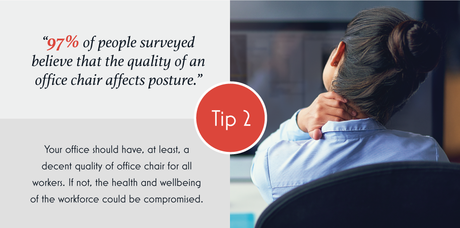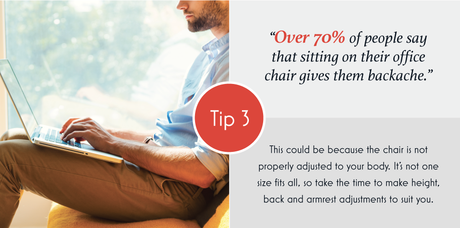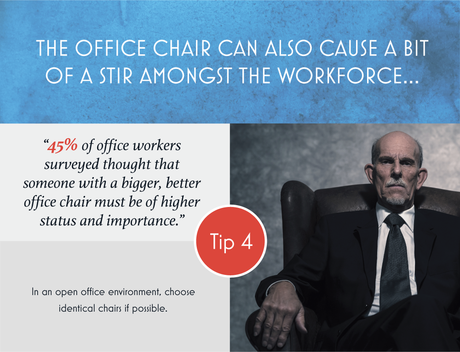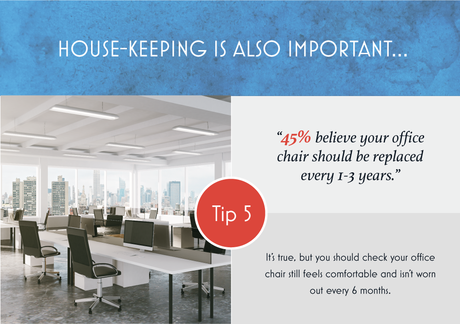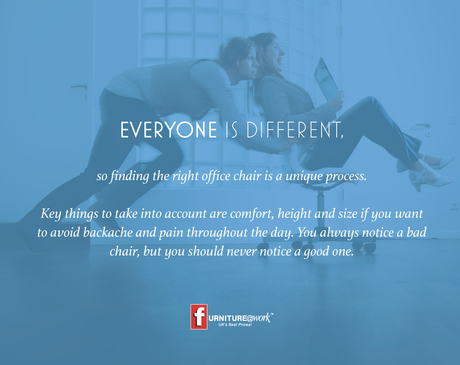 Save
Save
Save
Save
Save
Save
Save
Save