When Hannah e-mailed me a couple weeks ago asking me to be part of the 12 Days of Love Letter Writing campaign, I couldn't type "yes" fast enough. If you're not familiar with The World Needs More Love Letters, please click here to get acquainted with this inspiring organization. From December 5-17, they are rolling out their biggest, grandest, love letter writing campaign yet, and I need YOUR help to make it happen. Yes, YOU.
Today we have an opportunity to send love letters to a couple who desperately needs it. If you find yourself with a piece of paper, a pen, a stamp, and ten free minutes today, won't you please PLEASE join me in writing a love letter to Nelson and Shelley?
This is their story…
"Nelson and Shelley have the kind of love little girls dream of. Nelson is outgoing; Shelly more reserved. Both have kind, honest eyes and smiles that light up their faces. Nelson is currently in the reserves, and is an airline pilot. Shelly is a stay at home mom with the grace of a TV housewife, but with a fire inside of her that shines through. If you met them on the street, you would have no idea the journey they are in the middle of.
Proud parents of 3 kids under the age of 7, their oldest daughter has leukemia and is facing a nearly impossible battle. This isn't their first go-around with this terrible illness. They are raising a loving family in as 'normal' a way that they can. They are constantly upbeat, but you can see that not all of the lines on their faces are from smiles anymore. Nelson and Shelly could really use a boost of outside love right now."
This story especially touched my heart as a first time mom. I can't even begin to imagine what this family is going through on a daily basis. I know they could definitely use some extra encouragement this holiday season. Will you please join me in sending a love letter to Nelson and Shelley this week? It only takes a few minutes to write, and I promise you'll be glad you did. You don't need to be a writer or a blogger or a person of many words. There is no right or wrong way to write a love letter, so long as your heart is in it.
Send your letter to: More Love Letters, PO Box 2061, North Haven, CT 06473
At the end of the week, the sweet folks at More Love Letters will bundle up ALL of our love letters and send them off to Nelson and Shelley so they can receive our kind words before Christmas. A lot of other bloggers are participating in this campaign, and I think it would be SO AMAZING if our bundle was the biggest. I know my readers have big hearts and lots of love to share, so let's send Nelson & Shelley everything we've got!
After you write your love letter, e-mail a photo of it to me (ashlee.gadd @ gmail.com) and Hannah (Hannah @ moreloveletters.com) or tweet it to us @ashleegadd / @moreloveletters so we can spread the word throughout the day. On behalf of More Love Letters, thank you in advance for sharing love with Nelson and Shelley this week!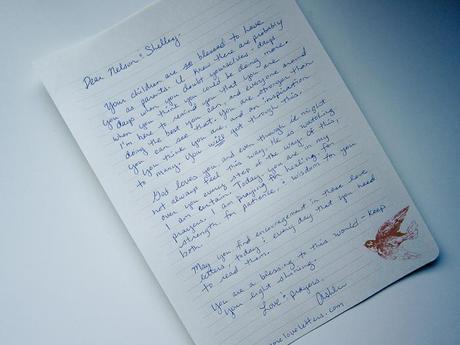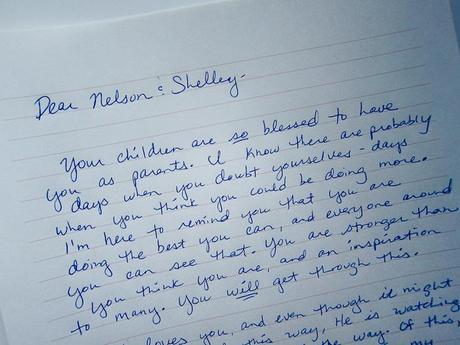 { p.s. Get tips on love letter writing and learn more about joining the campaign. }