Wednesday 19.12.2012
My 19th birthday.
It was peaceful as I was studying. I was happy for the people who wished me happy birthday.
Andrea called me and asked I to take pictures from my B.P. notebook.
As time passed the chances for Muhammed's visit fell from 100% to 60%.
The phone rang at I believe 4:31. I shouted "Mum! Don't come!" I answered, Muhammed told me he was coming. Mum knew somebody called me. She assumed Nelson I would be my guest. I told her it's a surprise in the real sense, she suspected it could be a girlfriend.
Muhammed called again when he was in Zlox. I told him to wait for me by the square. I went out, I went there and met him. In the car I asked the taxi driver if he was Turkish too, he wasn't. He had a gift for me. After we entered in my house, in the hall I told him my family doesn't know about him. Upstairs, while he was shaking hands with mum, she was serious, I was happy. I asked her where should we sit, she said in my room.
The present was a blue blouse.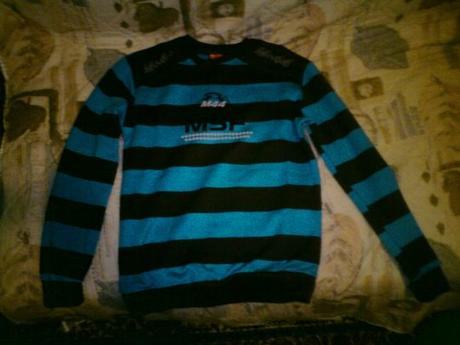 I loved it, but when I tried it, I thought it could be small. Dad asked him where he was from – Diyarbakır. Muhammed shared he was a teacher (oops, he had showed me clips with children, but I thought it was a secret) and they talked about Polat Alemdar. Muhammed called me "bro", so I called him the same in front of my parents. When we stayed alone, on my PC he showed me a new Facebook profile of his where he had a photo of him dressed in a military uniform, holding a rifle. Munin wrote to me and asked me where should we study B.P. from. He called me bro. Muhammed started writing to him from my profile, which Munin interpreted that I was using Google Translate, I told him I wasn't. He wanted to see Muhammed on camera, but mine didn't work.
Muhammed noted I have many girls as online friends, I explained to him the majority of my class were females.
He wanted to know if friends would come on my birthday, I said I don't have friends as I used to be very shy.
M.joined us. My father entered just when Muhammed was eating, although he ate a little as he had eaten güveḉ. M. and Muhammed discussed military work, but Muhammed had language difficulties. M. asked him a question, which I answered. I didn't allow no one to outshine me.
After staying for around 2 hours, Muhammed left. Before he got in the taxi, he leaned towards me on one side then on the other.
-Do you know what is this? – He asked.
I didn't, it's called "Cheers".
Upstairs, I admitted to the present ones I hang out on faculty and I wanted to hear their opinions about Muhammed. Mum expressed a positive one, M. said "to hand out", dad just "OK". I noticed tears in Grandma R.'s eyes. Was it because I seemed gay or because he was Turkish and older? I didn't reveal his age.
Here's who wished me happy birthday on Facebook that you should know about: Nelson II, Benjamin, Renee, Barbara, Emily, Monique, Naomi, Francis, Andrea, Mary, Albert Blackburn(!), Molly, Ethan, Adele, Mike, Dustin Pauls, Sarah (ex-classmate), and Lee Daro.
I noticed I had mistakenly written "Thanks professor" to Ethan instead to Adele as his post was right before Adele's one. I said "Fuck" in front of M.. I deleted my comment, but Ethan probably saw it.
I wasn't' feeling good. I prayed, but I needed to deal with it by myself. Dad asked me "What is it?". I felt bad from the bottom.
Dad lied to the godparents that we didn't have other guests.
-Drug addicts have long hair, right? – He questioned me after the guests left.
He was interested what Muhammed drank.
-Stay away from him. – He recommended me. -Hang out with Macedonians if you listen to me as a father.
Father? After all I'm not at all sure he befits that attribute. It's nationalism and discrimination.
After all I found strength to forgive him. Even if in life I come across drug addicts, rapists, etc, NO HUMAN can hurt me as much as you did.
At least he believes in god that has soul and he has understanding for me, unlike some Macedonians who want me with their sins (alcohol, sex, avarice…).
I felt bad, but at least my thoughts were focused on sth else.
Thursday 20.12.2012
Guests. Grandma Gail knew about the Turk. I was probably gossiped. If I wanted to find out what they talked about me in the other room, I could have put my phone there and record them.
It occurred to me that according to my mom's reaction upon meeting Muhammed, she might have thought he is my boyfriend.