I'm actually not a big fan of celebrities nor the ones in Sri Lanka but after going through a number gossip sites and celebrity pages and seeing how pathetic their Lankan so called 'Fan' base is, I decided to write  a post.
NEWS FLASH: Everyday, there are at least 20 Sri Lankan guys discovering that there's something called 'Facebook' followed by the 'comment' function, then starts commenting on every single fan page thinking.. – I don't really know what they are thinking.
For the sake of comparison, let's go through some of the Bollywood and Hollywood celebrity Facebook pages. (As surprising as it is, I had to google for names. 'Famous Hollywood Actresses' -> Search )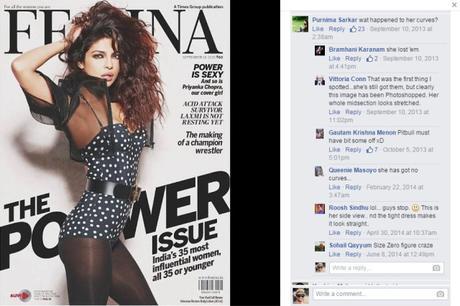 Snapshot from Priyanka Chopra's official Facebook page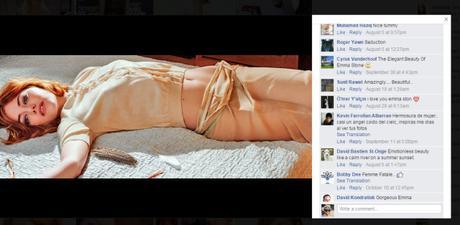 From Emma stone fan-made page. (Probably all the celebrities are more in to twitter now)
I could go on like this forever but you get the point. Most of the comments are decent. Well of course there  are desperate people around the world and some of the comments meaning to say 'I would like to bang you right now' but the number of hate comments are less. Even Miley Cyrus's page has quite a number of decent comments.
Leaving those there let's move on to Lankan Celebrities. (I had to google again). I went through the few that I remember the name of, like Anarkali, Gayesha Perera and Pooja Umashankar. To my own surprise, nothing much was there. No comments judging their outfits or having sarcasm very close to hate. Probably because nobody gives a damn about Anarkali, Gayesha Perera has started some Buddhist organization after Flying fish and Pooja seem to be very friendly with fans. Then I went to Gossip Lanka, started searching for the celebrities that are being a hit in the latest news. And here's what I find. Interesting aren't they?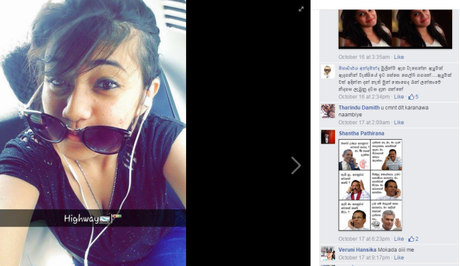 Snapshot from Shanudri Priyasad's fan page (Click on the images to enlarge)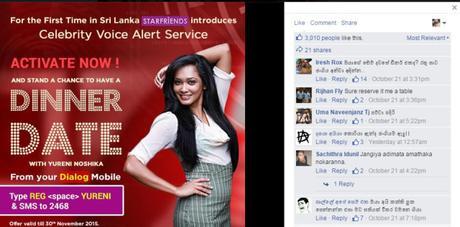 https://www.facebook.com/yureninoshika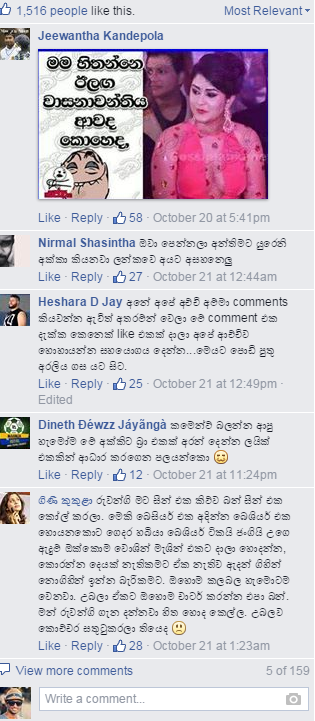 Photo Comments on Ruwangi Rathnayake's Facebook Page
So what is culture? As the Oxford dictionary states, it is "The ideas, customs, and social behavior of a particular people or society."
What most of the Sri Lankans (At least the ones who comment on these pages) don't get is that the culture is something that's inherently predisposed to change. It is very natural to have conservative forces resisting for a change in a society but in a country where fashion of  almost all the girls in a tuition class being the jeans and a top, Sri Lanka is still miles away from the change. Why?
Here's the scenario. We all are 7 miles away from the ocean (Fine, Kilometers) wearing swimsuits. (Basically T-shirts and shorts since bikinis are not for Lankan culture) We can feel the water in our feet, and we see few people walking towards the beach. We scream at them, asking them to come back. They don't listen. We throw lassos and them and drag them back. We are happy that we played god, proudly we look at our feet.
We are still 7 miles from ocean, just wobbling on the mud.
If your wisdom is slightly higher than all these guys commenting on the pages, you would understand what I'm trying to say. 'Culture' is a variable, not a constant. Culture can change. Traditions are fixed. If someone is trying to move the New Year to June, you have all the rights to resist it. But culture? It's been changing all along, you're just too close-minded to accept it. There is no cultural regression, there is only cultural change.
Just read this comment for an example.

I am not a modern feminist. But what you wear doesn't define your character. Well in body language-wise it does but if your dress matches the situation and the place, that's all you need. She wore the dress for a TV channel ceremony not a temple. Do the kids of her has any reason to be ashamed of their mother by the dress itself? No, not really.
Is not remembering the year of independence something to be ashamed of? Yes it is. But does it define her character? No. Ignorance? Yes.
I know one can say that Sri Lankan celebrities are nothing to be compared with Hollywood/Bollywood actresses since most of those are social influencers, charity workers, talented people etc. But aren't we all human?
So if you are one of these guys who are dying to save our sacred culture, close your eyes and imagine a movie with no short dresses, no revealing clothes (just imagine all the girls in potato sacks) Did you like your imagination?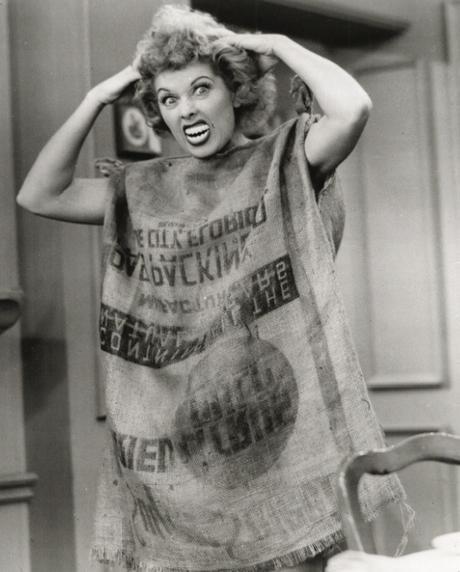 Found on headedintoovertime.com
Congratulations, you are asexual. If this is how the celebrities are criticized, imagine how a normal lady would be looked down upon when she wears such dress. Truth be told, almost all of these guys are lifeless. They might have knowledge yes. But wisdom? Not really. This is where the borderline arises between the middle class and the so called 'posh' class. The middle class will forever judge the 'posh' class for the dresses they wear, the money they have, the cars they drive. But the best way to be satisfied by 'not having' something is to try having it. Not to try finding faults about it.
As long as Sri Lankans keep clinging to the culture and resist to the cultural change, Sri Lanka will remain a 3rd world country. Residing and studying in a first world country for almost 3 years, I have realized that people have other things to worry and judge about than what people wear. And this whole Religion and Culture is connected twist should stop. Going to the temple in a decent dress is self-discipline not culture. Prince Siddhartha had dancers to entertain him. I'm pretty sure they didn't dance in the best saint outfit either. So did the dancers have a good character? Yes. (If you say 'No' that means Siddhartha treated women as a form of entertainment. Good luck answering to that.) Did Siddhartha have a good character? Yes.
According to all the cultural heroes, if a disco bar opens in Colombo, would the dancers have a good character? No.  The people who goes to the disco, do they have a good character? No. Do the girls who go clubbing in Sri Lanka have a good character? No. (so why double standards?)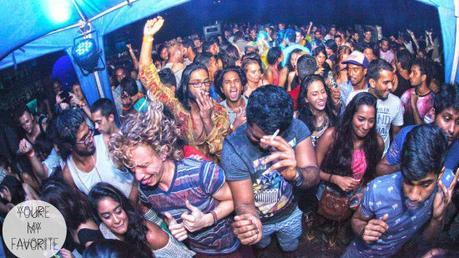 Photo Courtesy: http://www.bordermovement.com/
There's so much to be said. I believe it's enough for this post. The change of the mindsets of Lankans is not easy. But without the change, we are not going anywhere. So it's up to you. Do you really want to walk towards the horizon, or are you happy in your mud castle?