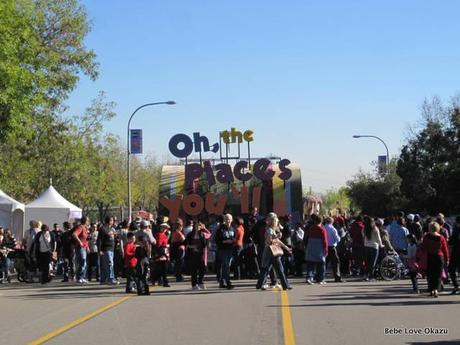 At the beginning of this month we took a field trip to Pasadena so that we could see the 2013 Rose Parade floats up close and personal.
I practically grew up with the Tournament of Roses Parade given my grandparents lived in South Pasadena just walking distance from the parade route and my uncle was a very active volunteer and committee member of the Tournament.
Almost every year, for as long as I could remember, my family and I would catch a glimpse of the parade going by, and as a young child, I think what amazed me the most were the very large and beautiful horses. It wasn't until I was a bit older that I came to understand the details involved in decorating such large floats with practically every inch of it covered with seeds, florals and vegetation.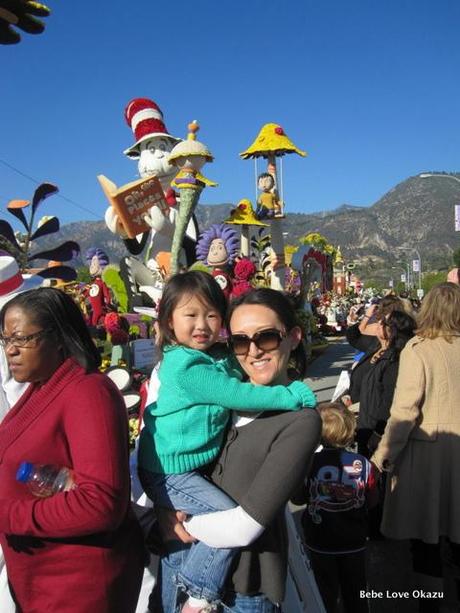 For two years straight, we took the family to watch the floats being decorated, (read post here) but this year, Bebe E and I went to view the floats after they were completely decorated with our favorite Aya-chan. Bebe E calls this float, "Cat in the Hat".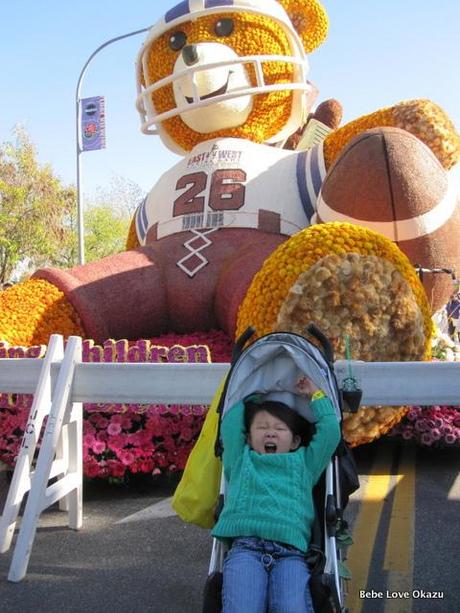 Yes, someone is tired – she was just waking up from a great nap that she took while we were in line for the shuttle bus (a lengthy ordeal that I'm not so sure I want to do again). Bebe E calls this float, "Bear".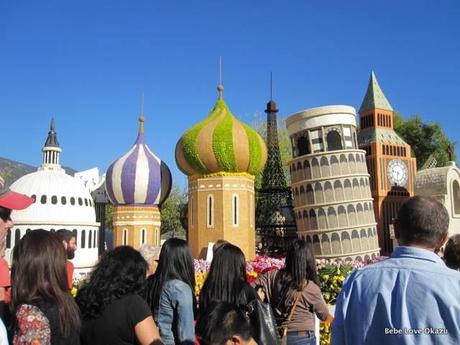 It was exciting for my little one to recognize some of the floats in person, that she had seen on TV the previous day. This one was affectionately referred to as "buildings".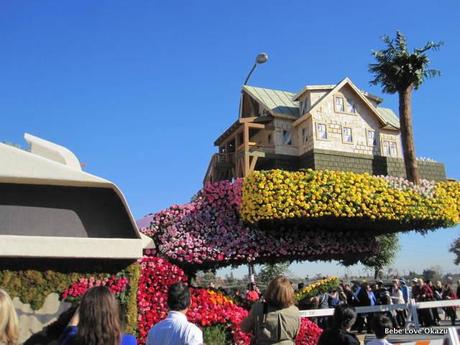 I would share with you the names of these floats but I'm lacking my usual patience for attention to detail in today's post. Isn't the house suspended in air amazing? Who needs the name of the float, right? Besides, we call this one, "House". What more do you need?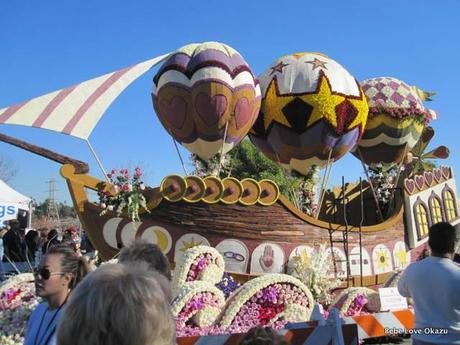 The weather was fair this day and despite the crowds it was nice to be out. The "Boat" float.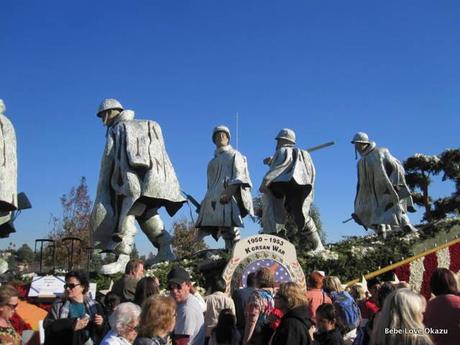 This was an amazing float to see up close, due to the sheer size of the "statues". We call this one, "Man".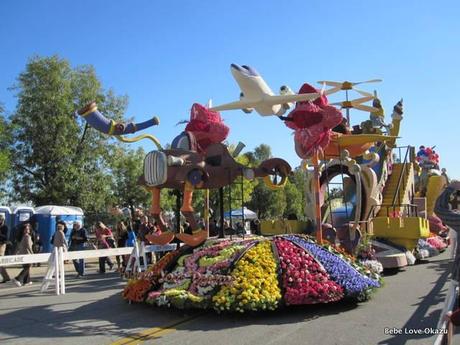 There were so many fun floats this year. We liked this one because the airplane was "cool" as Bebe E said. Personally, I liked the large ice cream cones at the back of the float. At least I think those were ice cream cones. This float is called, "Airplane".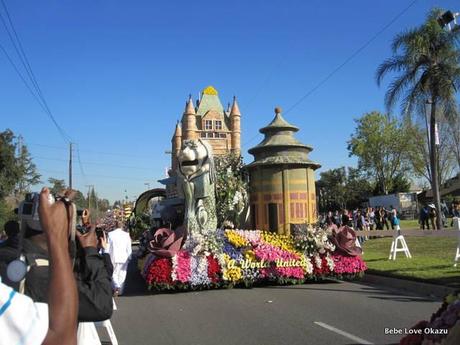 One day, Bebe E will understand all of the attention to detail that goes into decorating a Rose Parade float, and perhaps appreciate a part of the history that I grew up with. I was very impressed by this float, "A World United", although my daughter calls this float, "Lion". I'm not sure if that's really a lion head or some other mythical figure.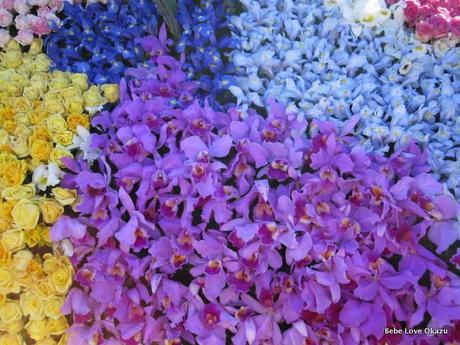 Truly, the florals on all the floats were so beautiful!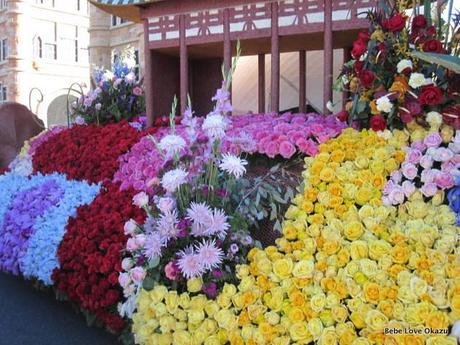 Many of the flowers were still very fragrant, although we couldn't get close enough to get our noses up to the roses.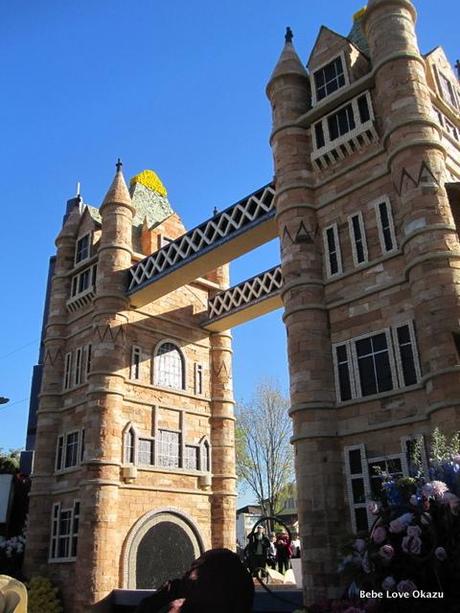 I tried to explain the "World United" float to Bebe E and that this was a replica of an iconic tower in London that we actually saw on TV during the 2012 Olympics where we watched the "champions" carry the United States of America flag. This concept was over her head, but she was excited that she remembered the Olympics.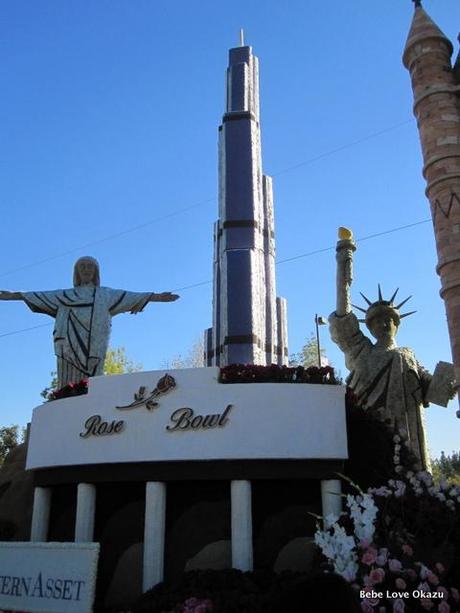 Above is the back of the "World United Float".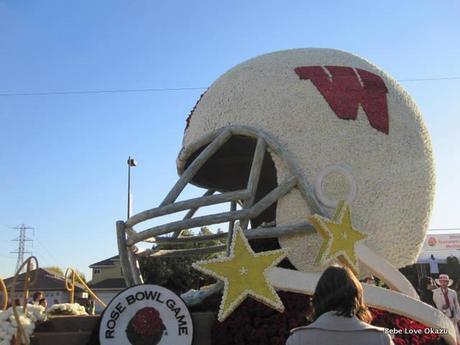 I'm not a football fan, but here it is: the Washington Float. Is it Washington State or Washington University that played in the Rose Bowl? It doesn't matter I suppose. Bebe E calls this float, "Football".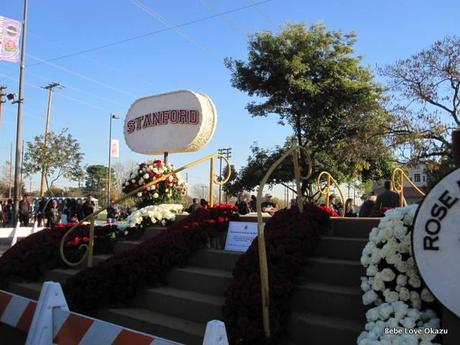 I'm guessing Washington played Stanford in the Rose Bowl. If I'm wrong, don't hate me. I never watch the game on New Year's Day – I'm usually the one eating, playing outside, napping, or cleaning up. This year, apparently I napped for an extended time and missed a significant portion of our celebration. What can I say… I was exhausted from all the cooking.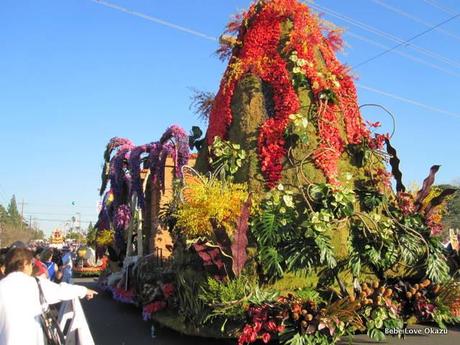 Bebe E asked, "what is that, mommy?" Mommy says, "it's a volcano with lava pouring down the side of it." She doesn't know what lava is so I'll have to remember to Google that one and share this with her later.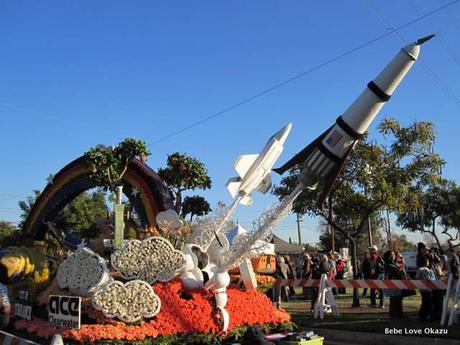 Bebe E loved this float: rockets, space shuttles, space travel. For obvious reasons, this float is called "Rocket", according to my daughter.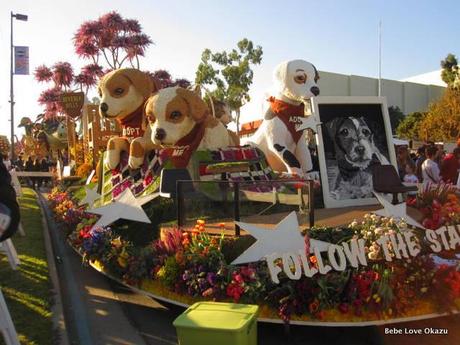 Ok, Bebe E loved this float too, because what three year old doesn't love "cute little puppies" as she referred to them. However, this float is named, "Dog".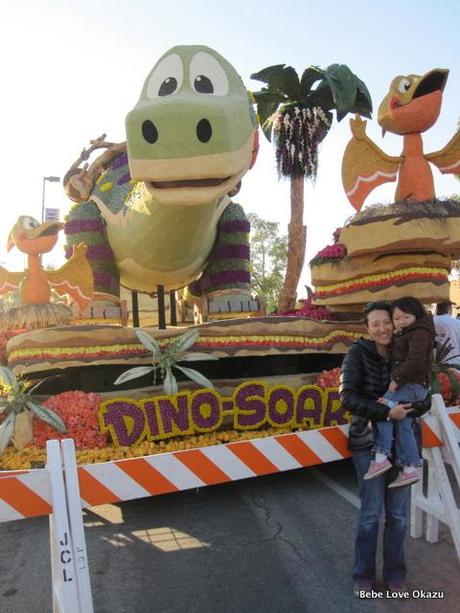 It's the "Dino" float. I'm so glad that we took an additional half hour to seek out the other end of the viewing pavilion… because we finally found the dinosaur that Bebe E saw on TV. (Yes, looking at the map and float guide might have been helpful.) She was very excited about this one. As for me, I'm very impressed that I can still carry my 34 pound daughter.
It was a nice outing.
Bebe E said that we should do this again next year! She's right. Despite the long shuttle line, the huge crowds and the fact it felt like it took us forever to get there, it was worth it. I'm not so sure that Aya-chan would go back with us so soon, but perhaps we could convince her. :)