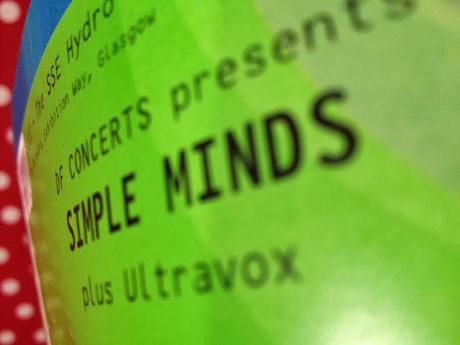 The post today contained a pair of tickets to see Simple Minds and support band Ultravox in Glasgow's new Hydro next month. 
Marvellous, you'd think. 
Only I have no recollection of having bought them. Not a shred. I vaguely remember seeing something about it. And that's it. 
I must - in an idle, amnesiac, affluent moment in the summer  - have thought: "What an excellent idea, I'll bag me some briefs."
And here they are. 
I remember (weird, I know) having mornings-after in younger days when the happenings of the previous night had, somehow, escaped my memory. 
Then I recall the muddle of early maternity when I couldn't bring to mind my own middle name, let alone what I'd come upstairs for. 
These days I forget plenty - Boy Three's swimming lesson on Monday, what I went onto Google to find, to renew my passport (it's done now), what time scouts starts, and, even, our wedding anniversary (next Monday!). 
However, entirely forgetting planning for and purchasing tickets for a night out to see a band I like in a brand new venue takes absent-minded to a whole new level. It's not as if my calendar is exactly crammed with such events, is it? 
So there you are. I hope if Jim and Midge are reading this they won't take it personally. And that I remember to turn up on the night. 
PS If I arranged for you to come with me then, clearly, I've forgotten that too...
In case you need a reminder: