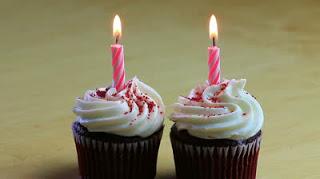 {Image Source}
Happy 2nd Blogiversary to Lab Coats and Liabilities!
And so we embark on the third year of this blog: The adventures of MS3 and wrapping up Step One.
It's overwhelming to think that I started this blog in April 2011 and only had 89 pageviews that month. At the time I felt I was alone in this world of dating a future doctor. I was writing aimlessly to take my mind off the long distance and the worries of the unknown scary medical school that was starting up three months from that first post.
Over the past year, after I found
Emma
and
Jane
and Medical Mondays, I connected with so many other wonderful bloggers who are in the same situation as me. It has been great getting to share in your stories of triumph and defeat and have mine shared with you as well. After 11 years of blogging, I finally feel I have found a niche that I enjoy in this online world.
Thank you, thank you, thank you!
Here's to many more years of blogging!
.... And now back to my final exam :(