Welcome to the series of 31 Art Journals.  For the next few days you are in for a treat and will be seeing two journals each day as we make our way through the rest of the art journals. definitely been a pleasure sharing and talking about the Art Journals, and so surprising how quickly time flies when your having fun.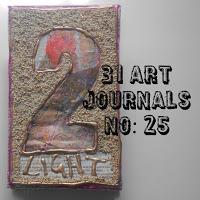 This journal as with the art journal I showed you HERE is made from toilet roll tubes and card.  I have made lots of tags so that I can add journaling and there are also encouraging words placed throughout the journal as a reminder.
These two journals are made from recycled materials
and it is important that we start looking at the things that we have around us in a different way.  As creatives we can turn what some might consider trash into treasure, and I challenge you to think about how you can use recycled materials in a creative way.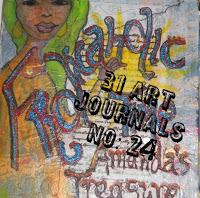 This art journal was created out of a class with Jane Davenport called Frolicaholic and is also filled with encouraging questions and looks at encouraging you to see the gift that lays within.
How do you deal with your critic, what strategies do you use when you are in a 'flunk' and need to motivate yourself to get on with it?
Take a look at both the videos for these journals to see the pages and get an idea how each spread was developed.



Stay blessed and be a blessing, looking forward to hearing about your creative adventures!