Creative Recycling, one box/can/bottle/ at a time!
Do you have lots of pens all over the place that need a home?
Do you want to see what you have and don't want to hide them? Have you a small amount of space to work with?
Then look no further!!  Over the next few days as part of the '31 Creative Things to do with Recycled Materials' and the 'Ultimate Blog Challenge' I have a few 'pen' storage ideas to help you with your problem.
I have always had this problem in my work space when I started out, especially when I worked from the edge of my kitchen table.  Many moons later I have a bigger space but still need to be mindful about what I store and where.
Moving into my current space I wanted one of those racks you see in the magazines, but surrounded by so many milk cartons and boxes I knew that I would be able to create something to my specification and at a fraction of the price.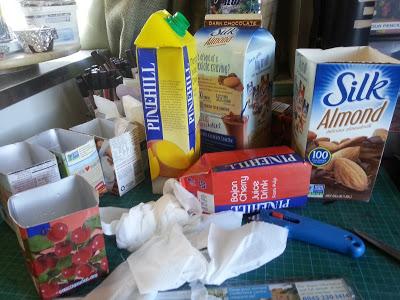 Creative Thinking Cap on to do something with this little lot!
I wanted something a cross between the one below but that could fit on my desk. You can check out the one below and they also have others which may work for you.
The holders that originally came with the pens were these and these didn't work for me considering the amount of pens that I have and the space that they took up.  I am going to have to find an alternative use for them:)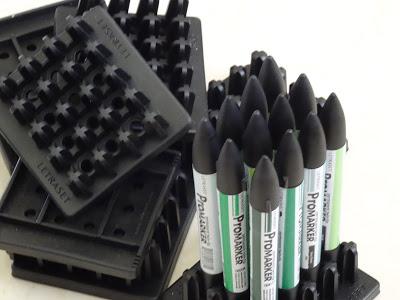 I wanted to make an upright holder and began to think of the best possible materials that I had and the design.  I didn't follow a pattern, I just knew how I wanted it to look and then just kept going and this was born.  
This was the before and the after, quite a transformation!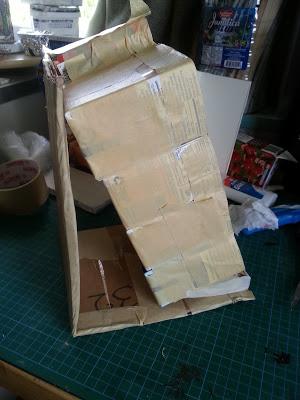 The Before - milk cartons and cardboard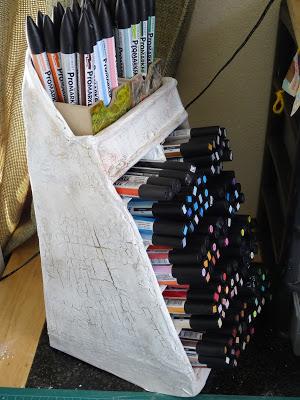 The After
I painted it an gave it a 'shabby chic' look and finished it with varnish and gold metallic rub.  I am able to view all the colors and keep everything organised.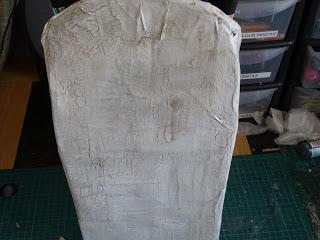 The one thing that the pens could do with now is the color indicator on the top.  The pens that I originally brought were the old design, you can purchase some labels or again make your own.  
The top of the storage allows me to keep to hand the pens I am using in a project and the rest can be stored horizontally as needed.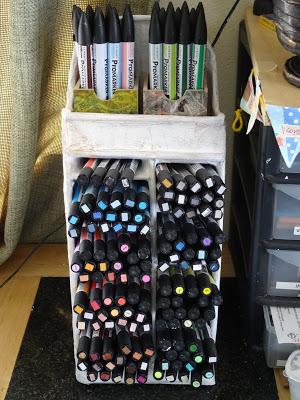 I might add some swirls or stenciled
 designs to the storage container, but I am please with the results and the much needed storage that I now have for my pens.  
Come back to see what I have done with my Alcohol Markers
For more inspired recycling ideas and useful tips check out Zero Waste Barbados and Journey to Zero Waste 
Have a look at some of my ideas on my Pinterest Recyled Board
Blessings