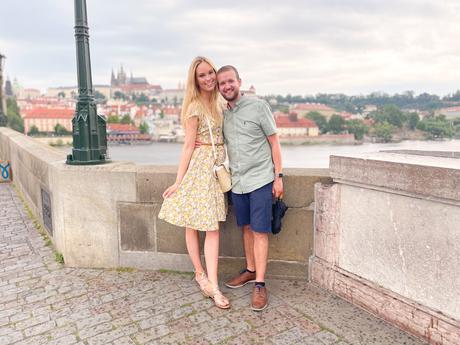 We've just returned home from two days in the beautiful city of Prague and we had the BEST time! Initially, it was supposed to be a one day thing after Adam arranged a guild meet-up with some online friends that we play World of Warcraft with, but it seemed a shame to just visit Prague for the day and to mostly be sat in bars, so we asked Adam's parents if they would be happy to have the boys for two days so we could spend the first day exploring and seeing a bit of Prague, and luckily enough for us they were happy to! 


We arranged to meet up with two friends from the guild on the first day, one of them lives in Prague and she knew all the best spots to take us. She'd been kind enough to make a bit of an itinerary for the four of us which was awesome as it meant we could just turn up and not have had to plan anything ourselves.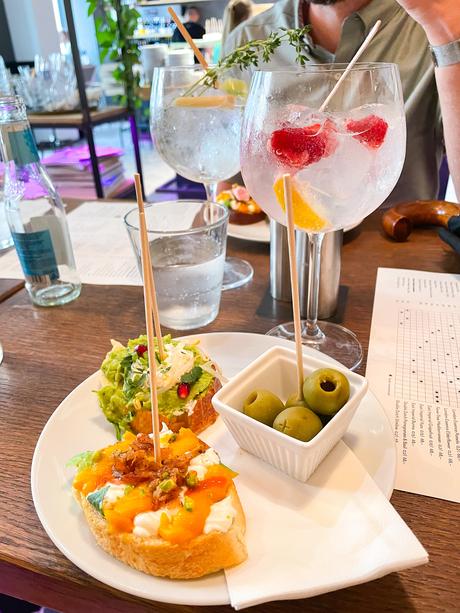 She took us to a bistro and tapas bar called 
Špejle after we'd arrived and we'd checked into our hotel in Old Town. It was only a short walk from where we stayed at Hotel Jungmann and we absolutely loved it there - they had a great drinks menu (I had an amazing homemade gin) and for the the tapas, they offered warm, cold, salad and dessert small dishes, with a good selection of non-meat dishes too. It's arranged in a 

buffet

 style and so we helped ourselves to the dishes that we wanted to have and then at the end we paid per stick (each dish has a stick in it). I loved the decor in 

there, it was modern and contemporary and I thought there was a great choice of food and drink options so it was a lovely spot for a light lunch and a few drinks.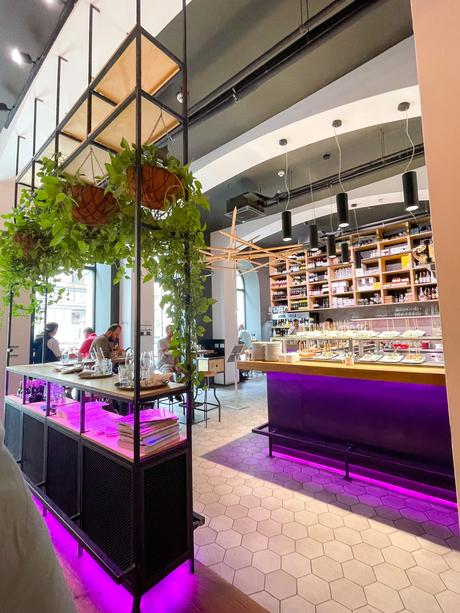 After lunch we decided to make our way to the cathedral and Prague castle across Charles Bridge. Interestingly, I learned that the 
Charles Bridge is 
the oldest bridge still standing over the Vltava river in Prague and the second oldest bridge in Czech Republic
. Charles IV had it built in 1357, after the previous bridge had been destroyed by floods in 1342. It was lovely to walk across and there were lots of spots to stop and admire the view and take photos. I 
unfortunately
 sprained my ankle two days before we flew to 

Prague

 and so I hobbled 

about very slowly, but was of course just happy to have been able to still go!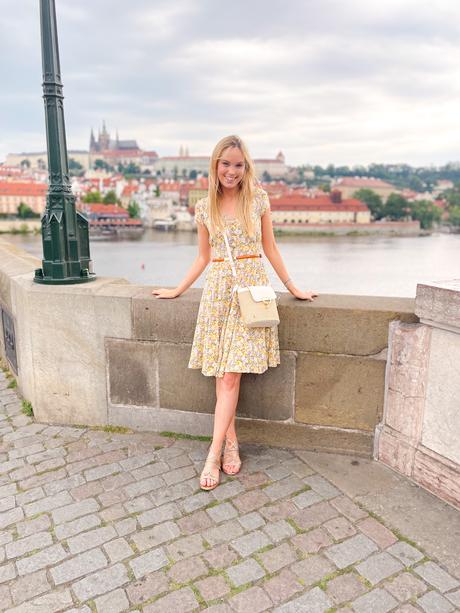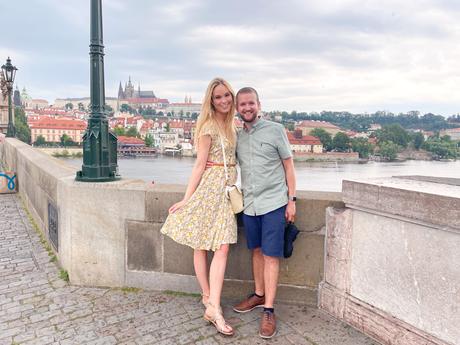 One thing I would have loved to have done is take a canal boat through Prague's canals as I think it would have been super interesting and a great way to see more of Prague. However, whilst there the weather was all over the place, just a few minutes after the above photos were taken we had the biggest downpour of rain I've seen in a long time!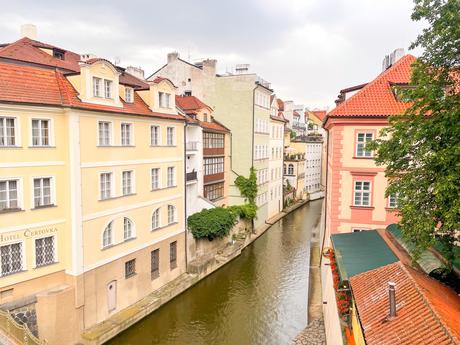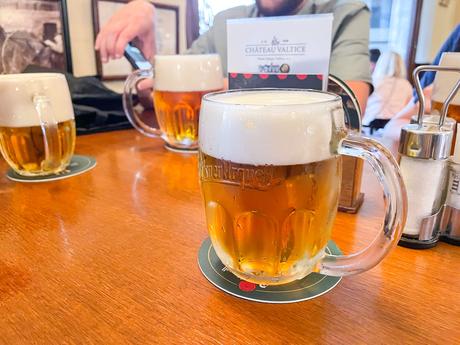 We decided to run to a bar and take shelter in there with a few drinks whilst it was chucking it down outside. I'm glad we did as not long after it started thundering and the thunder was so loud at one point it genuinely scared me! It was nice to sit and have a beer. One thing we all loved was how cheap the beer and the for was in Prague especially so when you compare it to somewhere like London!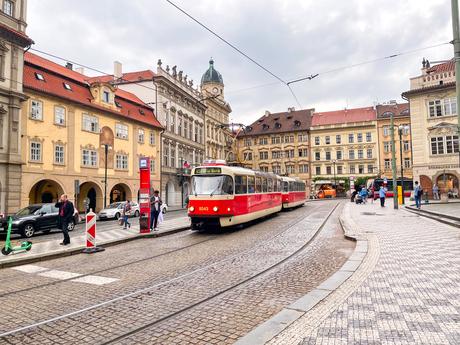 The trams were a great way to get around Prague although I felt like even with a sprained ankle, the places we went to were all quite close. Bolt taxi's are also quite good (so its worth getting the app if visiting) and you can also hire electric scooters as they are dotted all over Prague.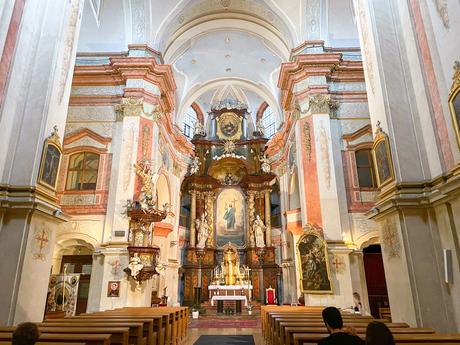 Inside of one of Prague's many beautiful churches.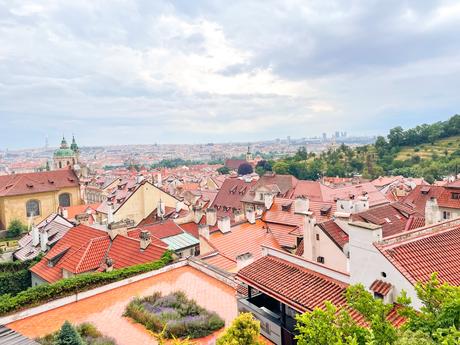 Stunning views over the city from as were walking up towards Prague Castle.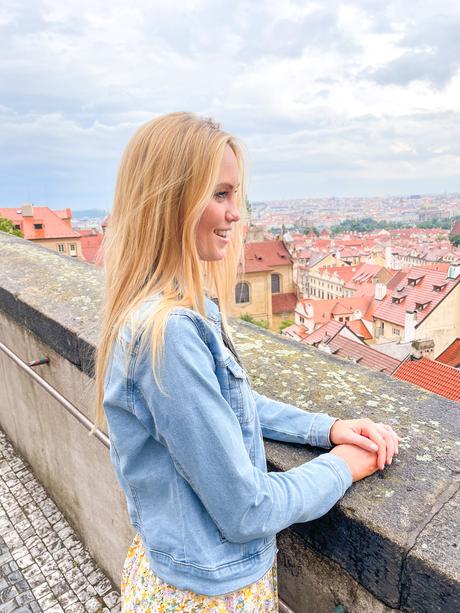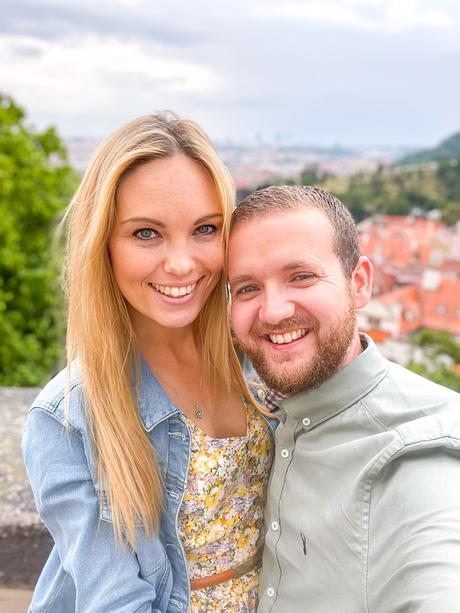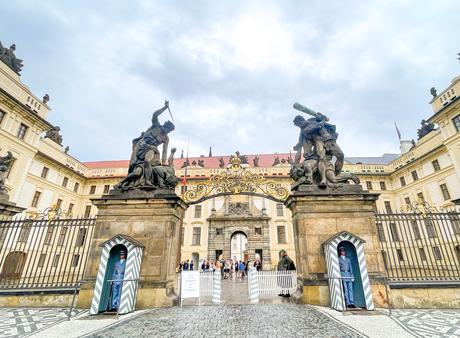 The front of Prague Castle with guards on duty either side of the gate.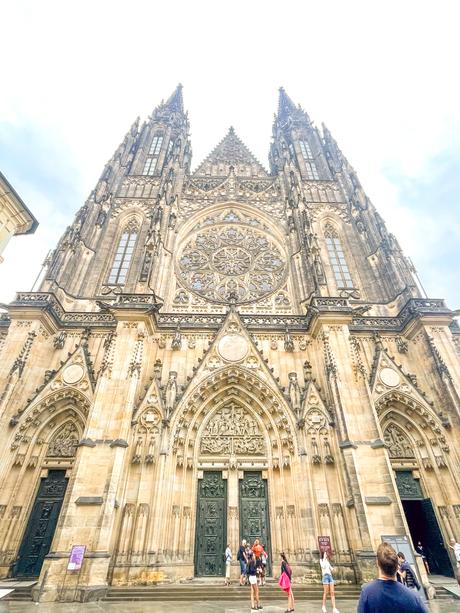 The beautiful cathedral.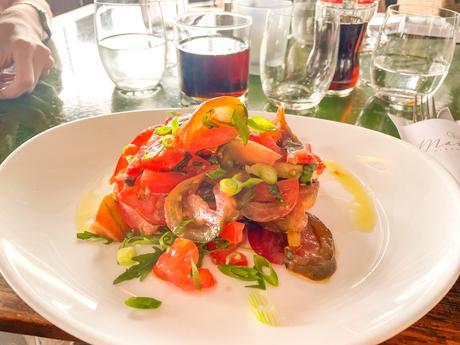 For dinner that evening we had a reservation at Marina Ristorante which is a restaurant on a docked boat with- views that overlook the river and the castle in the distance. It was so lovely and a really nice experience, I'm so glad that we went there for dinner. I had a tasty bruschetta and then a really nice pasta and it was super tasty! The views were beautiful. The only thing to mention was that you can only pay with cash here as they don't accept credit cards.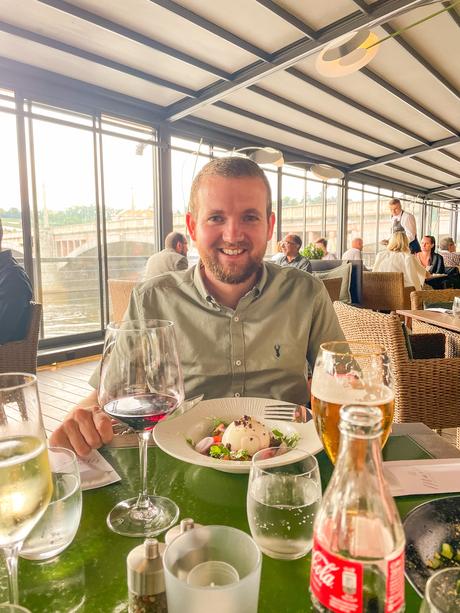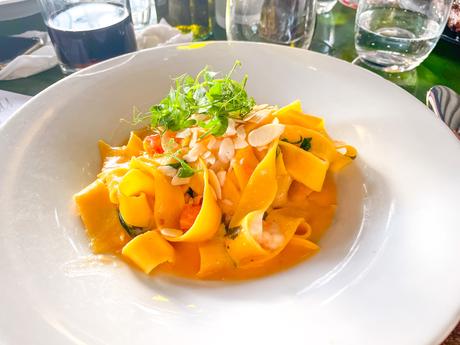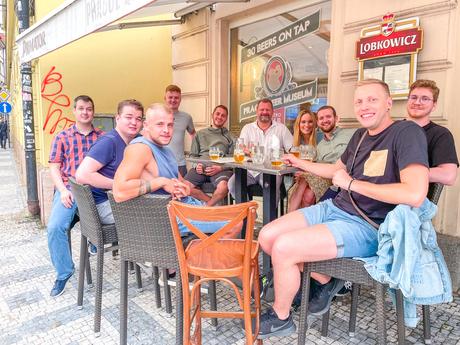 After dinner, we met up with some of the guys who'd arrived that evening and we went to a couple of bars for drinks until around midnight. I honestly had no idea what to expect with meeting up with people from an online game, but I needn't have worried as everyone was so friendly, we all got on really well straight away, it was as if we'd already met and knew each other before. I spent a lot of time chatting to one of the other girls there, she's not in any photos as she wanted to keep her privacy and we all of course respected that, but we got on so well and she made the trip even more wonderful!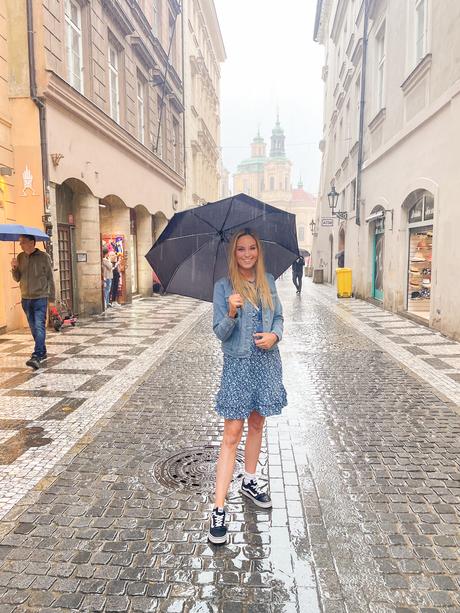 The next morning, our friend from Prague told us about a vegetarian restaurant called Maitrea for lunch and it sounded amazing, we invited her along and the three of us went for a really nice lunch. Not only was the restaurant fully vegetarian which was amazing for us, but it was so nice inside too, it reminded me of a spa and it even smelt like a spa too! The food was incredible, I had a nice tofu pate with bread and a nice cranberry sauce for starters and it was one of the nicest things I've ever had. Adam had a tasty vegetable soup which was also amazing! And then for our mains, I had vegetable lasagne and Adam had a traditional Czech meal but made vegetarian which he really liked!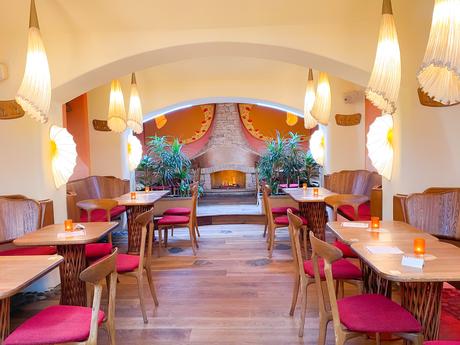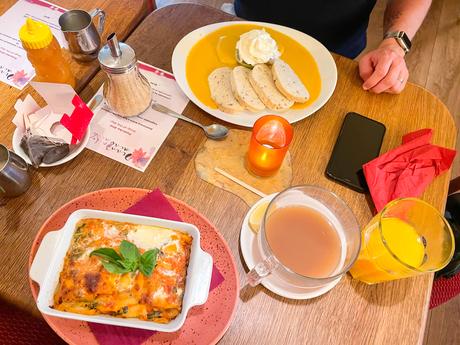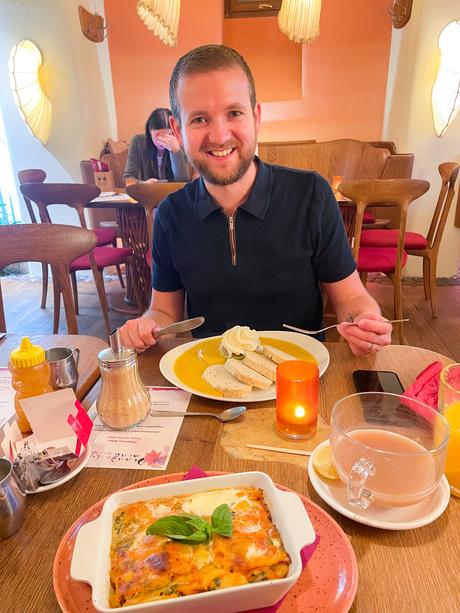 After lunch we met back up with everyone and had a few drinks before heading over to what became the highlight of our trip for me - axe throwing!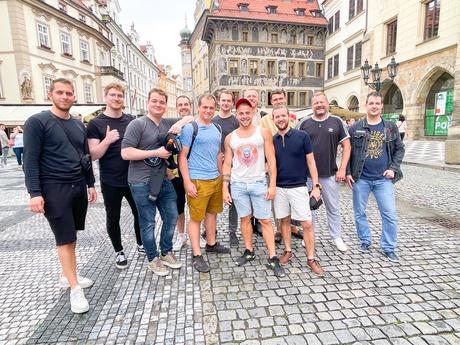 I didn't expect for axe throwing to be something I'd enjoy, but I thought it was really fun and it was a great group activity for a large group. We went to the House of Axes and we had so much fun trying to get the axes onto the targets and in to the boards. Some of the group seemed to pick it up really easily and be naturally good at it. Adam and I got a few to hit and stay in the board, but mostly ours fell off haha, but even so it was brilliant fun! The staff were brilliant there and super helpful in showing us how to do it and they had a nice bar there too so you could order a few drinks. Personally, I found the fact that they played viking style music the whole time absolutely awesome and it totally made the experience for me!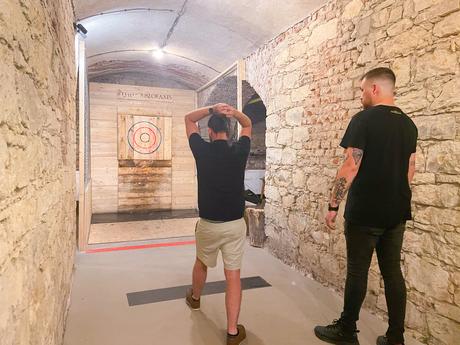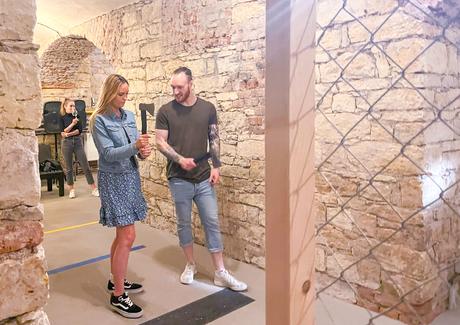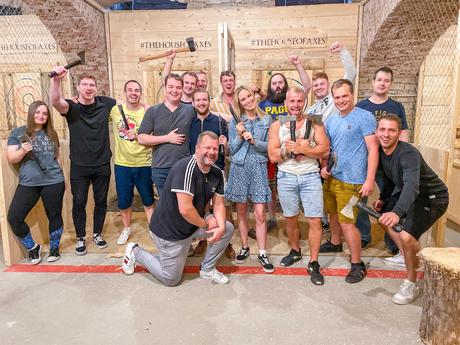 After the House of Axes we went on search of some dinner. At this point we split up as we had 16 people and so hadn't pre-booked anywhere. Adam and I managed to find a nice noodle bar called Pho Bar and they had a nice vegetarian selection. I had a red thai curry with spring rolls which was so tasty!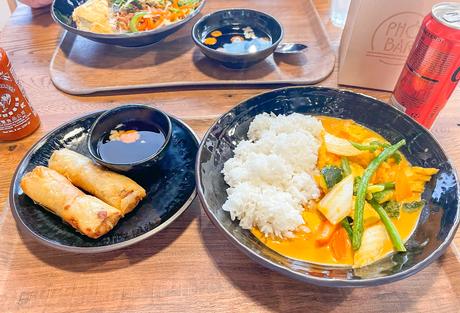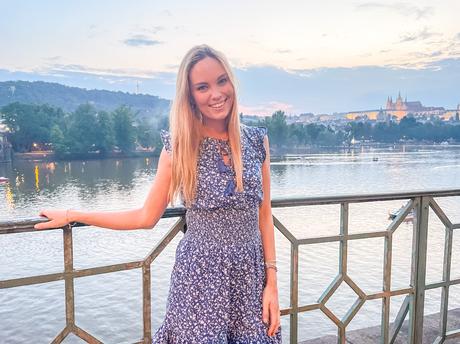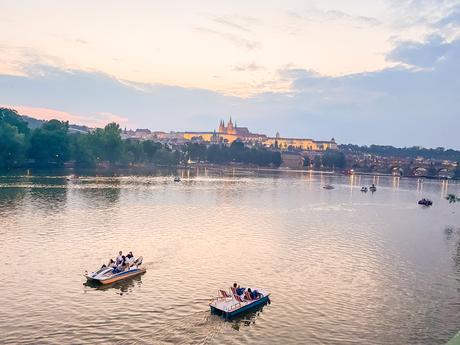 After dinner it was starting to get dark and the castle was lit up in the distance across the river which was beautiful. We decided to go to the top of the Metronome which the locals sometimes refer to as 'Stalin' as it used to have a monument of Jospeh Stalin there before it was torn down. It was a lot of stairs and whilst not great for my ankle, it was worth it for the views at the top. There was an outdoor DJ playing music and an outdoor bar where you could get drinks. We stayed there just chatting with everyone until around midnight when we decided to head back to our hotel in a Bolt taxi for 3 hours sleep before we headed to the airport for our 6am flight home!
Thank you for reading.   Alex xo