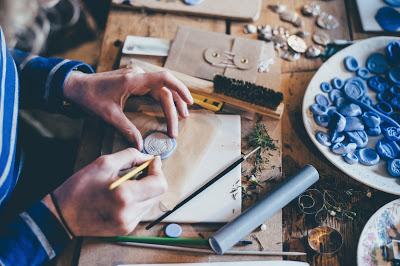 Photo by Annie Spratt on Unsplash
When it comes to Father's Day it can be hard to know what the perfect gift is. Whether you're Dad has it all or you're struggling for inspiration, you have definitely come to the right place. One of the best ways to ensure you're Dad is getting a gift they have never received before it to handmake it, as you know it's something that won't be available in any store. With that in mind, here are 6 homemade gifts you could make your Dad this Father's Day:
A Handmade Photo Frame Or Photo Album
With most people spending time on their smartphones, it's not very often people have their photographs printed anymore. If you're Dad loves to take photos but you know they're all kept on his phone, printing out some of his favourites and putting them in a hand decorated photo frame or photo album could be the perfect gift. For inspiration when it comes to creating your own photo album,
you can visit this site here
.
Handmade Toiletries And Cosmetics
Although you may think that toiletries and cosmetics are more likely to be a Mother's Day gift, there are lots of things you can make that are perfect for men too. Whether it's a bath bomb that smells like their favorite aftershave or a unique homemade shaving foam, you could make absolutely anything. If you're feeling really adventurous, why not make an entire basket filled with pampering products? Your Dad will love the effort you've gone to!
A Hand Decorated Beer Or Wine Glass 
 Depending on what your Dad's favorite drink is, why not make them their own personal hand decorated beer or wine glass? Think about the different things you can decorate it with in order to make it personal to them - whether it's their name of the football team they support. For tips and drinks when it comes to making decorative drinks glasses, you can visit this site here. 
A Handmade Gift Voucher To Buy The Perfect Gift 
 Okay, this might be cheating a little bit but if you're stuck for ideas for gifts for dad and you want them to be able to choose their own perfect gift, creating a handmade gift voucher will allow them to buy anything they want. Creating your own voucher gives you a chance to be creative, as well as a chance to think about what stores they may want to shop in. 
A Handmade Personalised Phone Or Tablet Case 
If your Dad uses their phone or tablet a lot, you may want to consider creating a personalised phone or tablet case for them. Whilst you can buy in blank ones and decorate them yourselves, there are lots of ways to get personalised cases online. Whether you want to have a quote, an image or their name printed onto the case, these personalisation sites will pretty much let you have complete creative control. If you're stuck for ideas, they'll also have templates you can also personalise. 
A Handmade Wallet 
Finally, if you're feeling extra creative and you want to put your skills to the test, why not create a handmade wallet? Depending on what material you're using to create your wallet you can go for a wide range of different designs, decorating either the inside or the front however you wish. It's definitely a more complicated task to do, but it will be something your Dad can use every single day. 
Are you looking for the perfect Father's Day gift? What could you make for your Dad this year? Let me know in the comments section below.
* Disclaimer: This is a contributed post and may contain affiliate links.