Not so long ago, I moved to a new apartment. Trying to save pennies where I could, I spammed my co-workers' inboxes asking if anyone had old newspapers they could bring in for me to pack with. Not one person responded, which I found a tad bit upsetting until a few days later at lunch. A friend jokingly pointed out, "Monica, no one subscribes to newspapers anymore. We are all in our 20s and we read the news online... not sure where you were going with that email."
It made perfect sense. Living in Philadelphia, I don't know a single person who gets the newspaper sent to their door anymore. Working in digital marketing, I should be more aware than anyone that print is a dying breed. However, I shouldn't be too hard on myself, as The Times-Tribune in Scranton (my hometown) seems to be overlooking that small detail as well.
As an avid news-reader, I love to keep up with the news from my hometown. Recently, I went on a news-binge since there was a high-profile murder case going on. (Search Neil Pal & Jason Dominick if interested) So, I head on over to their website and as soon as I click on an article, I am confronted with this gem.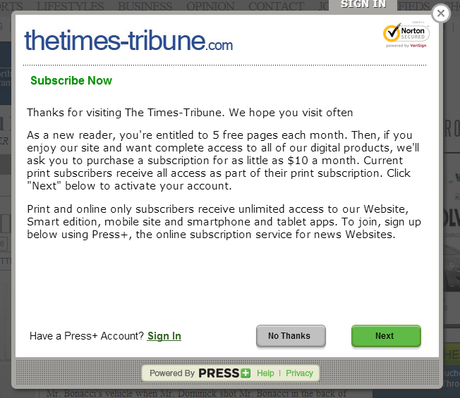 5 free articles? FIVE? For an entire month? Wow, thanks Times-Tribune! Also, $10 is more than what my Netflix subscription costs me... so uh, no.
I get it. Newspapers have to make money somehow. With the digital age growing to its full prime and print media dying a slow, painful death, it's tempting to beg for money in anyway you can. 
In Scranton, though, The Times-Tribune already has an advantage - they are the largest local newspaper around. If anyone is going to subscribe to the paper, it's going to be the Times. Obviously, even if it crossed my mind to subscribe to the paper, I cannot have it delivered to Philadelphia - but hey, I'm 24 and let's be honest: I will probably never in my life need to subscribe to a newspaper.
To vent my anger, as always, I turned to Twitter:



Reply:



Hmm... Okay, well first, it's very nice of The Times-Tribune to reply back. But here's a question for the Times: Do you think I will go through the trouble of calling my parents, getting their "All-Access Membership" information just to read an article on your website? (Which, as a side note, I'm sure my parents aren't even sure what this is.) Or, do you think I might just open a new tab and go to WNEP.com to check their articles? 

You guessed it - I opened the new tab and got my news right away. It's sad, too, because WNEP is a cable news source, so they aren't quite in the same dilemma as the Times. Yet, the Times is basically inviting their readership to check out different news sources.
Also, threading from the same Tweet: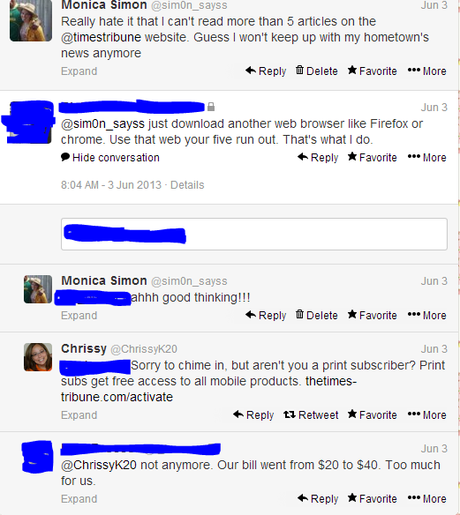 So not only are you only granting us out-of-towners 5 articles per month, you also are charging through-the-roof rates for the people who do subscribe. 
I've done some research for you, Times-Tribune, and found some easily accessible articles from the internet. Let me just re-iterate - easily accessible. I even found a nice little tech talk for you. Oh, here's a TED talk, too. 
I leave you with this - I understand the dilemma: you need to make a profit somehow and your writers need to get paid. However, you are speeding up the time to your last dying breath with the tactics you are using right now. Plain and simple, people will not pay for articles online - it just will not happen when there are so many free sources available. The younger generation is not subscribing to actual print media - that would require a trip to our front door, when we would rather just stay cozied up in bed with our iPads (we are "Millenials" after all.) I urge you to reconsider your policy, not only for my selfish purposes - but to conserve a news source that has been around since 1870.