When I get a craving, I get it bad.  This particular one hit me hard and I could not get Thai food out of my head.  I fought it off for a couple of weeks, but eventually had to cave.  Unfortunately, by that time I couldn't decide exactly what I wanted, so decided to make it all.  I went a little bit overboard, and Steve and I had Thai food coming out of our ears for a good few weeks!  It is safe to say that the itch was well and truly scratched.
It is true that Thai food is widely available in take away format these days, but in actual fact it is surprisingly easy to make.  Yes there are a lot of ingredients, but once you have the spices in your cupboard and things like the wrappers, lemon grass and lime leaves in the freezer, you just need the meat and fresh veg and you can whip it up in surprisingly little time.  All these recipes use very similar ingredients, just put together in different ways, and make a banquet fit for a king (or some friends you happen to like very much).  Most of this can also be made a day to half a day in advance as well, so when your guests arrive, all you need to do is a little last minute frying and you are ready to go with minimal stress!  If you don't have a deep fat fryer, heat up oil in a large wok or deep frying pan and use that instead.  Obviously use a lot of care when working with hot oil, and don't overload them!  It is far safer to cook in small batches rather than trying to cook it all in one go.  Don't forget to heat the oil back up to temperature between batches as the cooking process will have dropped the oil temperature.
On the menu:
Beef and Prawn Pouches
Spring Rolls
Fish Cakes
Squid and Pork Vermicelli noodles
Beef Massaman Curry
Thai Jasmine Rice
Hot and Sour Dipping Sauce
Sweet Chilli Dipping Sauce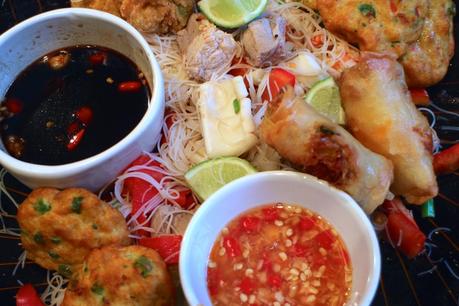 Beef and Prawn Pouches (makes 15-20)
2 tablespoons oil
1 clove crushed garlic
1 small finely chopped onion
2 teaspoons finely chopped fresh ginger
80g minced beef
60g cooked small shelled prawns, chopped into at least thirds
1 small grated carrot
2 finely chopped spring onions
1 tablespoon finely chopped basil leaves
1 tablespoon sugar
1 finely chopped red chilli
250g packet of won ton wrappers (available in the freezer section of an Asian supermarket)
1 lightly beaten egg
oil for deep frying
Quick note before we start - I said finely chop the ingredients, and I mean really finely chop.  You will have about 1 1/2 teaspoons of mixture inside each parcel so you don't want giant chunks of one particular ingredient.  Take the time and make it all small!  Once the cooking starts as well, everything happens quite quickly so make sure you prep everything before you start heating the oil.  Same goes for the spring rolls in a bit.
Heat the oil in a large pan and fry off the garlic, stirring, until lightly browned.  Add the onion and ginger and cook for 1 minute.  Add the mince and cook until the mince is browned.  Stir in the prawns , carrot and spring onion and cook for a minute.  Stir in the sugar and basil.  Turn off the heat.
Take a won ton wrapper and brush with the egg mixture.  Add about 1 1/2 teaspoons of the mixture into the center of the wrapper, leaving a gap around the edge and making sure you get a bit of prawn in there.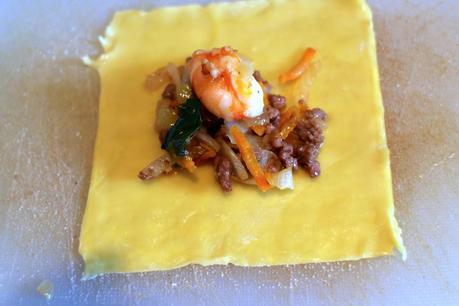 Pull up the edges of the wrapper and pinch together to seal.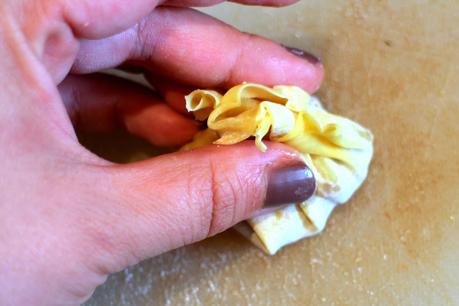 Deep fry the pouches in hot oil, in batches until well browned and drain on kitchen towel.  Serve hot with a dipping sauce.  Uncooked pouches will freeze well in a sealed contained, and you can make the pouches a half day ahead before cooking and store in the fridge.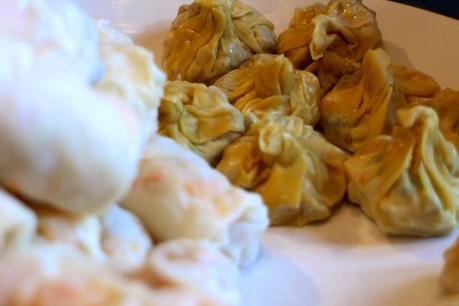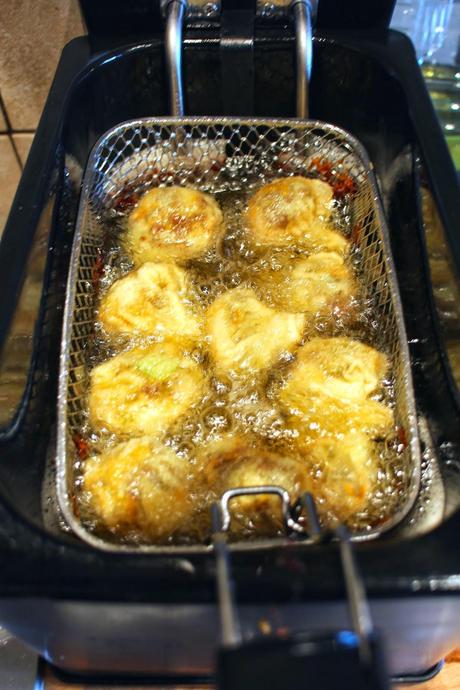 Pork Spring Rolls (makes 15-20)
If you can make a won ton, you can make a spring roll.  It's the same idea, just rolled in a different shape using a slightly different wrapper.  If you want to make a vegetarian version, simply sub out the pork for finely sliced young broccoli stems and baby corn.
50g rice vermicelli noodles (available from an Asian supermarket)
250g lean minced pork
1 tablespoon oil
1 clove crushed garlic
1 teaspoon finely chopped fresh red chilli
2 finely chopped spring onions
1 grated medium carrot
1 tablespoon fresh chopped coriander root
1 tablespoon chopped fresh coriander leaves
1 teaspoon fish sauce
100g cooked prawns, shelled and finely chopped
30g spring roll pastry sheets (available from the frozen section of an Asian supermarket)
1 tablespoon cornflour
2 tablespoons water
oil for deep frying
Cover the vermicelli with warm water in a bowl and leave to stand and soften for 10 minutes.  Drain them well and finely chop.
Heat the oil in a pan and cook the pork, garlic and chilli's until the pork is browned.  Add the onions, carrot, coriander root and leaves, fish sauce, prawn and vermicelli.  Cook and then remove from the heat and leave to cool.
Place a tablespoon of the cooled mixture into the center of a spring roll sheet and brush the edges with blended cornflour and water.  Fold the left and right corners inwards, then the bottom corner.  Flip the mixture to make a tight pouch then continue to roll upwards, making sure the last edge is sealed down.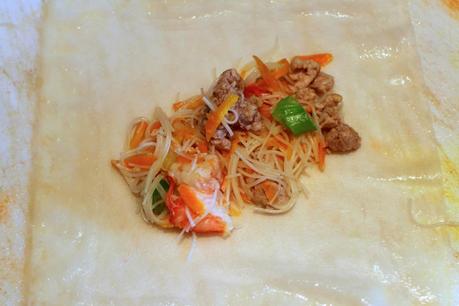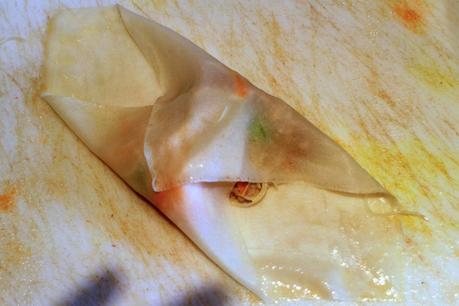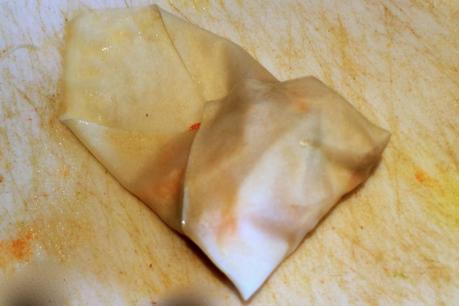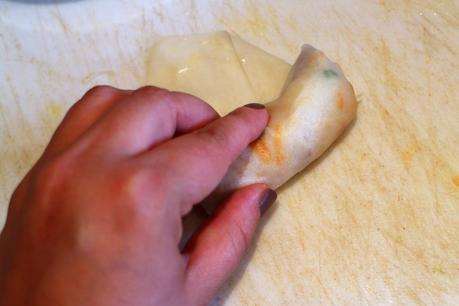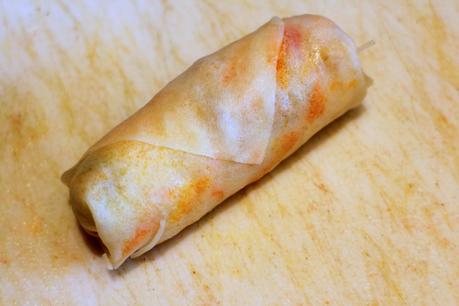 Deep fry the rolls in hot oil in batches until golden brown and drain on kitchen towel.   Don't worry if some of them split a little.   Serve hot with dipping sauce.  Uncooked rolls will freeze well and the rolls can be prepared a half day in advance of cooking and refrigerated.
Fish Cakes (makes 25)
1/3 cup red curry paste (see below)
1kg red-fish fillets (snapper or perch)
1 egg
2 teaspoons chopped fresh coriander leaves
2 teaspoons sugar
100g green beans, finely chopped
Oil for deep frying
Blend the fish, egg, curry paste, coriander and sugar until smooth.  It will have a slightly gelatinous feel to it.
Combine the blended fish with the chopped green beans and mix well.
Roll 2 level teaspoons of the mixture into a ball and flatten slightly.  Repeat with the remaining mixture.
Deep fry the fish cakes in hot oil until well browned and drain on absorbent paper.  The uncooked fish cakes will freeze well.  They can be made a day in advance and refrigerated and the red curry paste can be made a week in advance and refrigerated.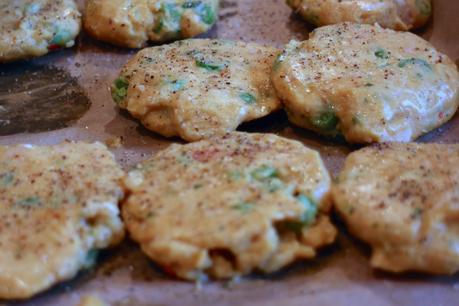 Red Curry Paste
1 small red onion, chopped
3 crushed cloves garlic
2 tablespoons chopped fresh lemon grass
3 teaspoons chopped fresh coriander root
2 teaspoons dried chilli flakes
1 teaspoon galangal powder
1 teaspoon grated lime zest
1/2 teaspoon shrimp paste (available from an Asian supermarket)
1 dried kaffir lime leaf
3 teaspoons paprika
1/2 teaspoon ground turmeric
1/2 teaspoon cumin seeds
3 teaspoons oil
Blend all the ingredients together well to make a paste.  Leftover paste will freeze well - add coconut milk and chicken or fish to make a red Thai curry.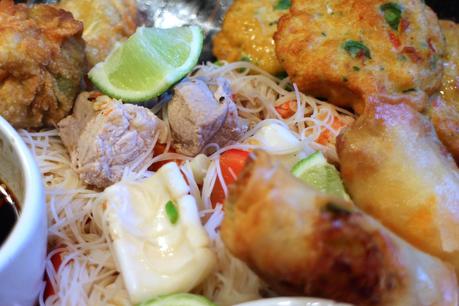 Hot and Sour Dipping Sauce
5cm fresh root ginger, chopped
2 teaspoons caster sugar
2 fresh chopped red chilli's
2 cloves of chopped garlic
1/2 small lime, peeled and sectioned
2 teaspoons fish sauce
Pound the ginger, sugar, chillies and garlic in a pestle and mortar to form a syrupy sauce.  Add the lime and pound to a mixture.  Add the fish sauce.  Keep in the fridge for up to 3 days.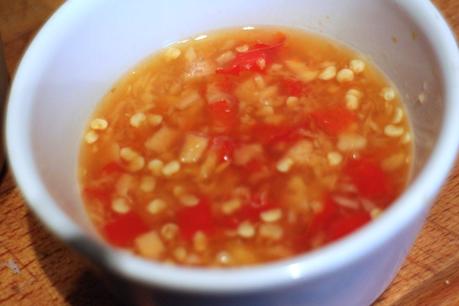 Sweet Chilli Dipping Sauce
1/2 cup water
1/4 cup white vinegar
2 teaspoon hoisin sauce
1 small fresh red chilli, chopped
1/2 cup brown sugar
Combine all the ingredients in a pan over the heat and cook until the sugar has dissolved and the sauce is slightly thickened (about 5 minutes).  Serve hot or cold, and keep in the fridge for up to 3 days.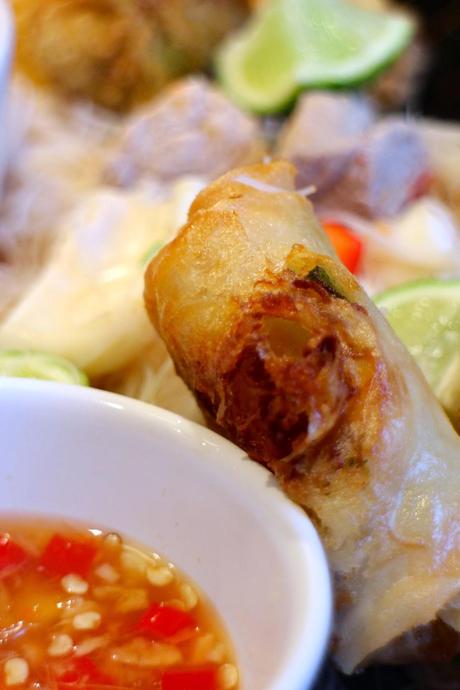 Squid and Pork Vermicelli noodles (enough for 4-6 as a side dish, or 3 as a main course)
300g vermicelli noodles, soaked in warm water for 10 minutes
100g lean pork, lightly browned
1 chopped red pepper
2 chopped spring onions
1 squid, lightly fried
Juice and zest of 1 lime
1 tablespoon fish sauce
1 teaspoon chopped fresh ginger
2 cloves garlic, crushed
2 red chilli's, finely chopped
1 teaspoon sugar
Mix the cooked noodles, pork, red pepper, squid and spring onions together.
Combine the lime, fish sauce, ginger, garlic and sugar in a pestle and mortar and pound together.  Add the chilli's to the sauce and then throw over the noodle mixture and stir to lightly coat.  Stick it in the fridge and serve cold.  Can be made a day in advance (it is actually better when the flavours have had some time to develop).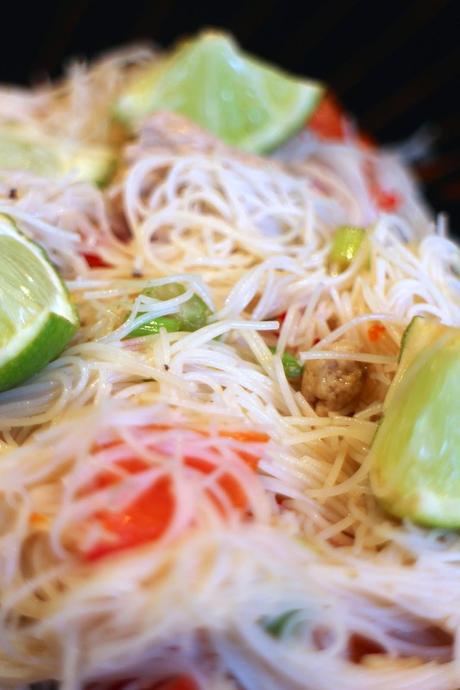 Beef Massaman Curry (enough for 4 as a main course)
1kg beef cut into cubes
500ml good quality beef stock
1 diced onion
3 bay leaves
1-2 potatoes, peeled and cut into large chunks
Handful fresh chopped coriander
1 inch ginger, grated
4-5 cloves of crushed garlic
1 stalk of sliced lemongrass
1 fresh chopped red chilli
Handful chopped peanuts
1 tsp ground coriander
1 tsp cumin seeds
1/2 tsp white pepper
1tso turmeric
1/8 tsp ground cardamon
1 tsp tamarind paste (or 1 tablespoon lime juice)
3/4 tsp shrimp paste
1 tablespoon brown sugar
2 tablespoon fish sauce
400 ml can full fat coconut milk
Place stock in a large pot over high heat. Add the meat, onion and bay leaves. Bring to a boil and then reduce to a low simmer. Cover with a lid and simmer 40 to 80 minutes, stirring occasionally, until the meat is tender
Add all the other ingredients, stirring with each addition.  Return to a boil, then simmer for at least 30 minutes until the potatoes are tender, stirring occasionally.
Prepare the jasmine rice according to the packet instructions, and serve with fresh coriander and the cooked rice.  Can be made a day in advance and reheated over a low heat for 20 minutes when required.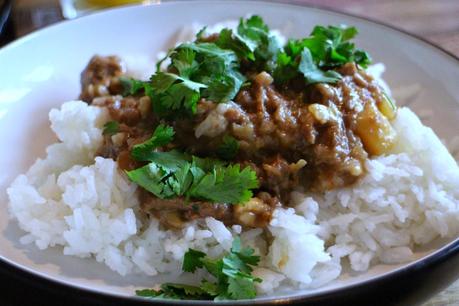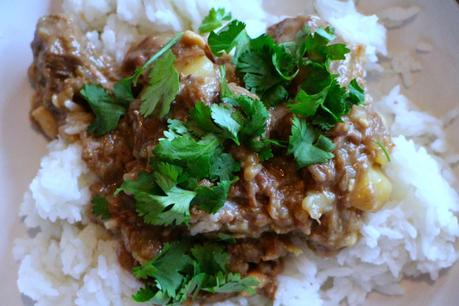 Serve the whole lot together, or keep the curry back for the main.  Pop some Thai beers and you have an amazing casual dinner for you and your friends!
If you like (or hate!) what you have read, please do let me know in the comments below or slap me with a cheeky follow, or say Hi to me on my Facebook group or Twitter or Instagram!