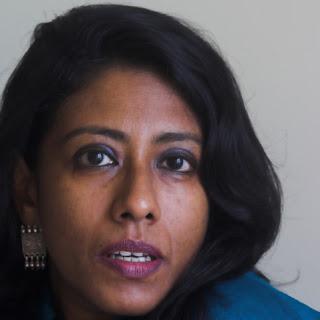 (Photograph by Pradeep Jeganathan)
I first directly met Dr. Malathi during a course I took at the University of Colombo where she taught a segment on women inconflict, but I had been reading her work and hearing her speak long before that. I remember having to stifle a squeal when I saw her name in our course material and spending most of that lecture on the edge of my seat. I took up her break with endless questions. She was patient, warm, and never made me feel for one second that I was were taking up too much of her time or that my questions were not needed. Over the years this has never wavered be it in our in-person interactions, discussions at events, or responses to emails asking for help and guidance.

Dr. Malathi identified herself as a feminist anthropologist and worked on (among others) on the themes of militarism, nationalism, the politics of memory, and feminism. She earned her Ph.D. in socio-cultural anthropology from the University of Chicago and was an extraordinary teacher. She taught at the University of Colombo and was a visiting professor at The New School in New York City.There is a Twitter thread by Adilah Ismail that beautifully captures her work and legacy including information about the publication 'Archive of Memory' (co-curated with Hasini Haputhanthri) whichwas reviewed by Ruwani de Silva for our Young Feminist Network newsletter last year.
The many tributes about this incomparable woman yield a steady theme – particularly from those written by her students. She always had time, she was always kind, she always guided and enriched. This way of passing on learnings and helping to forge a new generation of feminists, academics, and curious people has been a driving inspiration behind the shaping of the Young Feminist Network. We turn so often to not just what we learned from women like Dr. Malathi, but also how that learning was passed on to us.
I saw her in October last year when on behalf of Everystory Sri Lanka I reached out to ask her if she would be willing to be interviewed for a project documenting stories of Sri Lankan women. She graciously agreed and invited me home, true to her generosity with her time. My heart wrenches as I remember describing the work to her and she said, "Oh Sharanya it is good you are doing this now; I don't know how much time I have left". She had recently found out that her cancer had returned, and sadly that would be the last time I saw her. It was a rich few hours we spent as she lay on a couch talking about her life, her work, her love for wildlife, and eating star fruit. That is how I will remember her, the deeply reflective, warm, generous, and phenomenal feminist that she always will be.
Rest in power Dr. Malathi. Your legacy lives on.