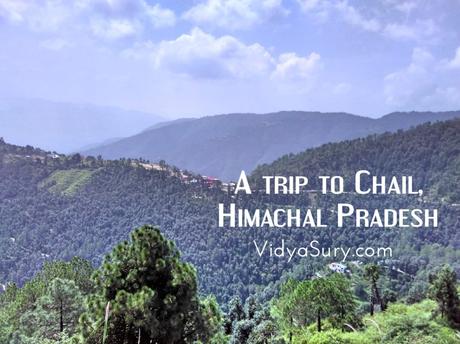 Every summer we try and plan a holiday. Of course, we shortlist places and then go crazy trying to zero in on one or two, or sometimes three. I have this secret agenda of trying to visit as many places as possible in Himachal Pradesh by 2020, when my son finishes his course. Nothing to stop me from going there afterwards, but you know how much nicer it is to combine a visit to him and travel together.
Over the past year, we have visited several places-mostly impromptu trips that we didn't really plan. There was a time I used to think I loved the beach, but over the years, I've realized I am more of a mountain type. I do love the beach, but given a choice between the two, it is the mountains for me.
This recent summer, though, was really tough to plan, what with Sury traveling quite a bit and Vidur busy with his summer internship. There was a conference that Sury had to attend in Goa and we thought we'd join him, extend our stay and make it a family holiday after his seminar. We even finalized hotels in Goa. But then, something else came up and Sury had to skip the conference.
What to do?
I was determined that we must take at least four-five days off together and knew that at the rate at which things were going, unless I literally bullied my folks into it, this trip wasn't going to happen. The fact remained that Vidur had to return to college in the first week of August for the new semester and I thought, why not accompany him-leaving 4-5 days before his semester started, so we could visit some places nearby?
When Sury agreed, I was thrilled because who doesn't like things going according to their secret agenda?
And thus, the planning started, all over again. Good news is, Himachal is not far from where my son studies. There are plenty of options depending on time available. We have already visited a few places and so, this time we decided on Chail.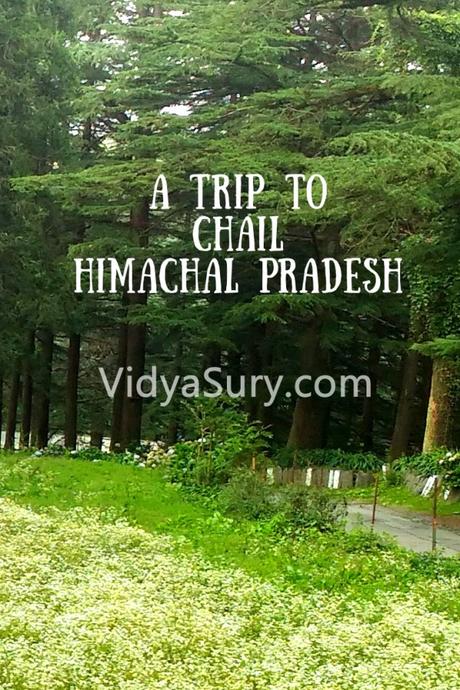 As usual, loads of hotel options but the unanimous feeling was to stay at the Chail Palace, a heritage accommodation, which also has an interesting history.
The story of how the palace at Chail was built
Legend has it that in 1891, Maharaja Bhupinder Singh of Patiala kidnapped (or eloped with, as some say) the daughter of British Viceroy Lord Kitchener in Shimla, the summer capital of British India. Today, this spot in Shimla is aptly called Scandal point.
Naturally furious, Lord Kitchener banned him from entering Shimla. Feeling insulted, the Maharaja vowed to build a new and a better summer capital for himself.
Oh, ego!
He picked Chail, a small village just a few kilometers away from Shimla. It was practically a slice of heaven, with its lush greenery, fabulous climate and a breathtaking view of the snow-capped Himalayas. Also, its strategic height of almost 2400 meters enabled him to literally look down upon Shimla. Solid ego-massage there!
However, something or the other hampered the progress and the palace just wouldn't get ready. The site the Maharaja chose was the abode of the spirit of a powerful sage who did not like to be disturbed. So this led to the Maharaja building a temple for the sage, now known as "Sidh Baba ka Mandir" at that site. He then moved his own palace to the top of Rajgarh hill and this time, work progressed smoothly and the grand palace took shape.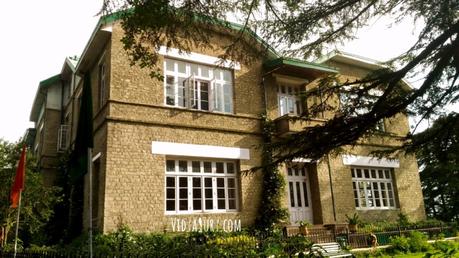 In 1972, the palace was taken over by the Himachal Pradesh Tourism Board and converted into a premium hotel. Spread across 75 acres, the hotel has a range of accommodations. We were tempted by the log huts on the grounds of the palace but the thought of walking two kilometers for every meal tipped the scale towards opting to stay in the main palace. D'uh!
Our itinerary for the trip was pretty loose. If there's one thing we've learned over the years, it is not to cram our day with things to do, simply because we end up feeling tired and then, we need a holiday to get over the holiday, if you know what I mean. Of course, we're eager to see everything in a place, but experience has taught us that this is near impossible with Himachal. So this time, we consciously kept our schedule light as we wanted to simply spend time together and enjoy nature.
Chail has a list of must-see places, namely:
Chail Palace, also a heritage hotel (where we stayed)
Sidh Baba ka Mandir (1.5 km away)
Cricket ground (3 km away) Highest in the world
Wildlife Sanctuary (3 km away)
Kali Ka Tibba - a temple and a vantage point for a panoramic view for miles around
Shiv Mandir
Kufri (about 35 km away)
Sadhupul - between Chail and Solan with a restaurant on the lake-that's right. The tables are right there in the stream!
Solan (45 km away)
Shimla (45 km away)
Besides, one can enjoy adventure activities through treks, horse riding and so on.
We decided to skip all the temples and the adventure activities.
After some vigorous discussion, here's what our plan looked like:
Day 0 - Arrive in Mohali in the afternoon.
Day 1 - Drive to Chail, check into the Chail Palace and explore the palace and its grounds.
Day 2 - Drive to Kufri, explore and visit the Himalayan Nature Park (solid zoo fetish, you see). It was tempting to include Shimla, which is just 16 km from Kufri, but we resisted.
Day 3 - Check out and return to Mohali
Day 4 - Stay on our son's campus, visit friends.
Day 5 - Fly back home.
Day One
We left Mohali around 9 am in our cab, planning to arrive in Chail around lunch time. It was a lovely drive and once we crossed the border from Punjab into Himachal Pradesh and started climbing the hills, the weather noticeably cooled down. There was some traffic at some of the places but the views more than made up for it. Love these houses on the hills.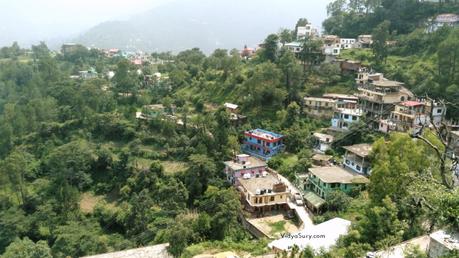 By the time we arrived at Chail Palace, it was like we were in a completely different world. Nature can be so wonderfully exhilarating, yet calming!
We checked in and settled into the well-appointed Vazeer room. We freaked out a little at the sight of the monkeys at the window, but the hotel staff assured us there was no way they could come in unless we opened the window.
We decided to first head for lunch. The in house multi-cuisine restaurant at the palace includes Indian, Chinese and Continental, and of course, Himachali. Attached to the restaurant is a large dining room for meetings, etc. Food was very good and the staff, kind.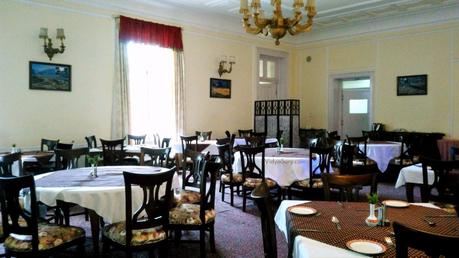 Lunch was delicious and we decided to walk it off.
The palace's lawn is beautiful and a peaceful place to relax in, with a great view of the mountains and the gigantic trees. There was a small coffee shop but it was closed-probably has specific timings. We saw a children's play area as well, with a toy train and swing, etc. Yes, I sat in the toy train!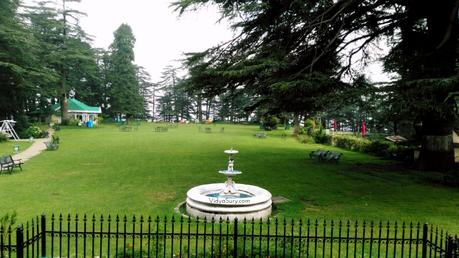 We explored the grounds around the Palace, following the path towards the log huts, set in pretty surroundings about a kilometer away from the main palace. Along the path, we were fascinated by the flora and birds we spotted. The sun filtered in through the trees that seemed to practically touch the sky creating an absolutely Zen feeling.
Then we decided to walk to the Himneel block, another set of accommodations a kilometer away in the opposite direction.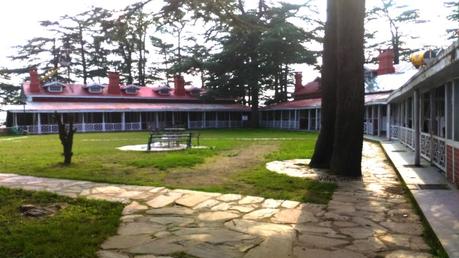 What an enjoyable walk it was! The weather was excellent and we went berserk clicking photos. The whole place is a botanist's dream come true. Cows and horses grazed the slopes at leisure and it was such a serene sight!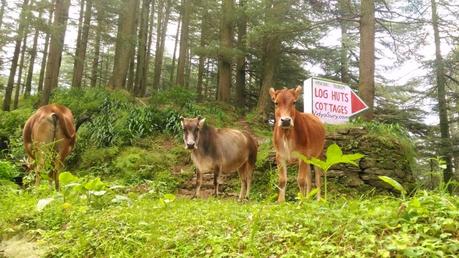 We learned later that the movie Daag, starring Rajesh Khanna/Sharmila Tagore/Raakhi was filmed here in Chail. So was 3 idiots and several others, besides TV shows. I am not surprised, considering how gorgeous the place is.
We wandered back to the palace and decided to explore the main palace building.
Inside Chail Palace
The Palace Hotel, which reflects the grandeur of the bygone era, is undoubtedly Chail's USP. The palace was built by the Maharaja of Patiala in 1891. Thereafter, in 1972, the State Government of Himachal Pradesh, which took over the palace from the Maharaja, converted it into a heritage hotel, now run by the Himachal Pradesh Tourism Board.
There's a unique ambiance that makes it easy to imagine what it must have been like when the Maharaja lived here. Beautiful carpeted corridors, high ceilings, exquisite chandeliers, gorgeous paintings and artifacts-such grandeur! We saw the Maharaja, Maharani, Rajkumar, Rajkumari, and Vazeer suites. The staff was more than happy to show us around.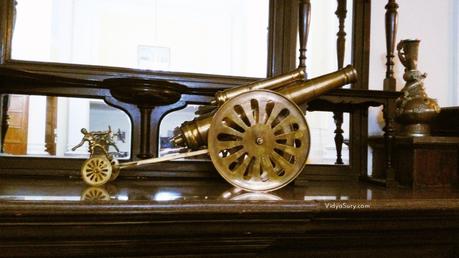 There is a perfect blend of the old and ornate with modern facilities, along with working traditional fireplaces! Personally, I loved the Maharani room (there were two!) with its blush pink furnishings and cozy look. The main palace building has conference and meeting rooms for those who want to mix business with some R&R.
Best part? Accommodation is not really expensive as they have options to suit various budgets.
A few hours later, we returned to our room, ready for a cup of coffee. The room had a kettle and the makings for coffee and tea and we settled down to enjoy the ambiance with some snacks and relaxed until dinner time.
Dinner was just as yummy as lunch and afterwards, we wandered around the palace lobby, admiring the baby grand piano, bookshelves, portraits, paintings and decor, before deciding to retire to our room. We did get a little alarmed when we heard monkeys fighting near the window, bumping into the net...but that gradually faded as we slept. We did make sure to pull the pretty silk curtains closed. Creepy to have monkey eyes watch while you sleep, no?
Day Two
We were not up bright and early since we knew breakfast was open till 10.30 am. We did wake up at 7.30 am and freshen up, so we could enjoy a leisurely cup of coffee while looking out the windows at the monkeys and the trees. It looked like it was going to be a pleasant day and after we showered and dressed, we went down to the restaurant for breakfast. Then we hired a taxi to take us to Kufri, which is approximately 35 kilometers from Chail. The idea was to visit the Himalayan Nature Park and enjoy the ride there and back.
Of course, I'd be more than happy to just just drive around Himachal, stopping as the fancy took me. The ride to Kufri was beautiful and we stopped at several places on the way just to enjoy nature and listen to her sounds. These shiny silvery rocks were everywhere, dazzling in the sunlight.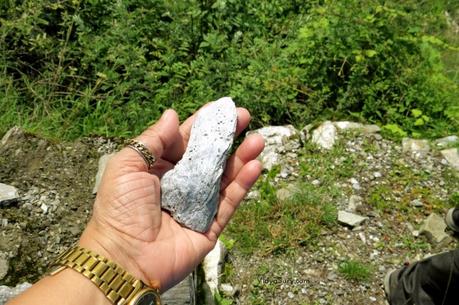 As soon as we reached Kufri, the first thing we did was head for the rest room at Cafe Lalit, the heritage restaurant housed in the historic Chini Bungalow maintained by HPTDC. We also had a cup of coffee there and visited the shop on the premises where we had a solid discourse about fabric made from apple fiber. Yes-that's right. We also saw all sorts of woolen garments made from different Himalayan sheep.
Enlightened, and resisting the urge to buy woolens, we headed off towards the Himalayan Nature Park. I got distracted on the way by shops selling junk jewelry. My folks steered me clear of those, insisting we could look on the way back.
Himalayan Nature Park
Nicely maintained, the nature park is not very large, but adequate for a half day trip. The entry fee is nominal. I liked that they had a specific route to so we could see animals in their natural settings. The weather continued to be gorgeous and it was just wonderful to be there in the quiet-except for bird song and the sounds of the animals. We saw unique local animals including the majestic Himalayan Tahr, the goral, the bear-we saw black, brown and grey bears!
There was a plethora of birds, besides the special ones in a separate enclosure. Of course, there were the big cats, too. We were done in about three hours and were ready for lunch, which we had at Cafe Lalit. Food was pretty good.
After lunch, we browsed the shops there and I ended up buying a couple of bling blings.
Then we started our journey back to the palace in Chail. We reached around 5.30 pm. Time for another coffee, of course, after which we spent some time at the little shop in the hotel. There were antiques and other artifacts and garments for sale. We didn't buy any mementos. They were pricey and I was happy getting some photos.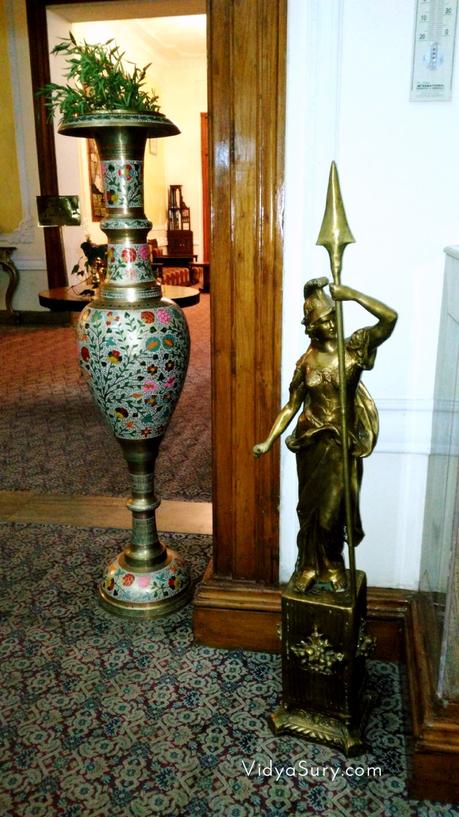 Soon it was time for dinner and we looked forward to trying some new dishes! On one of our earlier trips to Himachal we had tasted "bathu ki kheer", a sweet dish, and we looked forward to enjoying it again. Bathu is a special grain unique to the region. We lingered over dinner and then, decided to just while away the time looking around the palace.
We were surprised to discover we were a wee bit tired and made it an early night-by which I mean we retired at 11 ish after some chatter and joking and playing word games.
Through all this, we had barely any signal on our phones. The hotel has internet, but the signals are not strong everywhere, so it is excruciatingly slow. We didn't worry about it. We were on holiday to spend time together in nature, and did exactly that.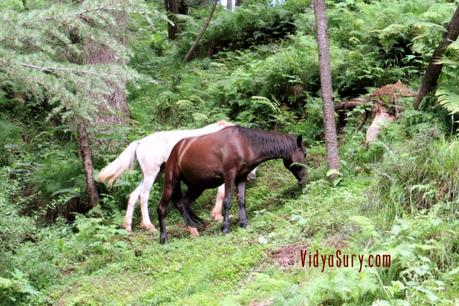 Day 3
After a good night's rest, we woke up and enjoyed our coffee in our lovely room at the palace. We were to check out at noon, so we packed our stuff, showered and got ready for breakfast. We took our time. Then our cab arrived and it was time to leave.
The drive back to Mohali was just as beautiful as the drive up. On the way, we stopped at the HPTDC fruit stalls selling varieties of apples and pears, jams, pickles, pulp, juice - you name it, they had it. Apparently, the fruit output is so abundant that they make all kinds of tasty products with it. We bought some bottles of pickle and fruit burfi.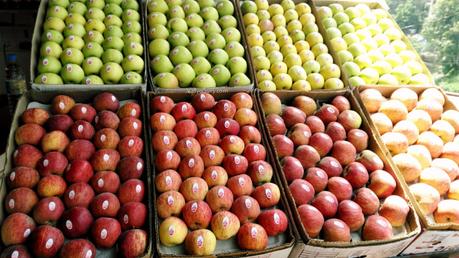 Only during the last leg of our journey did the skies cloud over and there was heavy rain for part of the trip. By the time we reached Mohali, the sun was out again and we were back to the scorching heat and humidity. We arrived at our guest house around 6.30 pm and the ac welcomed us!
After some refreshing tea, we were all set to go meet friends and we were looking forward to it.
For our son, it was back to the grind, finishing registration formalities for the new semester, getting his room cleaned, arranging his stuff and meeting his friends. Day 4 went in this. Day 5 came all too soon and it was time to return home.
And thus ended our brief vacation!
I am eagerly looking forward to summer next year when I hope to visit yet another part of Himachal Pradesh.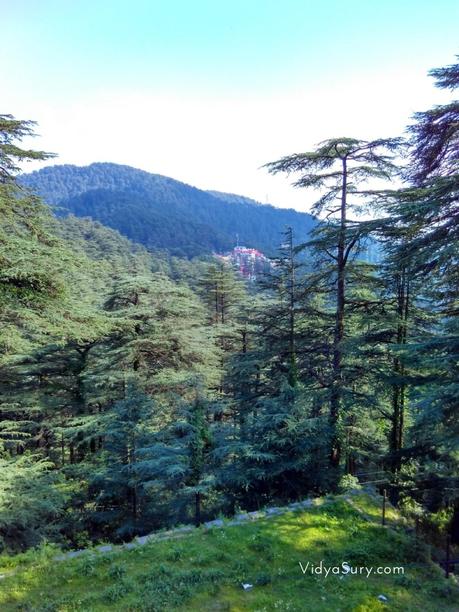 About Chail, Himachal Pradesh
Chail is approximately 120 km from Mohali. The drive takes around four hours. It can be more if one chooses to stop along the way. It is always tempting to do that, considering the drive is so picturesque. We gave in to temptation!
Accessibility
Nearest airport: Shimla and Chandigarh. Chail is 120 km from Chandigarh and 45 km from Shimla.
Kandaghat/Kalka and Shimla are the nearest train stations on Kalka-Shimla heritage railway; Kandaghat is 29 km from Chail and Kalka is 90 km.
Hiring a taxi is the best way to reach Chail
Getting around: taxis are best for their flexibility and are fairly reasonably priced. (run by the union). There are bus services to Shimla, should one choose to do so - Gov. Bus service,and some tourist bus service run by HPTDC.
Where to stay
Plenty of accommodation for a wide range of budgets. The Chail Palace is an excellent experience.
Good time to visit
April-July - summer and Sept-Nov when winter starts. We went in Aug because that suited us. Also, the Palace has an offseason discount during July-August.
What to pack
Depends on when you visit. Summer is pleasant. We visited in August, which is monsoon. Weather was great, Evenings can be gently chilly and would require, at most, a light shawl. Winters will of course be super cold what with snow and all. Check weather before you go.
Definitely pack your camera-everything in Himachal is a shutterbug's dream. Goes without saying-extra batteries, memory cards, etc.
Kufri Nature Park entry fee: Rs.35 for adults, Rs.20 for kids and Rs.50 if carrying a camera.
Tips
Always carry drinking water while going out. Good idea to carry some snacks, too. Careful with plastic-pack responsibly. There are lots of monkeys around, so be cautious while eating out in the open. They have equal rights.
While hiring taxi, decide upon an itinerary in advance. The HP Taxi Union has fixed rates for specific destinations.
Have you been to Himachal Pradesh?