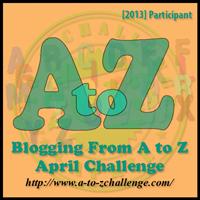 It has come round to that time of the year again, where thousands of bloggers around the world have made preparations for taking part in one of the biggest challenges of the year – the A-Z April Challenge!
If your new and have not yet heard of it, you in for a treat, and need to check out the A-Z challenge blog for details.

 

If you are an old hand and you've taken part before, then you know you're in for a month of inspiration, connection, insights, laughter, creativity, passion and more as you visit and take part in what can be an assault course of planning, preparing and sharing your posts. There are some great tips in keeping yourself motivated, and staying with the challenge Here 
This is my third year and I must say I have been looking forward to it.

 

It's a great way to visit blogs that you may have not come across, make new connections and generally feast on the breath of variety of posts that are sharing during the month of April.

 

Last year my posts were about my experience as a carer and I found it great to be able to articulate and share what I have been going through.  You are welcome to take a look at some of the posts I shared last year - Here 
This year is a celebratory year for me and I feel that despite what you are going through or have been through we have to celebrate our lives and the talents that we possess finding ways to use them to bless others. Each day for 26 days I will be sharing an encouraging word alongside a piece of art that I have been working on, and also linking to a few fellow bloggers that are also on this journey for you to check out. 
I hope to bring you a visual feast for your eyes that will encourage you to tap into your creativity, and encourage me to complete some more art work!

 

I look forward to linking up with you on this journey and encourage you to visit the many others that are taking part as well.

 

If you haven yet signed up you can do so below, you will not regret it!