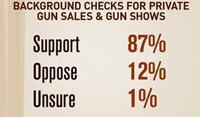 As most of you know by now, the Manchin-Toomey Amendment to the S.649, Firearms Bill was defeated.  A filibuster by the Republicans forced a 60 vote requirement for the bill to pass and the count fell six votes short.  In a situation in which 

86% of Americans want expanded background checks, (

according to a

CNN/ORC International poll

released last week), you would thing that a more or less equal percentage of the senators would vote in favor of an amendment which calls for just that.  In a country where elected officials do their job and carry out the wishes of their constituency, you would be right but, judging by this vote, the United States is not that country.  No, in this country, for many politicians, their only agenda is to get into office again.  I don't use the term "re-elected" because it seems to have little meaning anymore.  We think we "elect" our representatives but all we do, is choose the person best able to convince us of their sincerity and dedication to our cause.  Once in Washington, their sincerity and dedication goes to the highest bidder, selling the only thing they have to offer - their vote.  There is no other way to look at this.  This particular amendment was not an attempt to correct a "potentially" problematic situation.  It was not a theoretical or pre-emptive fix.  No, this amendment came on the heels of a terrible tragedy but even an appeal from the grieving parents of the children killed in Newtown, did nothing to budge the senators loyalty to the NRA and their money.  

It's not enough to give a vote count.  It is important to know the names of those who sold out.  They are:

Lamar Alexander Tennessee (R)

Kelly AyotteNew Hampshire (R)

John BarrassoWyoming (R)

Max BaucusMontana (D)

Mark BegichAlaska (D)

Roy BluntMissouri (R)

John BoozmanArkansas (R)

Richard BurrNorth Carolina (R)

Saxby ChamblissGeorgia (R)

Dan CoatsIndiana (R)

Tom CoburnOklahoma (R)

Thad CochranMississippi (R)

Bob CorkerTennessee (R)

John CornynTexas (R)

Michael Dean CrapoIdaho (R)

Ted CruzTexas (R)

Mike EnziWyoming (R)

Deb FischerNebraska (R)

Jeff FlakeArizona (R)

Lindsey GrahamSouth Carolina (R)

Chuck GrassleyIowa (R)

Orrin HatchUtah (R)

Heidi HeitkampNorth Dakota (D)

Dea Heller        Nevada (R)

John HoevenNorth Dakota (R)

Jim InhofeOklahoma (R)

John Hardy IsaksonGeorgia (R)

MikeJohannsNebraska (R)

Ron JohnsonWisconsin (R)

Mike LeeUtah (R)

Mitch McConnellKentucky (R)

Jerry MoranKansas (R)

Lisa MurkowskiAlaska (R)

Rand PaulKentucky (R)

Rob PortmanOhio (R)

Mark PryorArkansas (D)

Harry Reid Nevada (D)**

James RischIdaho (R)

Pat RobertsKansas (R)

Marco RubioFlorida (R)

Tim ScottSouth Carolina (R)

Jefferson SessionsAlabama (R)

Richard ShelbyAlabama (R)

John ThuneSouth Dakota (R)

David VitterLouisiana (R)

Roger WickerMississippi (R)

** Note that Senate Majority Leader Harry Reid, D-Nevada, cast a "no" vote only to secure the ability to bring the measure up again.

Four Republicans joined most Democrats in supporting the compromise, voting in line with the wishes of their constituency and heeding the urgently obvious moral imperative  They did their job as it should be done and must be acknowledged here.  They are:

Susan Collins Maine

(R)

Mark Kirk Illinois

(R)

John McCain Arizona

(R)

Pat Toomey Pennsylvania

(R)

Conversly, three Democrats were the worst sell-outs of them all, betraying their party, their President, and worst of all, all those who voted for them.  In essence, they gave us the finger when they voted "No".  They are:

Max BaucusMontana (D)

Mark BegichAlaska (D)

Mark PryorArkansas (D)

President Obama called it a "pretty shameful day for Washington" and wondered, "Who are we here to represent?"  An excellent question to which we, unfortunately, now have a clear answer: the NRA!In this morning's Opinion Pages of the New York Times, Gabrielle Giffords, in article entitled "

A Senate in the Gun Lobby's Grip

",

writes of those who voted against the measure:

"

They will try to hide their decision behind grand talk, behind willfully false accounts of what the bill might have done — trust me, I know how politicians talk when they want to distract you — but their decision was based on a misplaced sense of self-interest. I say misplaced, because to preserve their dignity and their legacy, they should have heeded the voices of their constituents. They should have honored the legacy of the thousands of victims of gun violence and their families, who have begged for action, not because it would bring their loved ones back, but so that others might be spared their agony."

No one could have said it any better!

In the meantime, the NRA promised political retribution against supporters of tougher gun laws, calling the expanded background checks a first step toward a national gun registry and government confiscation of firearms.  As President Obama put it, "The gun lobby and its allies willfully lied about the bill.  It came down to politics."  These days, it seems, "politics" equals a betrayal of public trust.

Senator Harry Reid warned Republicans that the strong majority of Americans who support expanded background checks won't forget votes against the Manchin-Toomey compromise.  "The American people ... have a long, long memory," he said.  Yes, we most certainly do……

A. J. Aston





Article first published as 

Adding Tremendous Insult to Horrendous Injury 

on Blogcritics.