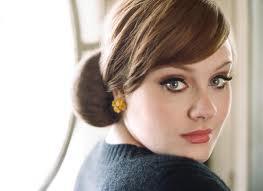 I think we all know that the media can greatly sway the public, for the good and bad. Part of the bad is how television, magazines, etc. have made a beauty standard that girls and women feel the need to conform to, leading to a plethora of women who feel uncomfortable with their bodies. There's one pretty powerful woman in the music industry who hasn't felt bad about her body: Adele.
Adele was born to a single teenage mother in London in 1988, and started singing at age four. She went to The BRIT School for Performing Arts and Technology, where she was classmates with to-be performers Leona Lewis and Jessie J. After some of her music was posted on MySpace in 2006, she was contacted by XL Recordings, and signed with them quickly. It didn't take long for her to become wildly successful, with her songs topping the charts and going multi- platinum. Her music was introduced in America in June 2008. The endeavor seemed like a failure until October, when she performed on the episode of Saturday Night Live Sarah Palin was on. By February, the album went gold in America. She has since become ninth richest British singer under 30.
I think that it's absolutely amazing that Adele, who has such a successful career, isn't the typical size 2 celebrity. She says that she's a 14/16, and is happy with that and has no intentions to change it. It really thrills me that there's a singer who doesn't conform to today's beauty standards, but is still perfectly content with the way she looks. Jenny Craig commercials with smiling, thinner-than-before celebrities always kind of annoy me. I mean, I'm happy that they're able to make themselves happier by losing weight. My mom lost 110 pounds, and I know how much it can mean to a person. But did Valerie Bertinelli really feel that the only reason she took control of her life was because she lost 40 pounds? And is thinning really the only thing in the world that matters to Jason Alexander? It's these "your weight defines who you are and if you're overweight you're a horrible person with a horrible life and you need to pay us to fix it for you" ad campaigns that tick me off.
And this is why I love Adele. She's an amazing role model for girls today: she shows that you can be successful, have a great career, sing amazingly, and be beautiful while being a 14/16.
It kind of bothers me that Adele has to be praised for being the average American and British dress size (14), though. Why can't we all just accept the fact that most women out there aren't the super-skinny people we see on TV (like Jenny Craig commercials) and magazine ads? Why can't we a view a 14/16 as beautiful? We use to be able to do that; Marilyn Monroe, the iconic sex symbol, was far from the size 2 celebrity that everyone seems to love nowadays.
I know that the only reason beauty standards exist and are perpetuated is because people want to make money off of people's insecurities. Ms. Craig is extraordinarily wealthy. So are Ms. Nutrisystem and Ms. Weight Watchers and all the other creators of diet programs. Let's not forget the Ms. Atkins Diet and Ms. South Beach Diet and Ms. 17 Day Diet and all of those fad diets that are popular for five minutes, either.
I love Adele. I hope she never feels the pressure to lose weight; if she does choose to slim down, then I hope it's her choice and her choice alone, not the choice of a manager or anyone else.