Brandcation was amazing. I fell in love with the #GulfCoast and Pensacola. The area was beautiful, the shoreline pristine and the water blue. But what really  drew me in was the day we spent on the Coldwater Creek with Adventures Unlimited.
I had never been ziplining before and although I was very excited I was also a bit frightened. The idea of zipping over a creek at 35 miles per hour really got my heart going. But the folks at Adventures Unlimited were kind, friendly and knowledgeable. My group (my condo roommates) were the first group out and we zipped with guides, Kevin and Jacques. It was only Jacques' second day on the job, but you wouldn't know it. He was a real pro. He even joked with me when after I ran the first real zip line and I was scared to death, and I ended up calling him honey. He said that was just fine. Flirt! We did 7 runs and by the time we reached the last one, a 900 foot run from 65 feet in the air, I was begging to go again! I could have done that all day.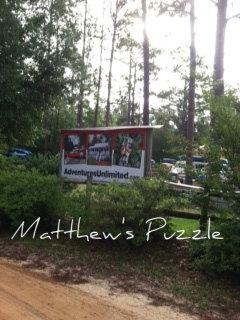 After a box lunch, also provided by Adventures Unlimited, of deli sandwiches, soda, water, chips, cookies and the best Cara Cara oranges I have ever tasted (we were in Florida of course), we headed down the Coldwater Creek for a leisurely tubing ride. Of course I can't do leisurely so my friend Paula of Frosted Fingers, and I decided to race down the river. We certainly got a workout as she and I "paddled" almost the entire 3+ miles. We were the first ones back. I'm sure that deserved some sort of trophy.
I truly loved Adventures Unlimited. The grounds are huge. They have private and group cabins, camping sites, and the Schoolhouse Inn (a restored school house turned inn with author themed rooms. Kevin's favorite is the Dr. Seuss room). You can tube, canoe or kayak on the river, go ziplining, or try a ropes course. The place is just plain fun!
Thanks to Adventures Unlimited for a great Saturday on the #GulfCoast!