I can hardly believe that in just two months time, I'll be turning the big 4-0!
It seems like only weeks ago, I sat down at this very chair on my 35th birthday and wrote out my bucket list of things I wanted to do and see before this milestone came around.
Unfortunately I hadn't really banked on the emergence of a global pandemic during that 5 year period, which put paid to some of the aspirations and goals...but what can you do?! I'll just have to make the Things To Do Before I'm 50 bucket list even longer I suppose!
Of course when you're celebrating a milestone birthday, chances are - most of your friends will be celebrating their own milestones around the same sort of time too! So today I thought I'd share some gift inspiration to help mark these birthdays the right way.
For The Glamour Puss....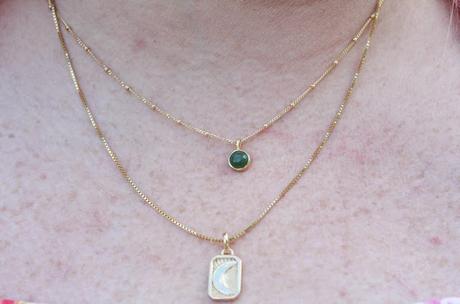 A special piece of jewelry is a welcome gift to most women, and I have to say that Daisy London offer a truly stunning collection of ethical, unique and thoughtful pieces...all of which include a 6 month warranty for peace of mind.
As someone with a love of crystals, I really adore their healing stone necklaces...you can choose from a variety of stones including rose quartz, lapis, amazonite, amethyst, labradorite and howlite but my favorite was this Green Aventurine stone. 
A quick google search on the healing properties and benefits will help you to make the right decision for the recipient of your necklace, I chose Aventurine because it's said to be a harmonising and healing stone that aids the wearer in maintaining emotional calm and well-being as well as being a good attractor of prosperity and opportunity. 
This necklace really does make such a unique and thoughtful gift.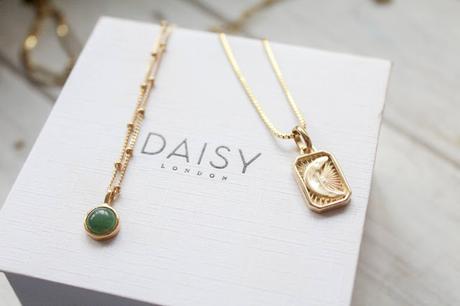 If crystals aren't your thing though, I also love the Luna necklace from the Estee Lalonde collection - as someone who enjoys working with the moon in manifesting, this makes an ideal piece for my collection...I love the versatility of the simple design, it looks beautiful no matter how its styled.  Of course, your gift recipient will have their own tastes and interests but I'm confident that Daisy London's range of modern, stylish and bohemian inspired necklaces will offer something to suit.
I actually really like them when worn together.
For The Quirky Ones....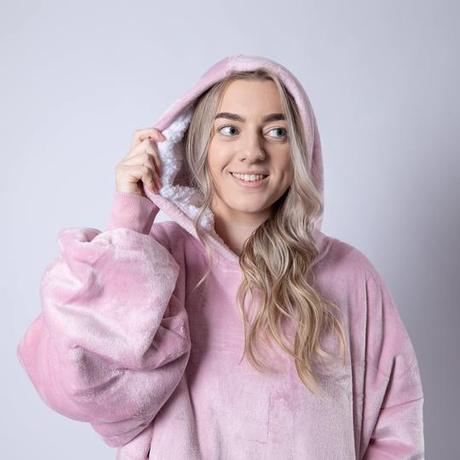 For those who have slightly more unusual taste, then how about something totally different?! You may have come across the trend for oversized hoodies online recently as they've been all the rage on social media...they're almost a mix between a hoodie and a snuggly blanket, and they're ideal for people who love to spend evenings snuggled up with a movie or a good book.
Infact the Cozi Hoodie combined with a few new reads, a novelty mug and some fancy hot chocolate would make the perfect Birthday Evening In Box!
The Cozi Hoodie comes in a variety of colours, and I can confirm that they are incredibly cosy and wash really well! I practically live in mine!
For The Sentimental...
For those who prefer a gift that's all about memories and will bring a tear to their eye, I don't think you can go wrong with a good old fashioned photo gift and ASDA have a website that sells some incredible photo gifts for amazing prices. 
There are endless options available, including everything from photo cushions to more traditional canvases. I recently had the chance to make my own collage canvas and was so impressed with both the quality and the speed of delivery. The website is very easy to use, too.
I chose to center my collage around our Disney memories over the years, but you could choose any theme that means something to your gift recipient...a collage of all your best friendship memories over the years? A collection of images of loved ones long departed? You can get really creative with this gift, and really give them something special to treasure for years to come.
For The Nostalgic...
I always think that a mile stone birthday is a good opportunity to get nostalgic about the decade somebody was born in. As a HUGE fan of everything 80s, I know that I would just love the chance to have an 80s themed costume party to celebrate my birthday or to maybe enjoy an evening of the best 80s movies with my family and friends. So I think a great gift idea would be a personalised hamper of The Best Of The 80s...or whatever decade is appropriate!
It could include everything from toys they loved as a child, to graphic tees of their favorite TV shows and movies from back in the day. You could even include records, movies and posters of their childhood favourites!
This is one that would be just as much fun to put together as it would be to recieve. I highly recommend checking out Truffle Shuffle for inspiration if you're planning something like this....I adore just about everything on their site, so much nostalgia!
I hope these ideas give you some food for thought for all tastes and budgets! What would be your ideal milestone birthday gift?
If you enjoy my blog, please consider following me on Bloglovin'