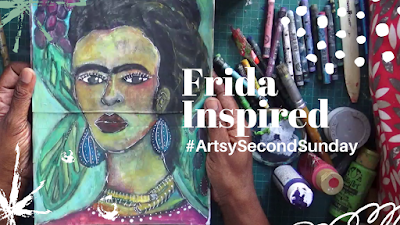 I would love you to join me today as I take part in the #artsysecondsunday.
You can check out my video as  I am doing a Frida Kahlo Inspired painting, I share what has inspired me about her work and create a painting in my art journal. Which you can check out 
HERE 
Artsy Second Sunday is an art video collaboration organized by Martha from ilove2paint (AyalaArt) 
We are a group of Painters and Mess Makers that want to bring you joy and awesome paintings, every Second Sunday of each month. Please follow the links to find ALL sorts of styles and mediums in a fun filled binge. 
You can leave us a comment, a thumbs up, and of course you can subscribe to each channel if you have not done so. Our videos are done for you and feel free to ask any questions. Enjoy! 
Here are the participating artists, click on their names to go to their videos.  You can join us in the LIVE premier or check out the videos after.  I have put them in order of appearance starting with Martha who goes live at 12 noon. (EST)  I go live at 1.30pm and will be available in the chat!!
Eleni S-artstuff
Diana Art  
Archu's Art World 
Nina Fickett Designs 
Mural dreams by Laura 
Amanda Trought 
Mixed Creativity by Marie  
Nicky Parr 
Britta Mindartdk 
Mona L Creates 
Mary PittsburghArtistStudio 
Peg Adkins R 
Shel Paper Ocotillo Studio 

Look forward to having you join us!