AstroNest: The Beginning
is a mobile space strategy/combat game by AN Games, a company of games developers in Korea.
In a nutshell, you run your own task force of combat space ships, built and supported by a number of colonised planets, in an effort to win the war between the Federation of Terra and the Alliance of Neos. I won't talk about the lore in the game, suffice to say there is some, but mainly it's all about getting the best ships to fight other ships.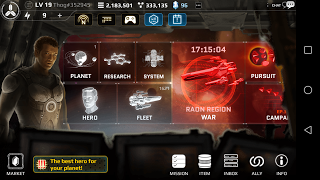 Here's the main screen where all the stuff happens
The game has a good mixture of management and combat, neither being too complicated whilst being detailed enough to make you give some thought as to how you want your fleets of ships to form.
Do you want fleets purely composed of small but fast moving destroyers that can take the battle to the enemy? Or perhaps larger ships loaded with missiles that can sit at the back and pound away?  Or do you prefer a mixture?
Tactics such as fleet formations also come into play, allowing you to arrange your ships to get certain bonuses.
Also key are heroes.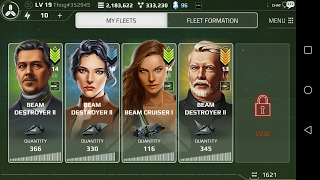 I'm convinced that the two guys are related. Or are maybe identical twins and one of them has been time traveling.
Heroes are put in charge of your planets, and of your fleets. You have to get the best heroes for their speciality - there's no point putting a combat expert in charge of managing the gold resource on your home planet, just as an economist doesn't want to be giving orders on the flagship of a cruiser fleet.  Heroes gain experience over time, and also be improved by training or by what are called "Trons", accessories that give them further improvements.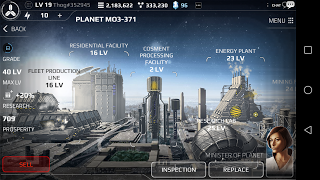 Your planets have various facilities that support your fleets, such as providing gold and mineral that pretty much pays for everything else, energy to allow your fleets to grow in number, and research to improve your ships and heroes.
There's more complexity to the game, but that can be picked up if you go into detail.
Of course the thing I've not talked about yet is the combat.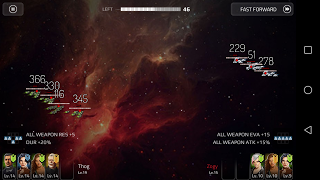 Here we go! For black & white viewers, my ships are on the left.
For all you muck about setting up your fleets, when you hit that button to fight, it's all taken out of your hands and you have to helplessly watch as your ships either destroy the enemy or get blown apart. Happily however losing your entire task force doesn't actually make any difference, all those ships magically appear again afterwards, ready for another go.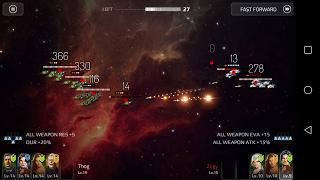 Uh oh... missiles incoming...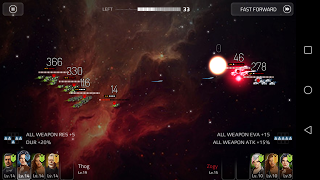 Time for revenge!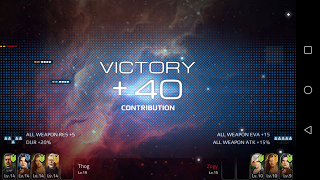 And that's how it is done!
As with any free-to-play game there are built in restrictions to slow down your play (which can be overridden with the application of cold, hard cash) but to be honest I haven't found any problems with playing it for free so far - although it should be noted that I'm only level 20 out of 100, so my feelings may change. Nevertheless, it's a pleasure to play a free game which doesn't have adverts crawling all over it, and which navigates that difficult path for mobile games of being playable on a small screen yet complex enough to remain entertaining.
I also liked the tutorial built into the game - unlike most tutorials whilst it gives you clear pointers as to what to press and what to do, you're not actually bound into doing exactly what it says. Once or twice I actually found better options than what the tutorial was suggesting for me, and it was flexible enough to let me carry out those better options instead of making me stick with whatever it wanted.
AstroNest: The Beginning is available on both
Apple
and
Android
devices, if you do give it a try feel free to send me a friend request (I'm on server Sirius, name Thog (#352945) and I'm on the side of the Alliance of Neos)