India has always denied claims of being racist and Indians absolutely hate the guts of those who dare to call us racist. The one argument – that we are a multi-cultural nation – is the defence used to thwart any racism related allegation upon our spotless robe tolerance and brotherhood.
A Tanzanian student was stripped and made to parade around the roads of Bengaluru, the place we proudly call the 'Silicon Valley' of India, because a Sudanese man ran over an Indian woman at that spot. She was harassed, beaten; her car set on fire and received no help from the police – all because she was from the same continent as the person who committed a crime.
Political leaders then even had the ever-present audacity to claim this was not a racist attack when African embassies came out in outrage of the horrific incident. Although Sushma Swaraj did condemn the incident, the damage is done and there is no guarantee that it will not happen again. This is not even an isolated incident. Media reports suggest that hate crimes are taking place all over the country.
What is even more appalling and shameful is that the 'Invest Karnataka 2016-Global Investors Meet' took place in the same city just three days later where N R Narayana Murthy, founder of Infosys, made a statement at that forum which needs mention here because he said, "My request to the state chief minister (Siddaramaiah) and industries minister (R V Deshpande) is to help us make Bengaluru 
more liveable for all, especially youngsters, by improving its infrastructure and quality of life."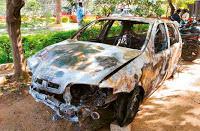 While the world is moving forward, leaving behind discriminations of caste, creed and colour; our country seems to be regressing into the dark ages of witch hunts, lynching, racial profiling and mob justice. And if this has happened in one of the major cities of the nation, it is shuddering to think of what happens in other areas.
In the post,

The Wrong Colour of Skin

– I wrote of how hypocritical we Indians are of our skin colour, about how we blame foreigners for racism and how our brand of racism is much, much worse.