Howdy folks.  After reading
this
article on the Marie Claire website a couple of months ago, I took the plunge and purchased the Autograph Mineral Loose Powder Foundation in the shade Fair.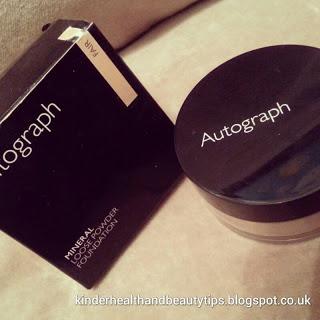 Autograph - Marks & Spencer's own-brand of makeup had their very own mineral foundation.
Autograph M&S say "
100% mineral loose powder foundation, lightweight and light-medium buildable coverage. Fragrance and paraben free. SPF 15.
8g
SPF 15
Preservative and fragrance free
Hypoallergenic
Paraben free
Directions:
  Tip: a small amount in the lid. Swirl: your Autograph mineral foundation brush in the lid. Tap: away excess. Buff: onto skin in a circular motion to achieve desired coverage
Ingredients:
  100% Minerals, light reflecting particles.
"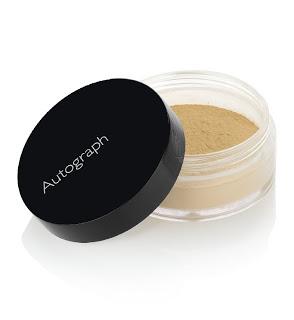 It sounded really promising.  Yet this was a disappointment for me to be honest.   I mean, it covers well, and it's a mineral foundation. ...BUT, and this is a BIG but, it is way to heavy on my skin, and breaks me out every time I use it.
It really blocks my pores, slips and slides off my skin leaving me shiny and my skin is terrible the following days with blackheads and breakouts (too much info, I know but y'know).
It also collects in my fine lines/wrinkles if you will, and badly accentuates any dry bits of my skin I may have on that particular day.  But the worst part is the heaviness.   Not only does it FEEL heavy, but it LOOKS heavy and caked on too!  Really caked on, and it isn't pretty.
Here are some swatches so that you can see the shade color.  I have this foundation in the shade Fair.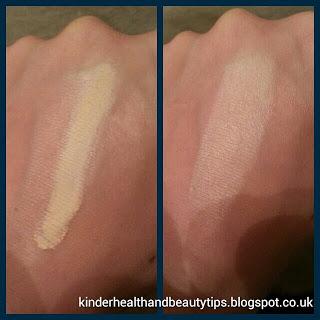 Another con with this foundation is the actual container it comes in - there is no sift-lock like with the Bare Minerals mineral foundation.   Instead, it has the sifter jar, but no mechanism to keep the mineral foundation intact when not in use.  So, when you have the lid screwed on to the container, unless you keep the foundation upright, next time you open it you will have a lot of foundation EVERYWHERE.   SO annoying!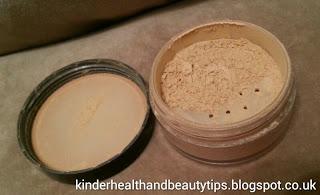 I wish I could say I love it, but I really don't.   Unfortunately the only place this shall remain is safely in the bin!!
I rate this product a 1/10, and I shall NOT be purchasing again.
Have you had any bad experiences with mineral foundation's?   What's your favorite foundation of all time?  Leave a comment below, I would LOVE to know!