by: Bharathi
Hello girls.. today m reviewing an astringent from ayur. I never had problem of acne but I have lots of blackheads on my nose. No matter how much I scrub my nose , blackheads keeps coming back. As usual I went back to my policy "prevention is better than cure". Blackheads and whiteheads are caused due to secretion of sebum(oil) from the skin cells. This sebum blocks the pores of the skin . When this get oxidized in air, it turns in to black forming blackheads. And sometimes it remains non oxidized as whiteheads. Whiteheads are not visible on skin it just gives the rough texture to skin. Sometimes hair follicle , dust particles also clogs the pores and appears as blackheads.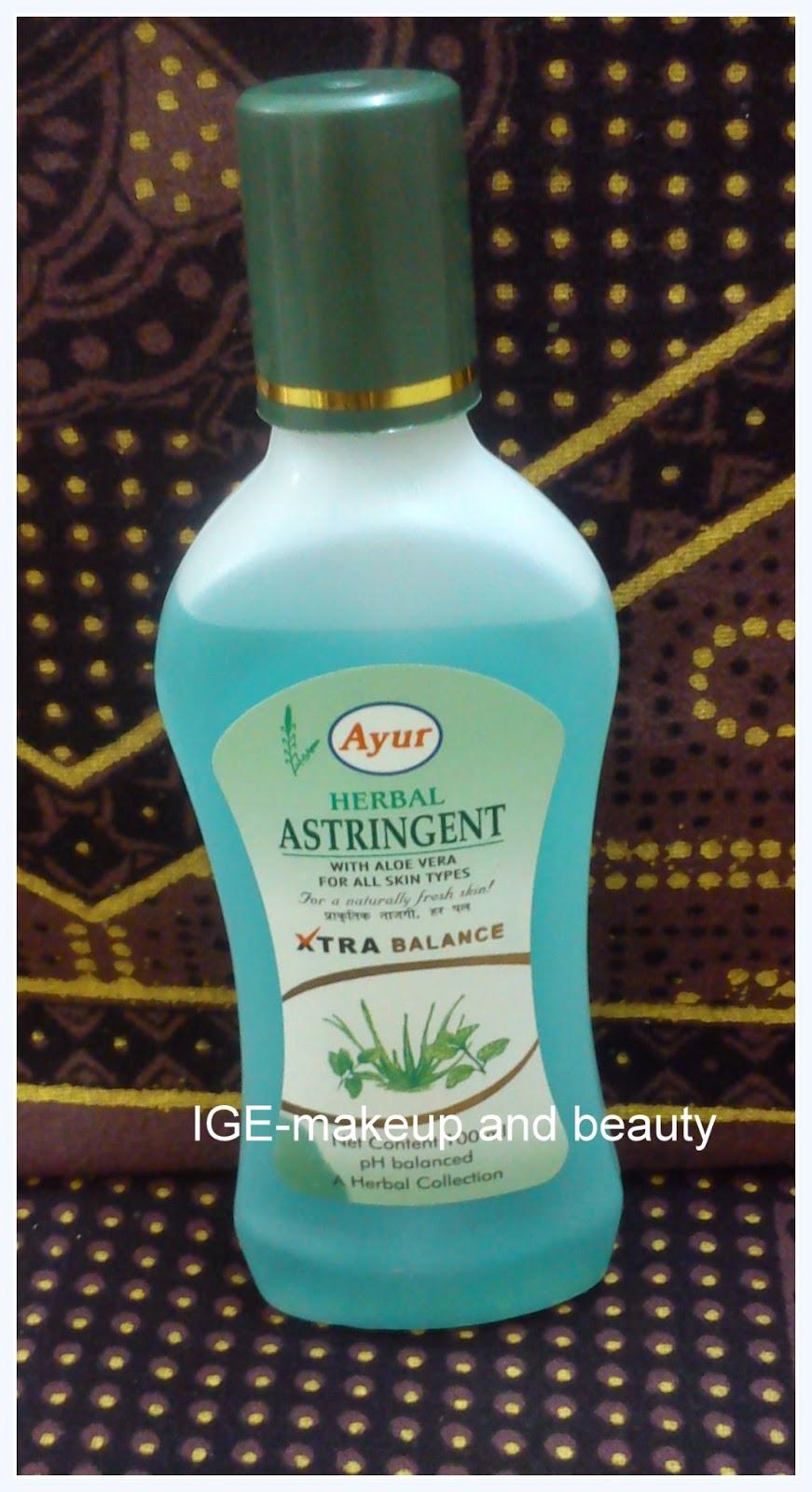 Here are the uses of astringent
To prevent blackheads and whiteheads ,one has to keep the oil at bay. It prevents secretion of oil to a large extent. And remove excess oil on the skin surface .
Astringent is used to close the open pores on the skin .
it leaves the skin squeaky clean.
It balances PH of the skin
Toners can substitute for astringent but it fails in reducing oil secretion for oil skinned ones. Normal and dry skinned people can go for toners as it is mild.
Coming to the review, I have used rose water as a toner but it fails in reduction of oil secretion. So I bought the astringent and its herbal also . This became the plus point in buying the product.
The product comes in a sturdy ,transparent bottle. Which is leak free. The product is light blue or green in color. Its between blue and green. It has the consistency of water. Its fragrance is like aloe vera and cucumber.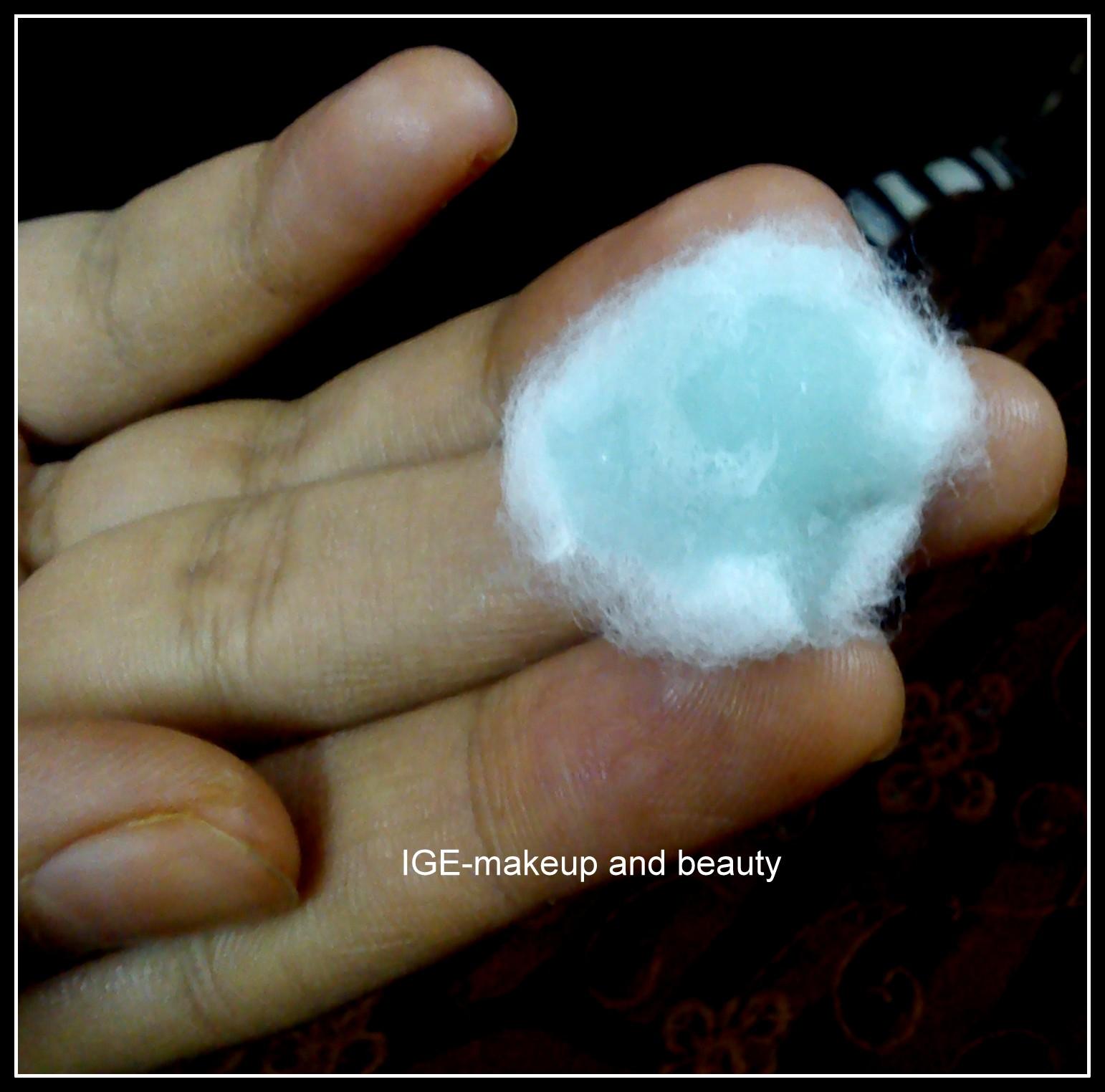 Have a look at ingredients its herbal:aqua,isopropanol,basil leaf extract,aloe extract,cucumber extract,allantoin,borax,menthole,thymol,camphor,sodium bicorbonate,methyl paraben,propyl paraben,color and fragrance.Product description:
its antiseptic and cooling properties check over secretion of sebum
its best suited for oily,acne prone and problematic skin.
Shelf life: 3 years.
price: 50/-my experience:After washing my face , I took some product on cotton. I started wiping my face gently. I was shocked to see that cotton had dark dust particles. Which didn't get cleared by face wash. This is the best thing about this product. After using this, I sweat less, less oil is secreted in T region. Its a must before applying make up. I didn't get any occasional acne which I use to get once in a month or so. It has prevented blackheads to large extent. My face keeps glowing all the day. It closes the open pores on the skin , making it look even.It is must have product in doing facial at home. Use it before using cleansing milk. It works wonderfully. If you had a pack of turmeric on face and yellow stain is retained on skin, then just wipe your face with little of the the product on cotton. Yellow stains comes off in just one go.Pros:
reduces pores.
cleans skin well.
blackheads and whiteheads are prevented.
Less secretion of oil.
Controls acne
herbal
gives a fresh look for skin and skin glows till the end of the day .
removes yellow stain after turmeric pack
cheap.
one bottle lasts for years.
keeps face sweat free for around 6 hours if used before makeup.
cons:
may be a little dry in winter
its meant only for oily and dry skinned ones.
Ratings: 5/5I would buy this product once I finish this up.