The end of my pregnancy is now very much in sight and soon I'll be meeting my second little boy and will be referring to myself as a Mum of two boys. I feel like we're pretty much prepared, we still have a few things to sort out but we're so ready to meet our little guy now. I've got my hospital bag near enough packed now, but there's still things that'll need to be thrown in last minute, like cameras, phone chargers and some make up for me, but these are things that I'm still using everyday, so are a little bit difficult to have pre-packed. 
Today I thought I'd share with you what exactly I've packed inside of my hospital bag. Even though I've given birth before and so have clearly packed a hospital bag before, I was sort of a little bit stumped when it came to remembering everything that I needed, so I referred to the exact same hospital bag checklist that I used when pregnant with Ethan from C&G baby club, it's great because it covers everything you need for before
and
after labor and offers lots of little bits of advice and tips for packing.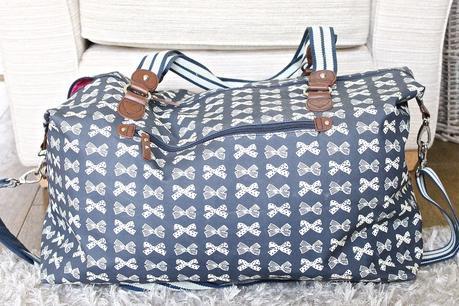 The holdall that I'm using is from Pink Lining and is very similar to this one. I love it because it's not only incredibly pretty, (isn't everything from Pink Lining!?) but it's really really spacious too - it literally holds tons of my stuff!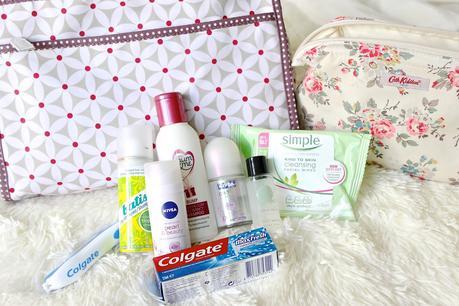 My toiletry bag is from Victoria Green and is packed full of travel sized mini's, including a fold out toothbrush, dry shampoo and all of the other usual toiletries (not all shown in the above picture). My make up bag is from Cath Kidston.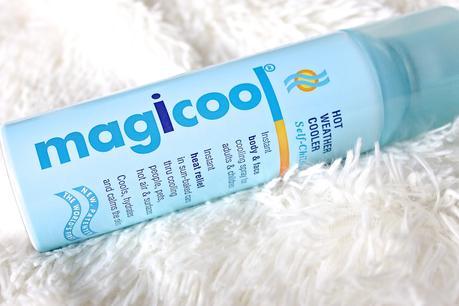 I've also packed some Magiccool - a cooling spray for instant heat relief. I have a feeling that it may come in handy for labour, especially for a summer birth!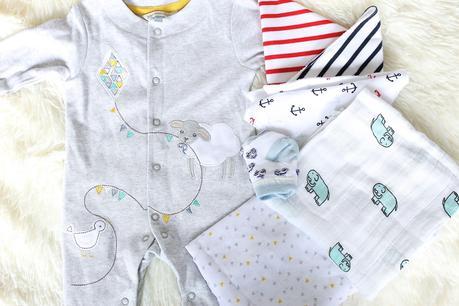 This little gray sleep suit is what Adam and I have picked out as baby's first outfit, it's from John Lewis. We've packed two muslin cloths, one from aiden and anais and the other from John Lewis. The nautical themed bibs are from Next and we also have a little pair of newborn sized socks that are again from John Lewis.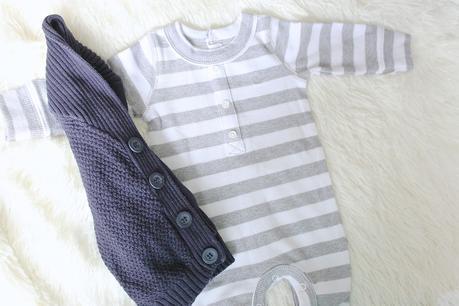 Above is baby's coming home outfit.. the gray and white striped al-in-one is from The Essential One and is made with the softest material, it's ideal because not only does it look and feel like it'll be incredibly comfortable for our drive home but it's sort of stretchy too so it should fit him no matter what size he is at birth. The blue cardigan I got a few years ago in Next, it was Ethans first little cardigan.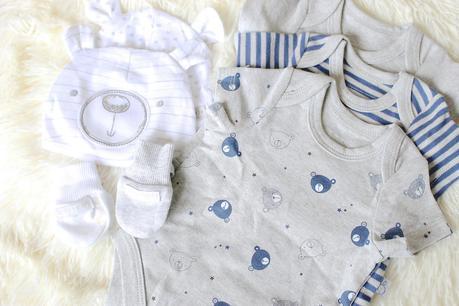 We've got two newborn hats with us which are from Tesco, some scratch mittens to protect baby from scratching himself and also these gorgeous three pack of little vests from The Essential One that match the gorgeous sleep suits below.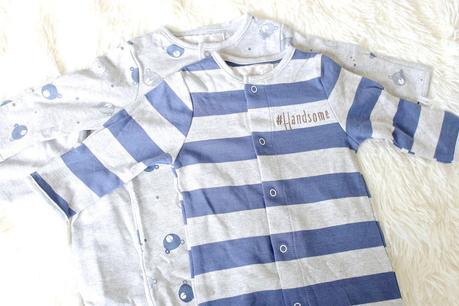 These are baby's adorable matching sleep suits that we're taking with us, they are in size newborn and are so unbelievably soft. I can't wait to see him in these, I absolutely love the three designs!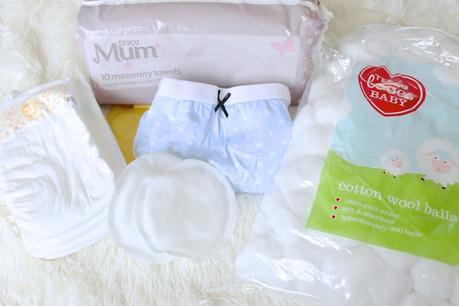 I've packed my Tesco Mum maternity towels and breast pads (I used these exact same ones after I had Ethan and they were brilliant then so I've stuck with them again this time). I've also got some newborn sized nappies (again from Tesco), cotton wool balls, nappy bags and a pair of Diary Dolls - a protective underwear specifically designed for post maternity and a ladies time of the month (I've heard really good things about these, so am looking forward to seeing how I get on with them). I've also now packed some Water Wipes, though they hadn't arrived in time for the photo, as I've heard they're good for using on newborn sensitive skin as an alternative to warm water and cotton wool, being that they're made from 99% water.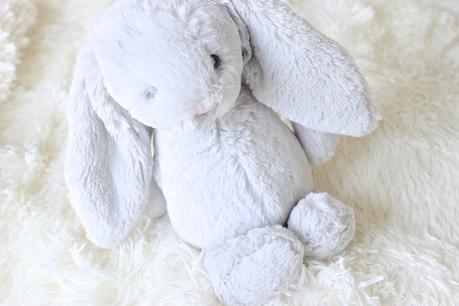 This Jellycat bunny is Ethans gift to his little brother. We love the Jellycat range of soft toys and we wanted to get Ethan something sentimental to give to his brother to mark his arrival, so we thought this was perfect. Ethan has a Jellycat doggy which was a gift from his Grandparents when he was born and he sleeps with it every night, we're hoping that baby #2 will love his Jellycat bunny just as much and will want to sleep with every night too when he gets a little older. 
As a gift from baby to Ethan, we're doing a sort of bundle of things we know Ethan will love. We've got a Spot the Dog counting book, a Peppa Pig noisy book, a minions activity pack and a reusable sticker pad. I think not only will this help introduce my two boys to each other but it'll be something to keep Ethan entertained during his hospital visit.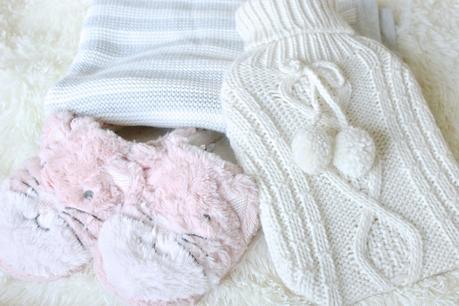 I'm taking these pink cat backless slippers from Tesco with me to keep my feet warm and I've packed baby's gray and white striped blanket for when we come home. The hot water bottle is again from Tesco and the reason I've packed it is because I used one on the bottom of my back during my back labor with Ethan and it really helped take the edge off of the pain of the contractions!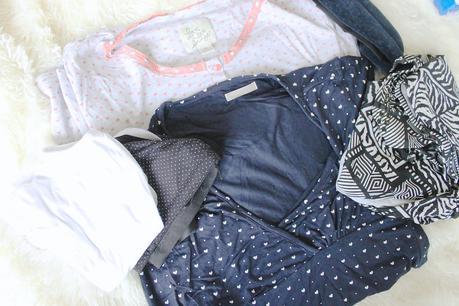 I've got two nighties packed in my bag. The navy one with the white hearts is my absolute favorite maternity nightie - it's from The Essential One, I can't explain how pretty it looks when on, I'm so glad I have it, it just fits around my bump perfectly. The second one is from Primark, it's not maternity but I brought it in the bigger size up and it also fits my bump perfectly. I have my swimming outfit with me in case I want to use the birthing pool and I've got two maternity/nursing bras, the white one is this one from The Essential One and the black and white dotty one is from my first pregnancy and was from Blossom.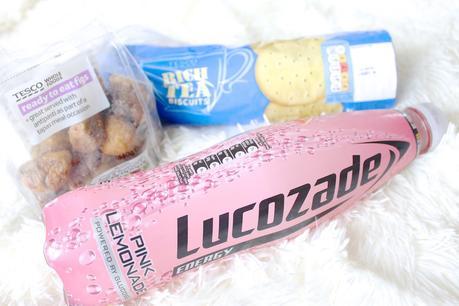 I've packed some snacks and drinks (I'll also be taking a water bottle with me) to keep Adam and I going in case it's a long labour!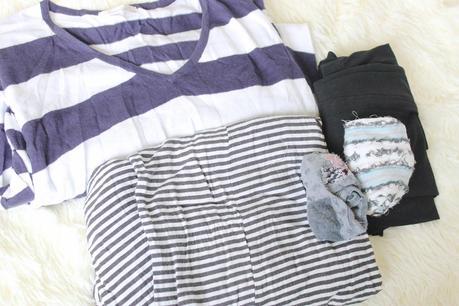 I've got a change of clothes, socks and additional black underwear with me. I have this really comfortable navy and white striped maternity top from The Essential One and a pair of black leggings and also a maxi dress I got a while ago from Primark. I've really tried to go for outfits that I know I'm going to feel comfortable in. They've got a little creased up after being packed in my bag for so long though so I may need to give these a little bit of an iron! 
Additional things I've since added or that aren't pictured: 
Water Wipes
Flip flops and antibacterial wipes for the hospital ward shower.
Lip balm to stop my lips getting dry. 
My necklace from Adam for sentimental reasons. 
An eye mask to help me rest on the brightly lit ward. 
Ethans presents from baby (though I need to get a few more things - suggestions very welcome!)

A BRITA filter water bottle.

A towel. 

A hairband.

A pair of flat shoes. 
Have I missed anything? PLUS your chance to WIN a £100 Mothercare voucher courtesy of Cow and Gate baby club. 
So now that you've seen what I've got packed in my hospital bag, I wanted to take the opportunity to ask you if you've think I've missed anything really important out? Is there something (not already shown here) that perhaps you used during your labor that helped to enhance your experience? 
I've teamed up with Cow and Gate baby club to give one lucky reader the chance to win a £100 voucher to spend at Mothercare, all you need to do to be in with the chance of winning is to leave your answer to the above question in the comment section below and then enter via the rafflecopter form. We're looking for the best answer and want to know what is it about your answer that makes it such a labor hospital bag essential? This giveaway is open to UK residents only and you should read my giveaway disclaimer before entering. I will be announcing the name of the lucky winner via my blogs facebook page shorty after the closing date. Good luck! :)
Don't forget that if you're currently expecting you can head over to the C&G baby club website to sign up to their baby club, for free.  You can get expert advice and tips whilst you are pregnant, and then help too with your baby, right through from birth to 3 years. And if you're looking for a great printable hospital bag checklist yourself you'll find a great one here: http://www.cgbabyclub.co.uk/fckassets/cgbabyclub/files/hospital-bag-check-list201306050927.pdf
a Rafflecopter giveaway

Have a watch of my What's in my hospital bag video over on my YouTube channel:

 FACEBOOK  | TWITTER | INSTAGRAM