Though I play the sport since I was a kid (
Thanks to Mamao - Aww..
), never did it came to mind that I will have the opportunity to watch athletes play live. And they are not your ordinary athletes, they are world-class athletes.. thanks to our country for hosting the 30th South East Asian (SEA) Games 2019 that we had this great great time to watch them play right before our eyes..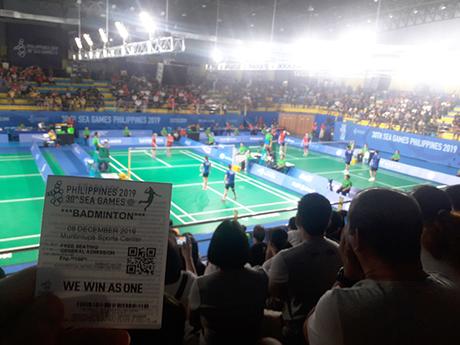 SEA Games (Badminton)
The badminton SEA games were held at
Muntinlupa Sports Complex
. Our schedule to watch fell on a Sunday - we were not sure about the traffic so we decided to depart early and watch every game. We already bought tickets before the organizers announced that the games can now be seen for free. Good thing the ticket was only
P100
!
One thing though that we were sad to see and hear about is that no Filipino athlete made it to the semis. Most of them fell on the quarter-finals which happened a day before we went (
lol
). Well, Asians dominate this sport so it was kind of expected already.. But having at least one to root and cheer for would have changed our experience to a different level.. a more crazy one I guess. Haha!
So for the love of the sport, we pushed through..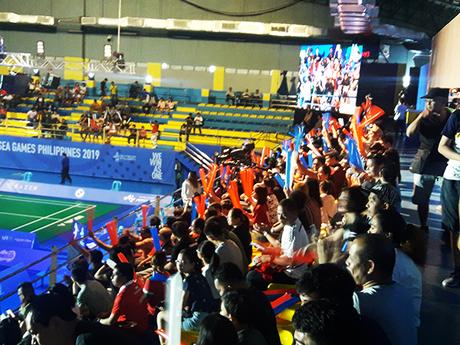 early birds at the venue
It was very nice to see a great crowd appreciating the sport. Badminton is not yet that popular in the Philippines so seeing them there even without a Filipino athlete competing is just a sight to see. Man, appreciating the efforts of our country for hosting such an event like this. It truly uplifts and inspires people to dive into sports more. If you just think about it, so many good things already happened and will happen in the future. The phrase "
We win as one
" truly was embodied here.

Let the games begin
The matches were epic! It was cool to see some of their moves in person especially the ones in the men's doubles category. Everyone was affected by each rally and when a team gets a point, everyone just cheers for them no matter whose side was it. A great time for those athletes to be in the limelight as fruits of their continuous and years of training.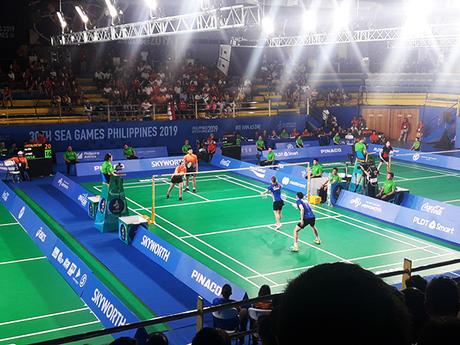 badminton match (Indonesia VS Thailand)
If I remember it correctly, only 4 flags made it to the semi-finals:
Thailand
,
Indonesia
,
Malaysia,
 and the lone
Singaporean
. Hopefully, on the next leg, the Philippines will make it through. If you want to see some of the highlights of our trip watch this video below:
During and after watching them play.. I was so hyped to play the next day lol! There was even a local badminton court sitting just right beside the venue where we wanted to smash even for a bit haha! Sad we did not bring our rackets with us at that time.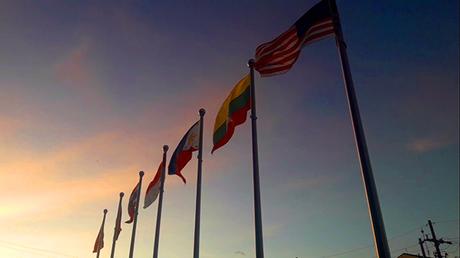 flags on the venue
With that, it is really an experience to be happy about since SEA games only happen
ONCE every two years
and it is not often that your country will be the host country of such a big event like this. Looking forward to the next opportunity as I might plan to watch
volleyball games
 at that time since it is becoming more and more popular now.